Does a repetitive routine bore you to tears, whereas a wide variety of exercises keeps up your motivation to work out? Then that's a great reason to mix and match your workout programs. Combining different FizzUp plans is also an excellent way to boost your results. Check out our top combo suggestions for your fitness goal.
IF YOUR GOAL IS TO TONE UP AND SLIM DOWN YOUR BODY…
Dream of forging a beautifully muscular physique? Then your mix and match routine should be a body sculpting program paired with a cardio program for weight loss.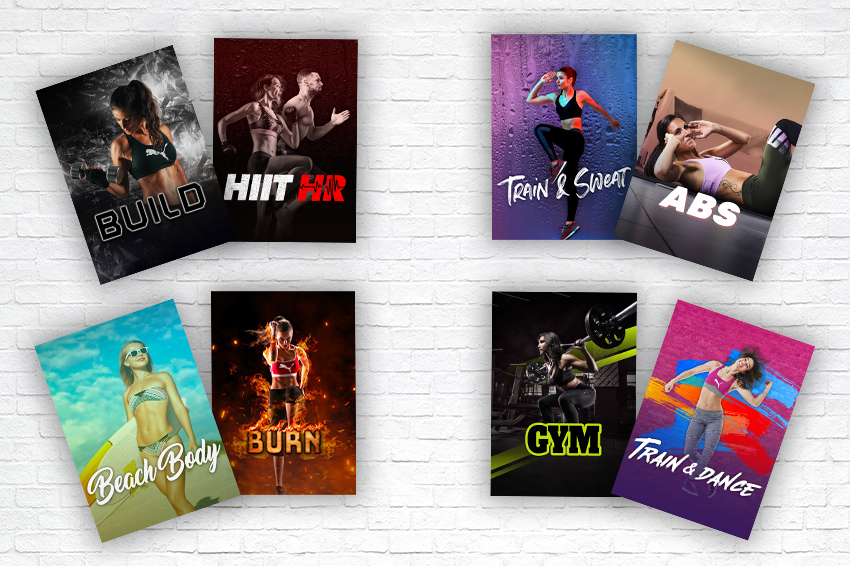 THE BEST PROGRAM COMBOS FOR SCULPTING YOUR BODY WITH EQUIPMENT
This match is the ideal combination of full body dumbbell workouts and high-intensity training. Build – Full Body sculpts your body using progressive overload: an effective method for harmoniously toning your arms, chest, shoulders, abs and legs in synergy. With HIIT HR, enjoy the fat-burning benefits of high-intensity interval training and explore the limits of your body and mind.

The best part about this combo? The perfect balance of weight training and cardio in the first program. This pairing is ideal for building muscle mass and promoting fat burn. And if you want to show off a fit and toned tummy, add the Abs program, which is made to deeply fortify and unveil the muscles in your midsection.

Irongirl makes it clear that weight training isn't just for men. With this dumbbell workout program, you'll nicely tone up and strengthen the muscles in your upper and lower body. Our Burn program covers cardio and strength workouts that send calories packing and get you closer to your weight loss goal.
THE BEST PROGRAM COMBOS FOR SCULPTING YOUR BODY WITHOUT EQUIPMENT
Achieve a flat belly, shapely thighs and firm glutes with the Sculpt program. These bodyweight circuit training workouts target and reshape your abs and lower body in just three weeks. Break a sweat and attack fat by alternating between or adding a session from HIIT Abs, a program that blends high-intensity cardio and abdominal challenges.

Summer just around the corner? Say goodbye to bikini bashfulness with Beach Body. For three weeks, you'll be on the ideal strength training plan to help you confidently boast a firm stomach, slimmer legs and plump glutes. Sprinkle this routine with some cardio to burn maximum calories and build endurance.

THE BEST PROGRAM COMBOS FOR THE GYM
Love spending time at the gym but need some guidance when it comes to doing a comprehensive workout? Gym is our turnkey gym program that strengthens your entire body in four weeks. And if you're a regular in dance fitness classes, have fun at home and shake your booty with theTrain & Dance program: a plan that combines dance steps and cardio to get you burning calories effortlessly.
OTHER INSPIRING PROGRAM COMBOS
Be Ready + Core Training: Harness your athletic potential with a comprehensive cross training program and earn a flatter stomach and more powerful core.
Maxi Burn + Build – Upper Body: Combine an effective weight loss routine with a dumbbell routine for your back, shoulders, arms, chest and abs.
Kettlebell Mania + Maxi Burn: Gain strength, power and muscle with a kettlebell program and slim down your physique with the Maxi Burn cardio program.
IF YOUR GOAL IS TO GET A SHAPELIER PHYSIQUE…
Your winning combo is a program that targets your abs and lower body paired with a cardio program that blasts stubborn fat.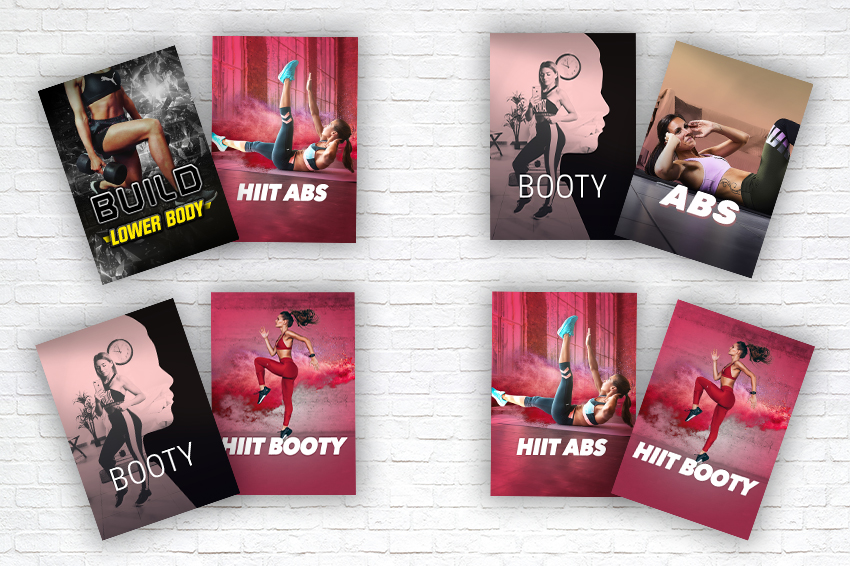 THE BEST PROGRAM COMBOS WITH EQUIPMENT
Build firm, toned and shapely glutes and thighs with the best strength training exercises for your lower body. The progressive overload method turns up the intensity of your sessions and ensures that you safely progress while making a stunning difference in your body. Complement this routine with high-intensity training and abdominal challenges to melt the layer of fat that's hiding your midsection.

Deadlifts, sumo squats and lunges… These are some of the dumbbell exercises that set your thighs and glutes on fire as they tone up your lower body. Combine this with Core Training to experience the best dynamic and static exercises for your core.

Who said strength training was boring? With Booty, you'll sculpt firm and shapely glutes without the gym. Get the top equipment-free booty exercises you can do right at home, such as squats, glute bridges and lunges, plus their variations. Pair this program with Abs to get a wide range of extra powerful exercises for a flatter tummy.
THE BEST PROGRAM COMBOS WITHOUT EQUIPMENT
Want to target your glutes with a mix of strength training and cardio? Then this is the combo for you. This routine blends the fat-burning benefits of high-intensity interval training with a targeted strength training program for your glutes. The result? A refined physique and a naturally round and firm behind.

Get a flatter stomach, slimmer waist and bubblier glutes with this targeted, equipment-free strength training mix and match. You'll oust abdominal fat and reveal your six-pack as you shape your butt with the best bodyweight exercises. Results are guaranteed in as soon as three weeks!
OTHER INSPIRING PROGRAM COMBOS
Booty + Train & Dance: A perfect routine for shaking and firming up your booty with dance cardio moves to the tunes of your favorite playlist.
HIIT Abs + HIIT Booty: If you love a good fitness challenge, start these programs and push your limits with a winning series of high-intensity exercises for your abs and glutes.
IF YOUR GOAL IS TO GET FITTER…
If exercise is essential to your everyday wellness, keeping your health in check and giving your body some TLC, then your mix and match routine should alternate between shorter and longer workouts you can fit into your busy schedule and do at any time of the day.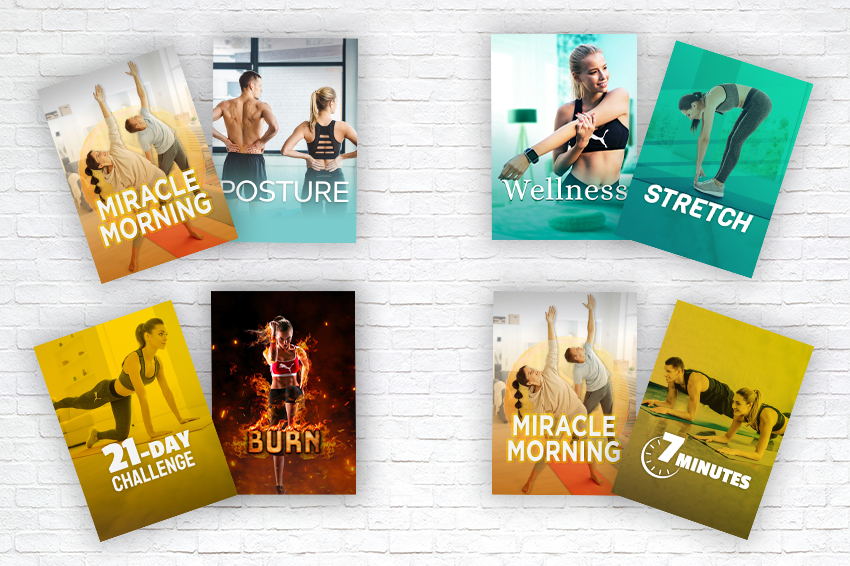 Instead of rushing into your day, take some time to slowly wake up your muscles and joints. Miracle Morning combines gentle strengthening and stretching movements to peacefully boost your energy. By adding posture exercises for your back and abs as well as stretches, you'll increase your flexibility and suppleness, too. Say goodbye to unwanted back pain and stiffness.

Want to move and get stronger? This routine helps you get into the habit of gently loosening up your body and improving your fitness with simple, low-impact exercises. Combined with our comprehensive stretching program Stretch, you'll gain flexibility, boost your energy and reduce fatigue.

Get into new fitness habits with our 21-Day Challenge program. These fun 10-minute workouts target different areas of your body. Match this routine with a weight loss program like Burn to torch maximum calories in just 15 minutes.
OTHER INSPIRING PROGRAM COMBOS
Miracle Morning + 7 Minutes: Your new morning ritual paired with speedy, high-intensity workouts. Great for toning up fast.
21-Day Challenge + 7 Minutes: A perfect balance between a progressive 21-day full body program and the exhilarating challenges of a high-intensity workout program.
Whether you're a beginner or seasoned athlete in search of intense weight loss challenges, a new wellness routine or a body sculpting program, now you have a solid base of combinations to find what works best for you and your goal. Have fun mixing and matching programs on FizzUp!