Now here's a hot topic when it comes to getting results: the Focus programs*! Maybe you've heard of them, so why not give them a try to see how effective they really are? An excellent way to boost your body's evolution and sharpen your athletic skills, you'll find these mini-workouts under the "Premium" tab in the FizzUp app.
WHAT DO THE FOCUS PROGRAM DO?
The Focus programs give you exercises to target specific areas of your body or to help you improve your performance for a specific exercise, such as pull-ups and push-ups. Think of them as result boosters! These routines never last longer than five minutes, making your physical efforts short, yet precise.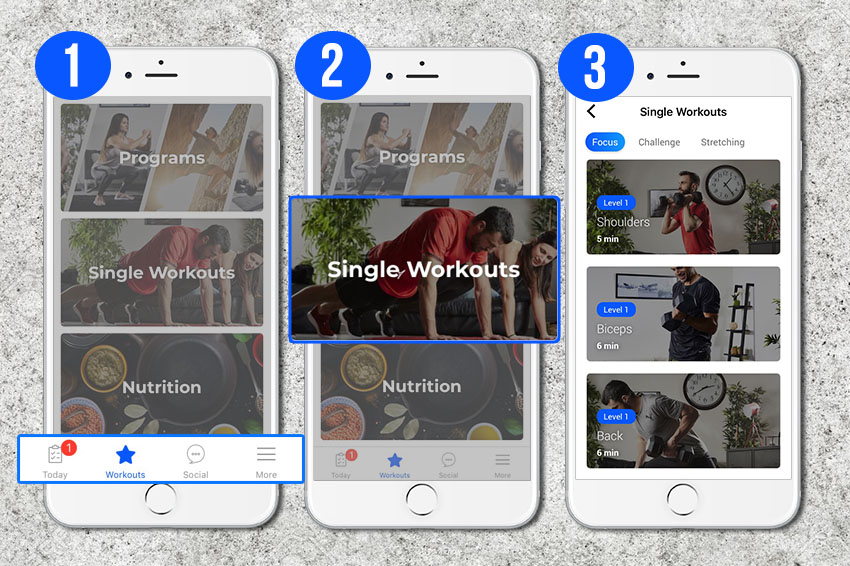 A Focus program is the ideal add-on to your FizzUp program. You can do one before or after your workout, on your rest day or when you just don't have a lot of time to exercise. We recommend only doing two Focus programs at the same time to ensure they stay effective. Doing too many simultaneously would submit your body to high amounts of muscle fatigue, making it harder for you to achieve the results you expect, so enjoy them in moderation!
Each Focus program contains several levels. As you move through a Focus program, you'll progress from one level to the next. Just like your main workout, the Focus programs also contain an evaluation at the beginning and end of each level. This is what enables us to tailor the Focus program to your fitness level and measure your progress.
WHICH FOCUS PROGRAM SHOULD YOU CHOOSE?
With the Focus programs, there's something for everyone! Here's a list of everything they have to offer when you sign up for FizzUp Premium.
For women:
Glutes Focus (with or without equipment) sculpts your booty to help you gain up to 2 cm in muscle mass in your glutes.
Flat Stomach Focus (with or without dumbbells) strengthens your abdominal wall to make your abs more visible.
Thighs-Abs-Glutes Focus targets all three of these trouble spots at the same time. Slim down your waist, firm up your thighs and bubble up your behind.
Chest Focus improves your ability to do push-ups, a key exercise women can rely on to keep their chest in tip-top shape.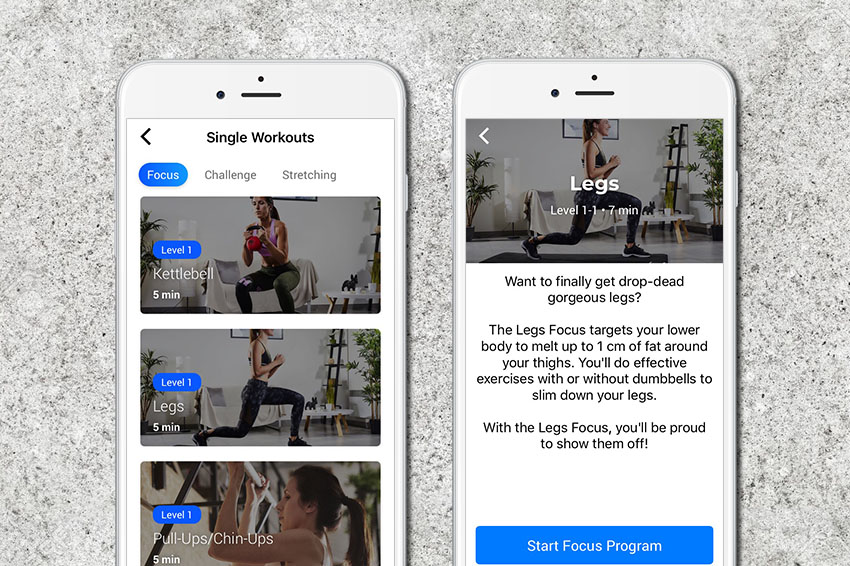 Full Body Focus helps you easily burn off calories and build your cardio endurance.
Arms Focus (with or without equipment) sculpts your biceps and triceps using the best arm exercises.
NEW – Legs Focus gets you slender legs. You'll never be afraid to put on a skirt or a pair of shorts again!
NEW – Pull-Up Focus: This exercise isn't just for men! Change the way you think about pull-ups as you fortify your back muscles and reveal your full physical potential.
NEW – Kettlebell Focus works your entire body to increase your strength, power and agility.
For men:
Push-Up Focus will turn you into a push-up pro as it chisels your torso and gets you arms of steel.
Pull-Up Focus enhances your performance for this particular exercise. Watch your back muscles develop as you double the number of pull-up reps you can do in a row.
Abs Focus (with or without equipment) will carve out your abs to get you a visible six-pack.
Full Body Focus will make you break a sweat with intense cardio exercises. Ready to improve your resistance and endurance?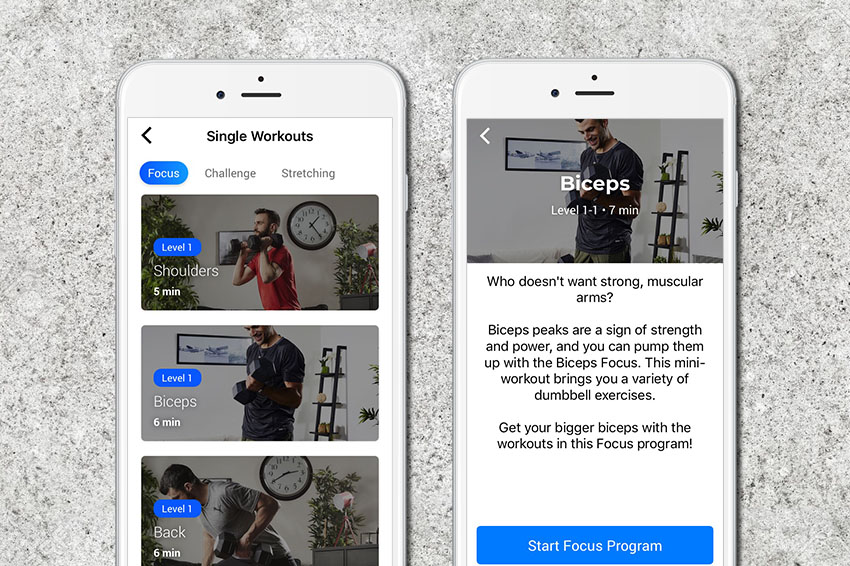 Thighs Focus (with or without dumbbells) works your legs, which are often overlooked in strength training. You'll construct solid thighs as you improve your overall muscle balance.
NEW – Kettlebell Focus puts your entire body to work with a variety of kettlebell exercises that will increase your strength, power and agility.
NEW – Shoulders Focus (with or without equipment) develops your shoulders to beef up your torso.
NEW – Back Focus (with or without equipment) creates definition in your back muscles as it helps improve your posture.
NEW – Biceps Focus (with or without dumbbells) uses effective strength training exercises to build up your arm muscles.
Now it's up to you to pick the best Focus program for your fitness routine! Results aren't far off when you stick to it. Upgrade to FizzUp Premium to get all the tools you need to supercharge your physical transformation!
*FizzUp Premium feature