Working out with a kettlebell is an excellent way to build strength, burn calories and sculpt glutes of steel. But to guarantee you'll get the results you expect, having the right technique is critical. The FizzUp trainer will tell you about the five common kettlebell swing mistakes you should spot before you start a Kettlebell Challenge* or Focus*. We'll turn you into a kettlebell pro!
MISTAKE #1 TO AVOID FOR THE PERFECT KETTLEBELL SWING: NOT CONTROLLING THE WEIGHT
We know it can be really fun to swing a kettlebell as fast as you can, but if you don't pay close attention to your technique, prepare for the worst! Control and coordination are vital in order to really get your muscles working and keep injuries at bay. Not controlling the weight you're moving around makes you more prone to accidents and collateral damage, especially when you're handling a heavy iron ball in the air.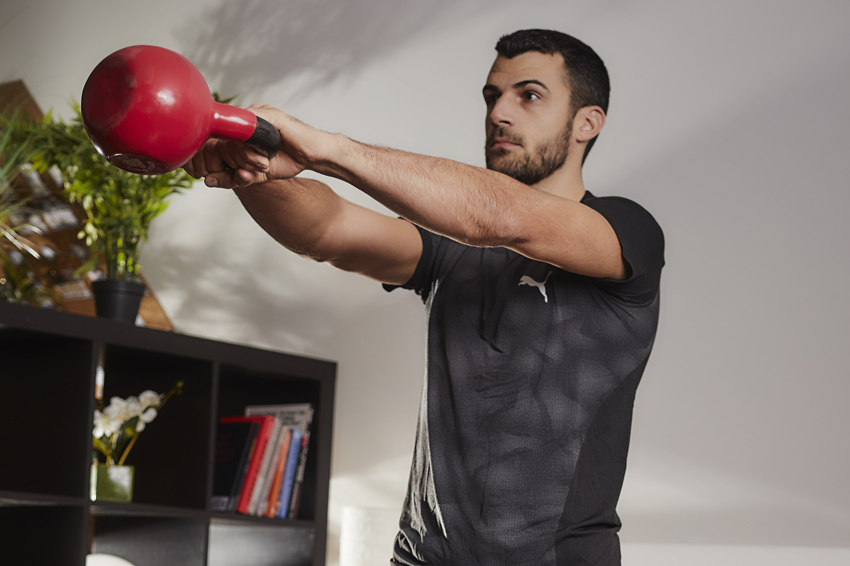 FizzUp trainer's tip: Don't rush the exercise! Use a fluid movement instead. This helps you build motor skills, strengthen your muscles and completely grasp the movement. Make sure to stay focused while swinging the kettlebell as hard as you can. To do a kettlebell swing in one smooth motion, you have to control the weight when the kettlebell swings up and when it comes back down.
MISTAKE #2 TO AVOID FOR THE PERFECT KETTLEBELL SWING: DOING A SQUAT MOVEMENT INSTEAD OF A SWINGING MOVEMENT
The kettlebell swing doesn't use a squat movement; it's more like a "hip hinge" movement. The goal isn't to squat down toward the floor, but to bend your knees slightly and rock your hips back and forth to propel the kettlebell forward without your heels coming off the floor.
FizzUp trainer's tip: You could think of this exercise as a bit like a deadlift combined with the forward thrust. You're trying to generate as much power as you can through the muscles in the back of your lower body (lower back, glutes and hamstrings). When you start, you have to keep your upper body solid and push your hips forward as hard as you can without letting your heels come up off the floor.
Here's a real-life example to show you what we mean. Imagine you've just come home from the supermarket. You get out of your car and grab as many shopping bags as you can. You close the car door behind you. And how do you do this? You thrust your hips backward to close it with your butt! That's the movement we're talking about. Then you quickly reverse it to thrust your hips forward while you keep your arms aligned with your body. The muscles in the back of your lower body then set the kettlebell in motion.
MISTAKE #3 TO AVOID FOR THE PERFECT KETTLEBELL SWING: NOT USING YOUR HIPS
The kettlebell swing is a ballistic exercise. Think of it like a bullet that's shot from a gun: it starts at maximum speed, then relies on momentum to reach its target. The same applies to the kettlebell swing. The exercise isn't about swinging a load at lightning speed; it's about using the power from your hips to launch the kettlebell. Your arms are just there to hold it. Don't focus on how high you're able to swing it. Your goal is to let it travel up to the peak of the swing once you've done the hinge movement with your hips.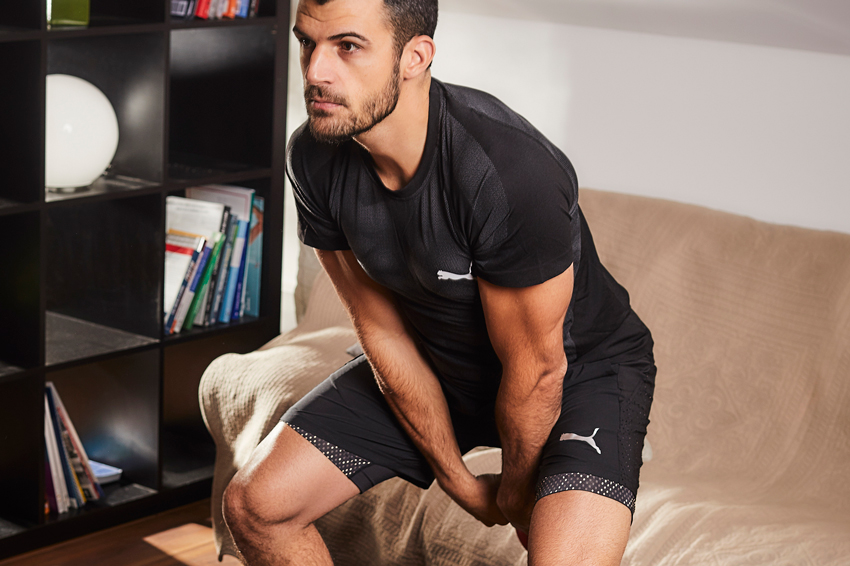 FizzUp trainer's tip: Your glutes are the most powerful muscle in your body, so use them to your advantage! But before you do, first you have to learn how to use your glutes and move your hips. The only way to master this is through (perfect) practice. Remember to contract your glutes every time you swing the kettlebell so that this turns into a habit.
MISTAKE #4 TO AVOID FOR THE PERFECT KETTLEBELL SWING: SWINGING WITH JUST YOUR ARMS
Many people rely on arm and upper body strength to move the kettlebell, but actually, you should be engaging your entire body. Using your body as a single unit is one of the cornerstones of kettlebell training. Ballistic exercises like the kettlebell swing are designed to target several muscle groups at a time, not isolate them.
FizzUp trainer's tip: Remember, this isn't an exercise for your arms or shoulders. All the strength that moves the kettlebell comes from the back of your lower body by rocking your hips forward to send the kettlebell into the air, not by swinging your arms. Your arms are just there to hold and guide the weight.
Engage your upper body and rock your hips forward so that your arms naturally swing away from you. That way, you'll depend on them less. Once you've set the kettlebell in motion, just let it fly up into the air using this movement.
MISTAKE #5 TO AVOID FOR THE PERFECT KETTLEBELL SWING: NOT USING THE RIGHT WEIGHT
Using a kettlebell that's too heavy makes it hard for you to transfer as much power as possible from the muscles in the back of your lower body. The result? You do the exact opposite of the perfect kettlebell swing by putting too much demand on your arms. The kettlebell swing is a ballistic exercise, which is why you shouldn't use a kettlebell that's too heavy if you want to do the it correctly and efficiently transfer power through your body. Make sure that every repetition you do packs a punch!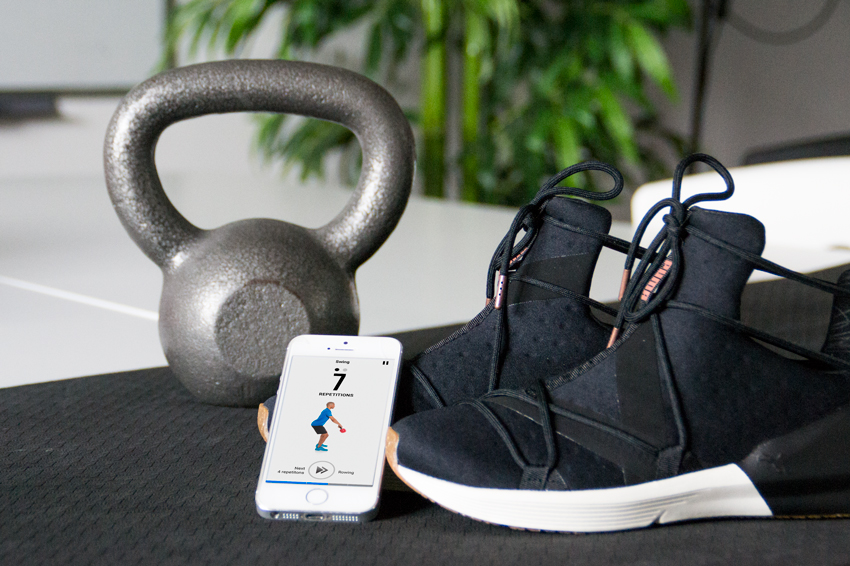 FizzUp trainer's tip: The kettlebell swing isn't a slow exercise that uses maximum strength; it's an efficient exercise that gets your hips rapidly swinging like a hinge with explosive forward thrusts. All you have to do is choose the right weight: one that doesn't put too much demand on your shoulders but still makes the exercise challenging. It should be heavy enough to make a difference without pulling you to the floor when you try to lift it. As you learn how to utilize your muscles, your kettlebell swing will get faster, smoother and much more powerful and controlled so that you safely make progress.
You can use the kettlebell swing to reach a wide variety of fitness goals, whether you want to boost your muscle mass, build power, get stronger or burn fat. But there's a lot more to it than just swinging a kettlebell. First you have to master the proper technique to get the most out of this amazing exercise that you'll get with the FizzUp Challenges* and the Kettlebell Focus*.
*FizzUp PRO feature