The dumbbell bench press, whether you're doing it on an actual bench or on the floor, is one powerful exercise that will build your muscles' strength, mass and endurance. No matter what your goal, it's a smart decision to make this exercise part of your workout routine, like you can do when you select FizzUp's goal to "Build Muscle with Equipment*." But beware… if you want to take advantage of all its benefits, there are some major mistakes you need to avoid. The FizzUp trainer will tell you everything you need to know to keep making progress.
MISTAKE #1 TO AVOID FOR THE PERFECT DUMBBELL BENCH PRESS: NOT WATCHING THE LINE OF MOVEMENT
Keeping a close eye on your line of movement is a must to keep injuries at bay and boost the benefits of this exercise. Remembering to use clean and regular movements in sets of nearly identical repetitions is the key to making the most of your time doing this exercise.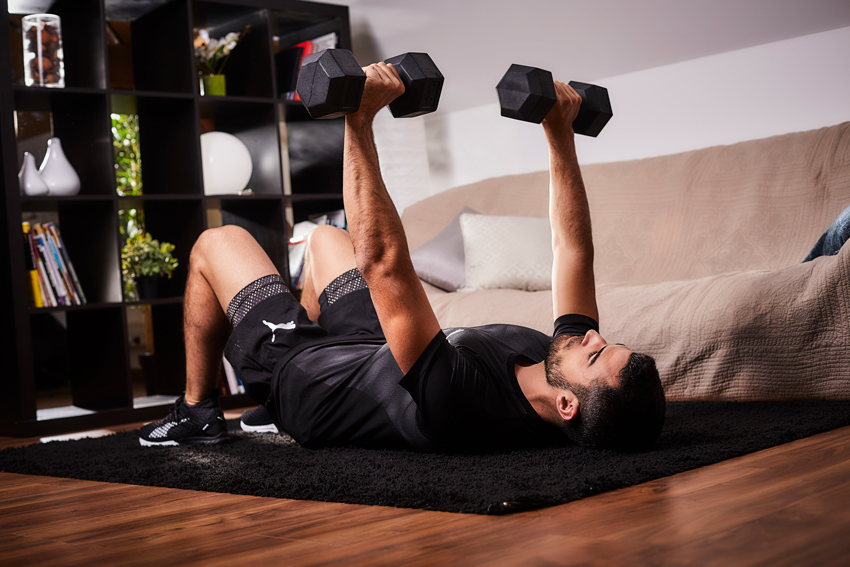 FizzUp trainer's tip: The easiest way to do this exercise is to do lots of repetitions with a reasonable amount of weight to get a good feel for the proper technique and create a strong motor pattern. Always remember to start and finish a repetition in the same place. Even if that's hard to do when you get to the end of the set because you're tired or training to failure, you need to keep it up within reasonable limits.
Another way to improve the weight's line of movement is to increase the time-under-tension by slowing down the eccentric contraction (when your muscles lengthen as you lower the dumbbells) while doing warm-up exercises or lighter sets of repetitions. You might also want to combine heavier weights with several high-quality repetitions to help you really grasp the technique of the movement and train your brain to pick up some solid muscle memory.
MISTAKE #2 TO AVOID FOR THE PERFECT DUMBBELL BENCH PRESS: NOT CONTROLLING THE WEIGHT
If you're moving the weight around without any control as you do your repetitions, all you're doing is killing your chances of building muscle with this exercise, besides upping your risk of injury. By doing this, you're taking away the tension on key muscles, which means you'll make less progress. What's more, if you use too much momentum to bounce the weight off of your chest, you'll be shooting yourself in the foot, because this momentum doesn't put your chest muscles to work.
FizzUp trainer's tip: You have to keep your movements under control and take a "microbreak" while you're in the lowered position to really feel the tension on your muscles that the weights are creating. As we mentioned earlier, trying to make the eccentric contraction last two to three seconds while doing a repetition so that you can then do an explosive (yet controlled!) concentric contraction is without a doubt the best way to make progress with dumbbell bench presses.
MISTAKE #3 TO AVOID FOR THE PERFECT DUMBBELL BENCH PRESS: NOT KEEPING YOUR ELBOWS AGAINST YOUR BODY
When you do an exercise that involves pushing or pressing, whether that's push-ups or dumbbell bench presses, remembering to keep your elbows at your sides as you do an eccentric contraction is essential. But if your elbows are sticking out too much when you do pec or triceps exercises, this weakens your shoulders and increases your risk of injury. In this scenario, your shoulders are taking on most of the weight and you're only applying a small fraction of the tension needed to thoroughly work the target muscles (your pecs and triceps).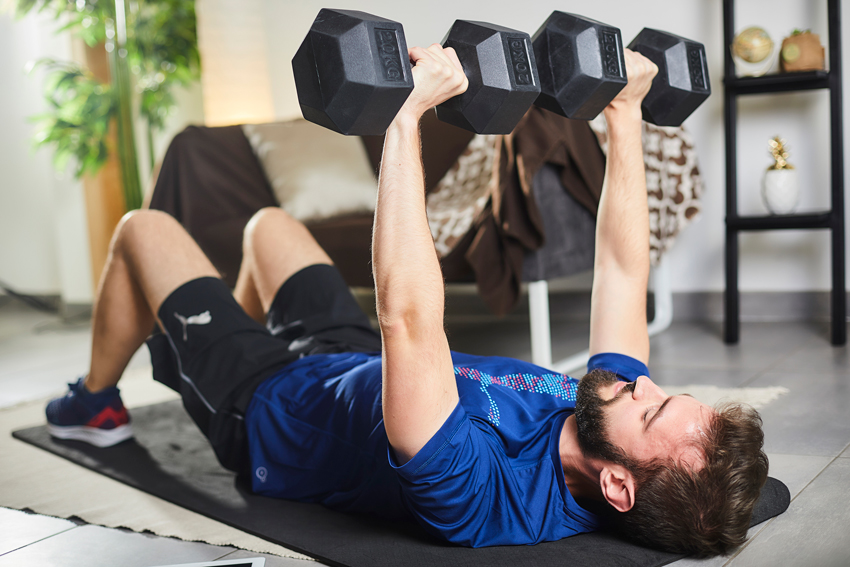 FizzUp trainer's tip: If you always tend to point your elbows outward while you do this exercise, use less weight and practice consciously keeping your elbows at your sides with every repetition. This needs to become a reflex. This will keep your wrists and forearms directly under the dumbbell, which not only gives you the most strength, but also makes you less prone to injury.
MISTAKE #4 TO AVOID FOR THE PERFECT DUMBBELL BENCH PRESS: NOT ENGAGING YOUR CORE
Just because you're lying on a bench or the floor doesn't mean you get to relax. To do this exercise the right way and make it easy for you to transfer strength, you have to keep your abs contracted and your body engaged for the entire exercise. This also keeps potential injuries  at bay that could happen if you experience instability at the end of the movement.
FizzUp trainer's tip: Pushing up the dumbbells is when most people are the least stable. They forget to engage any of their core and just push up the dumbbells. Consciously keeping your entire body engaged at all times is vital, so make sure to create maximum tension in your body! Press into the floor with your feet as you push the weights toward the ceiling at the same time. Engage your abs and back muscles by bringing your shoulder blades together to sink your body into the floor or bench and give yourself more stability.
MISTAKE #5 TO AVOID FOR THE PERFECT DUMBBELL BENCH PRESS: NOT KEEPING YOUR WRISTS STRAIGHT
Poor wrist positioning is what can make you lose strength and up your risk of injury. If your wrists bend under the weight (even if it's not that much) because you're repeating the same movement, you're putting an incredible amount of stress on this tiny joint that can lead to injuries or a drop in performance.
FizzUp trainer's tip: To fix this problem, it helps to keep your wrists neutral for the entire exercise by pointing your knuckles toward the ceiling. Similarly, it's also helpful to try to bury the handle of the dumbbell as far as you can in your palm of your hand and align your wrists with your elbows.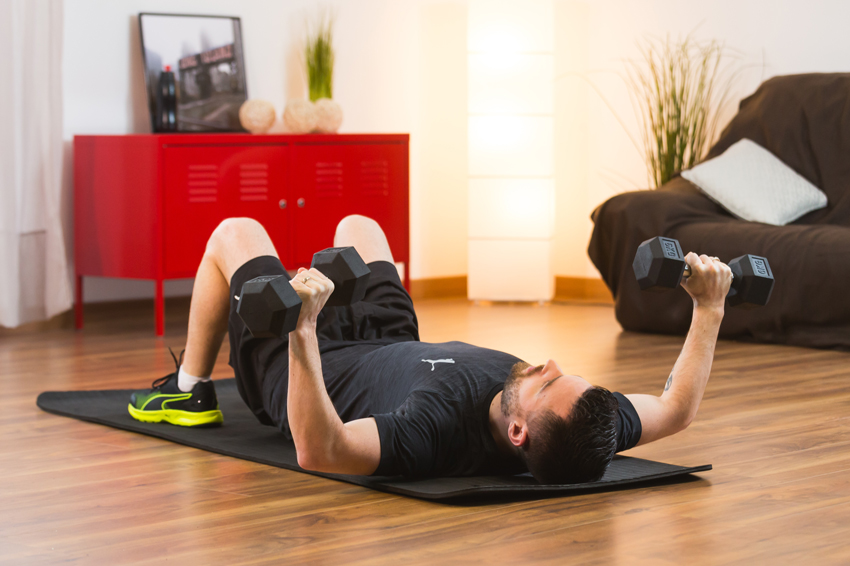 Use the dumbbell bench press to reach a wide variety of fitness goals, like building power, strength and muscle mass. But remember, this exercise is more than just moving dumbbells up and down. Get the most out of this amazing exercise that you'll find under the "Challenges*" in your FizzUp app and as part of the "Build Muscle with Equipment*" goal when you master these simple techniques.
*FizzUp PRO feature