Did you know that exercise at work can boost your productivity? All the more reason to turn your office into a gym! With FizzUp, you can make exercise part of your everyday routine without it throwing off your busy schedule, because 20 minutes is all you need to do your workout and get the rest of your work day off on the right foot.
WHAT ARE THE ADVANTAGES OF EXERCISE AT WORK?
You spend a lot of time at your workplace. It makes sense for you to have some time just to yourself during your lunch hour. Being physically active at work enables you to take a breather in the middle of your day to rebalance your body and mind.
According to the survey we conducted in April 2019 about exercise at work, over 94% of those who replied think that all companies should be encouraged to subsidize physical activities for their employees.
1 | FOR YOUR HEALTH
Here's a troubling fact: 62% users said they suffer from aches and pains at work. 31% of those surveyed said they sit for most of the day, 17% said they're moderately active during their day and over 13% said their job requires lots of physical effort.
But here's a telling fact: many companies don't offer any physical activities to their employees, who suffer more from aches and pains at work than those whose companies offer some kind of exercise with over 65% vs. 35% of the users we surveyed.
Exercise at work reduces the risk of MSD (musculoskeletal disorders), depression and chronic fatigue. For example, with a strength training program, you can strengthen your back muscles and improve your posture with exercises like the reverse snow angel. Say goodbye to back pain!
2 | FOR YOUR SELF-FULFILLMENT
Physical activity stimulates your body, producing endorphins, serotonin and dopamine, which are hormones that boost your mood, also known as the "happy" hormones. They give you a real sense of wellness and are great relaxers. They make it easier to unwind and relieve yourself of stress.
Working out during lunch enables you to take a break from your work responsibilities and clear your mind for a few minutes. You'll feel more capable of getting back to work and be less prone to stress. Exercise acts as a way to let off steam, let go of your negative emotions and feel refreshed. The result? You'll be more productive!
This isn't too good to be true! This is what people actually experience. Now let's get to the million-dollar question: does exercise have a positive effect on your productivity at work? Nearly 70% of our users said yes and less than 5% said no, so why not make it a habit?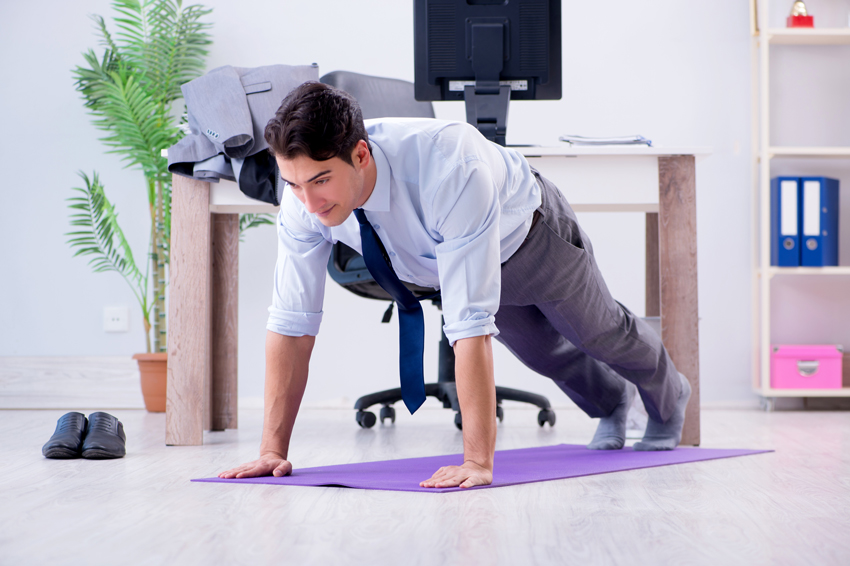 Exercise at work also allows you to refocus on yourself. You'll build self-confidence that you can feel when you communicate with your colleagues. You'll also feel more in control and know how to be more assertive in certain work-related situations. Exercise develops your personal qualities: you'll be more competitive, more willing, more responsible and more ambitious. All these benefits are definitely useful in a professional setting.
3 | FOR STRONG TEAMWORK
According to our survey participants, being able to practice a physical activity in their workplaces would be an opportunity to exercise for 71%, be more efficient and productive for 40%, save time during the day for 40% and save money by using a company's workout space instead of a gym for 35%.
41% think exercise would help them build relationships with their colleagues and their superiors in a relaxed environment, which can promote a healthier work atmosphere and stronger teamwork. You'll get to know your colleagues a little better and bond over a fun activity.
WHERE TO EXERCISE AT WORK
1 | AT HOME
86% of those who replied to our "Exercise at Work" survey don't exercise at work for various reasons. For instance, 67% have no place to exercise, 31% don't have a changing room or shower available, 8% fear feeling tired after exercise and more surprisingly, 8% don't want their colleagues see them in sportswear.
If you live next to your workplace, your customized gym is in your living room. You even get a private shower! Not everyone who works out can say the same… If you have enough room, invite your colleagues to your place to enjoy a group workout followed by a meal together outside the office.
2 | IN YOUR PERSONAL OFFICE
49% of our survey participants say their job keeps them from being physically active either because they don't have enough time (62%), they don't have enough energy after a day's work (43%) or they go on too many business trips (10%). So, why not exercise at the office?
If you have your own office, let other people know that you need to be left alone during a 20-minute break. Put on some comfortable clothes and start your FizzUp workout on your computer, tablet or smartphone. Your virtual trainer will guide you step-by-step as you enjoy a moment to yourself, which you could consider a luxury in your busy day.
3 | AT THE OFFICE
73% of our users would like to see their company to develop a strategy to make exercise a bigger part of their experience at work.
If you work in an open-office environment where you don't have space to yourself, ask your colleagues or managers to see if there's a room in your building where you can work out. Tell them that it's for a good reason: your health! And why not your colleagues' health, too? All you need is 2m² of space to give you enough room to stretch out. There's got to be an unoccupied meeting room or an old archive room you can use to turn into your own gym.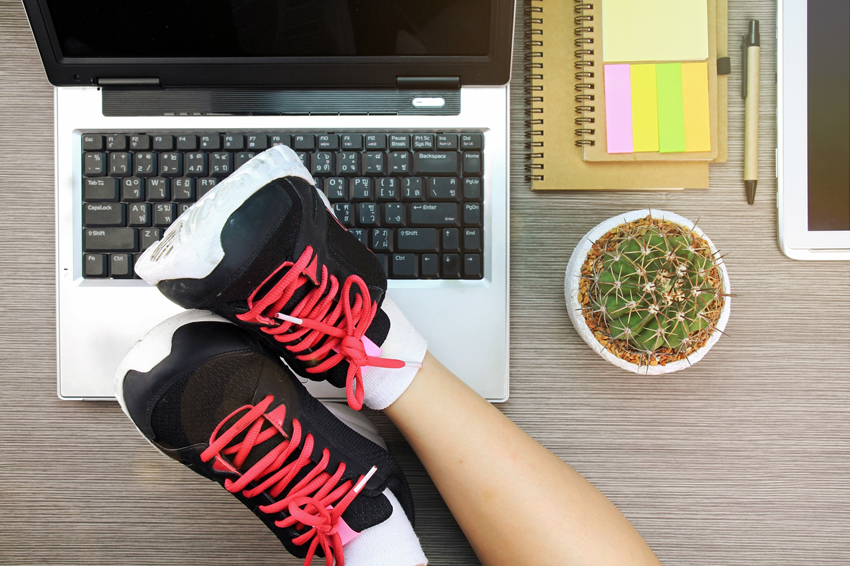 These tips will transform your work routine. Turn your workplace into an environment that adds to your personal fulfillment and use your breaks to take better care of your health for real long-term benefits.