Welcome to FizzUp! I'm Max, your FizzUp trainer. Pleased to meet you! To help you get started right with FizzUp, I want to tell you about the five key steps that will lead you to fitness success. Use them to make a lasting and effective workout routine part of your everyday life!
1 | SET YOUR GOAL
FizzUp fitness training is made up of 15 programs (and counting). You'll start by doing your maximum number of repetitions for the exercises I give you during the first evaluation of the program, so that I can adapt the difficulty of the exercises in your upcoming workouts to match your fitness level. This means that no workout will ever be too easy or too hard for you! At the end of your cycle, you'll do another evaluation to see how much you've improved since the beginning of the program with a detailed progress report.
You probably had a specific goal in mind when you signed up. To help you get started right with FizzUp, here's a list of some of our programs to make it easier for you to decide which goal is best for you and your fitness ambition.
For Women:
Lose Weight: Programs like Fast Fat Burner are designed for weight loss. You'll get cardio exercises that torch calories and effectively burn fat while it tones your muscles from head to toe.
Sculpt Your Body: With a program like Amazon, you can sculpt your physique using just your body weight or light equipment. If you'd rather target a specific area of your body such as your thighs or belly, we've got programs for that, too!
Get Fit: Get moving again just to feel better in your body with one of our wellness programs. If you've just had a baby, we also have the Hot Mama program* to gently get you back into exercise.
Feel Like an Athlete: Want to take your workouts to the next level and push your physical boundaries? I've got programs like Be Ready to boost your physical fitness and hone your athletic skills.
For Men:
Build Muscle: Want a more muscular physique? Then try Demigod, one of our bodyweight strength training programs to increase your strength muscle mass throughout your body.
Build Muscle with Equipment: If you want bigger muscles in less time, then start a strength training program that uses light equipment, like DB-800.
Lose Weight: Want to blast excess fat with a program designed to do just that? Then start the Fast Fat Burner program to rebuild your body confidence.
Get Fit: Get back into physical activity with a program like Back in Shape with Chabal. This rugby star proves that exercise is a fun way to feel even better in your body from one day to the next.
Feel Like an Athlete: Get the body that can take on any physical challenge with a demanding program like No Limits and unleash your athletic potential.
You can also see all the programs available in the app after you've done the first program I give you, called Discovering FizzUp. This program brings you the best of all FizzUp has to offer.
2 | CREATE YOUR WORKOUT SPACE
It doesn't take much to turn your living room into your own private gym… just your FizzUp app, an exercise mat or a towel to cushion your back, a chair for exercises like bench dips and a bottle of water. If you want to work out with shoes on or go barefoot, the choice is yours!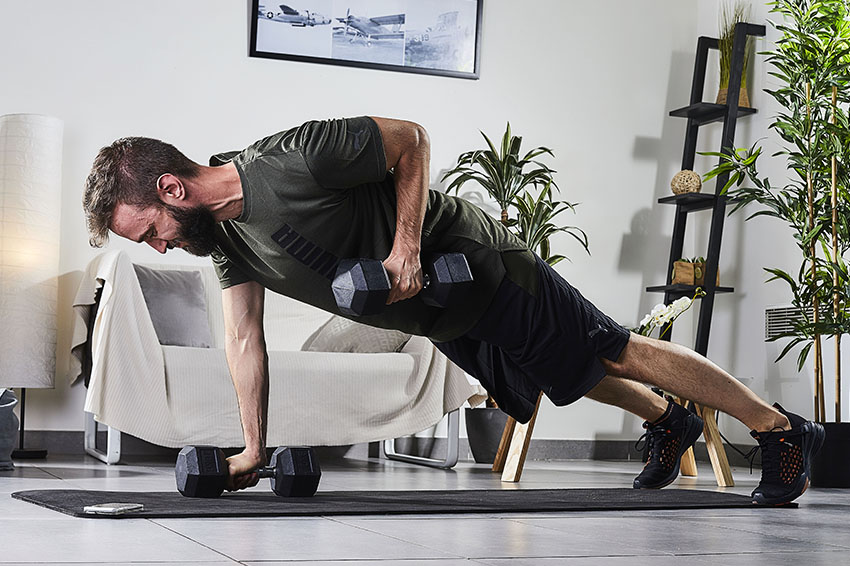 If you really want to get into it and try new exercises, you could invest in an exercise step, a kettlebell, dumbbells, a pull-up bar or even a barbell.
If you want to know the days when you'll do your workout, you'll find your workout plan in the app and on our website, which shows you all the workouts you'll do this week, along with the exercises, instructions and workout length. This makes it easy to fit your workouts into your everyday schedule, so no more excuses! The only one I want to hear is, "I can't, I've got FizzUp!"
3 | REVIEW THE EXERCISES
Now hang on a minute! Before you start your workout, take the time to check out the exercises you'll do and read up on how to do them if this is your first time or if it's been a while since your last workout. Tap on today's workout in your workout plan, then select the exercises you're less familiar with to read everything you need to know about them, from how to do the movements to the muscles they work.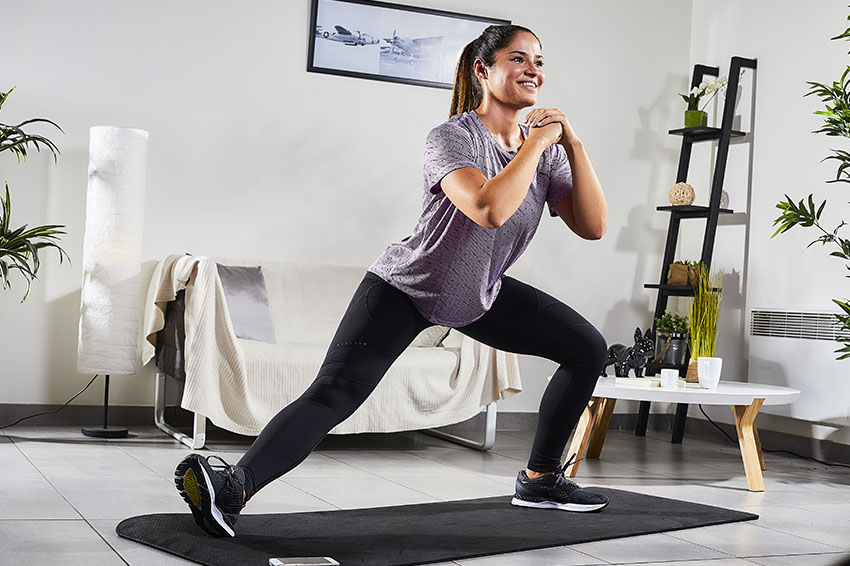 The cleaner your movements are, the more effective the exercise will be. You don't need to rush your reps. Just do the exercise at the same pace as the model you see in the app to go the right speed. Giving yourself the time to feel your muscles working will help you tune into your body and realize all the amazing things it's capable of. Don't forget to take a break when I suggest it so that you can finish your workout without feeling beat.
4 | TAKE THE EVALUATION SERIOUSLY
The first workout of each program is so important, because it includes your evaluation. Do as many reps as you can for each of the exercises I give you until you start having trouble finishing the exercise or you just can't keep going. I call these maximum repetitions your MAX, just like me!
Before every workout (including the evaluation), I'll give you a warm-up to prep your body for exercise. At the end of your workout, I'll then give you some stretches to improve your flexibility and help you return to rest. The bell in the app will tell you when it's time to change exercises, so be sure to activate the sound!
5 | WORK OUT REGULARLY
You can look high and low for the miracle solution that will make you lose weight or build muscle, but nothing works better to get you results than sticking to your program! Remember, never give up and throw in the towel. I'll always be there to help keep you on track, but you also have to make a commitment to yourself to actually do your workout on the days they're scheduled. A workout never lasts more than 40 minutes, or you can do a 20-minute quick workout instead. That's just 1% of your day!
Don't forget that you can count on your friends and family for support, too! Refer them to the app and get your daily dose of motivation when you follow #TeamFizzUp on Instagram. You'll read the stories of other users motivated to make a positive change who are doing the same program as you!
All you have to do now is start your first evaluation to set off on your fitness journey. If you have any questions, feel free to tap my face in the upper right-hand corner of your home screen. See you soon for your workout!
*Coming soon