For lots of people, the beginning of a new year also means the beginning of new fitness resolutions. In 2020, you might have some specific goals in mind, but you don't know what kind of workout program you should do to reach them. Trying to figure out which FizzUp programs are right for you? We're here to help guide you into your new exercise routine!
The ultimate flowchart to help you pick your FizzUp program!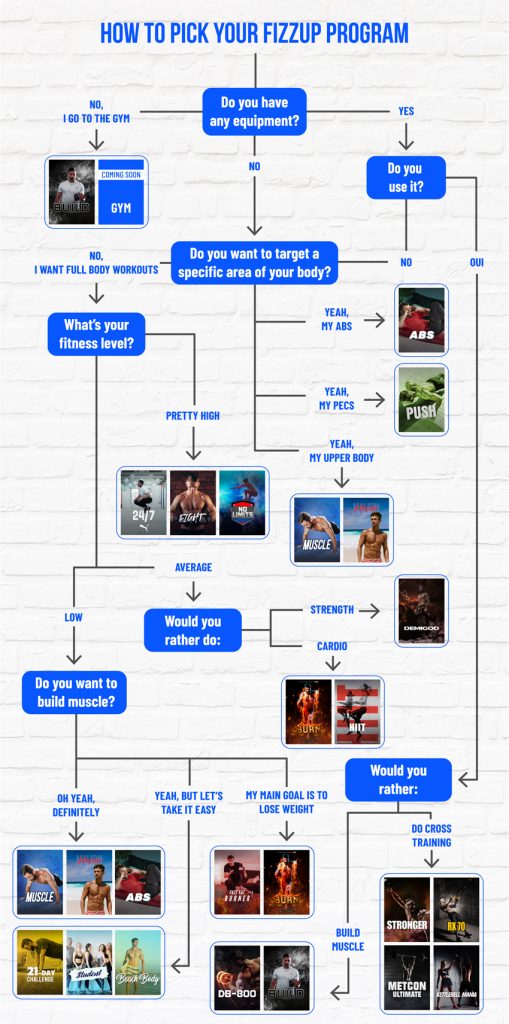 1. Do you want a program with or without equipment?
If you want a program with equipment and want to build muscle:

Our series of dumbbell strength training programs DB-600, DB-800, DB-900 and DB-1000 is made for you! DB-600 is geared toward beginners in strength training and offers an array of exercises like bench presses, bent-over rows, thrusters and abs exercises which are excellent for building your arms, shoulders, chest, back, abs and legs. This progressive training plan includes a wide variety of moves to help you build bigger muscles in three weeks.

DB-800, the second installment in the series, turns your training intensity up a notch. Work your strength, muscular endurance, power and agility. You'll improve your overall fitness and gain muscle mass with exercises that make you lift heavier and heavier loads.

DB-900 keeps your efforts on a roll. You'll maintain your progress with intense strength training exercises using dumbbells or a pull-up bar. This is an extremely effective program to help you perfect your muscles.

DB-1000 sets your results in stone over time by going back to the basics with minimum equipment (alternating bench presses, push presses, bent-over rows, dumbbell flyes, hammer curls, etc.) for maximum muscle gain.

Build – Full Body and Build – Full Body 2 bring you a training protocol that regulates and tweaks the content, sets and intensity of your workouts according to your feedback and the weight of your dumbbells. The exercises are divided into "push" days (with a pushing movement), "pull" days (with a pulling movement) and "full body" days (with exercises that work your entire body) with a single aim: to get you bigger and stronger muscles.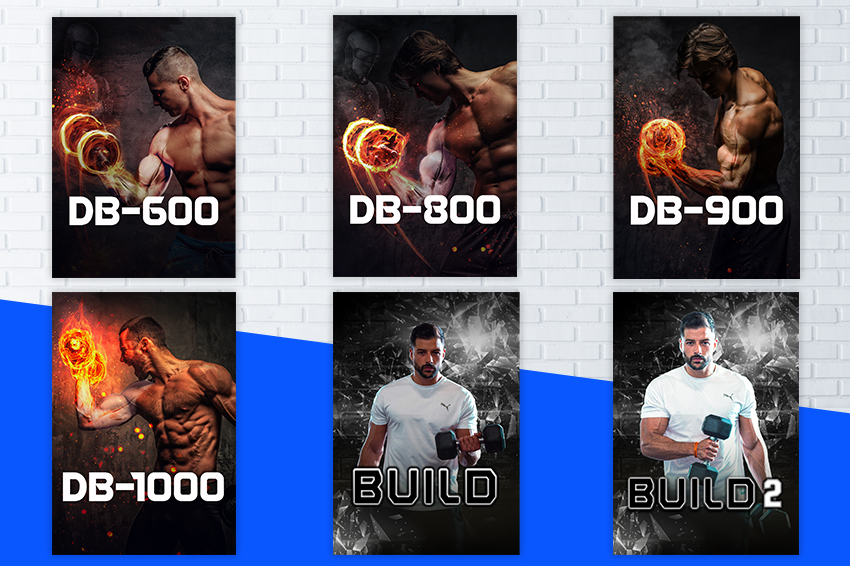 If you want a program with equipment, but you're looking challenging workouts to improve your performance:

If you like rising to a challenge and pushing your limits, try the Stronger program. This cross-training program that combines kettlebell and pull-up bar exercises takes your physical boundaries to new heights with circuits focused on cardio, endurance and explosive strength. With push-ups, kettlebell swings, pull-ups, deadlifts, burpees and core exercises, nothing will stand between you and your goal.

With Kettlebell Mania, Kettlebell Mania 2 and Kettlebell Mania 3, turn yourself into a kettlebell pro. This series of three-week programs mixes cardio and strength training using this compact piece of equipment. Kettlebell swings, rows and goblet squats are among the many other exercises designed to quickly sculpt your muscles and boost your power, resistance and agility. During these programs, you'll perfect your physical fitness and boost your performance with a variety of unique training protocols.

TRX lovers, defy gravity with the RX 70. This comprehensive program uses a suspension trainer to sculpt muscle throughout your entire body and improve your balance, strength and core. With single-leg squats, push-ups, biceps curls and core exercises, you'll become an expert in suspension training in three weeks.

If you're more of a daredevil in search of maximum intensity, try Metcon Ultimate. With a barbell or dumbbells, you'll do workouts based on metcon training (metabolic conditioning) inspired by the cross-training method. These powerful sessions are made up of a 21-15-9 repetition sequence that tests your endurance, power and resistance. The goal? To stimulate your metabolism, accelerate mass gain and boost your strength and athletic performance. In three weeks, transform your physique with this 21-15-9 training protocol that includes exercises such as sumo deadlifts, burpees, bench presses.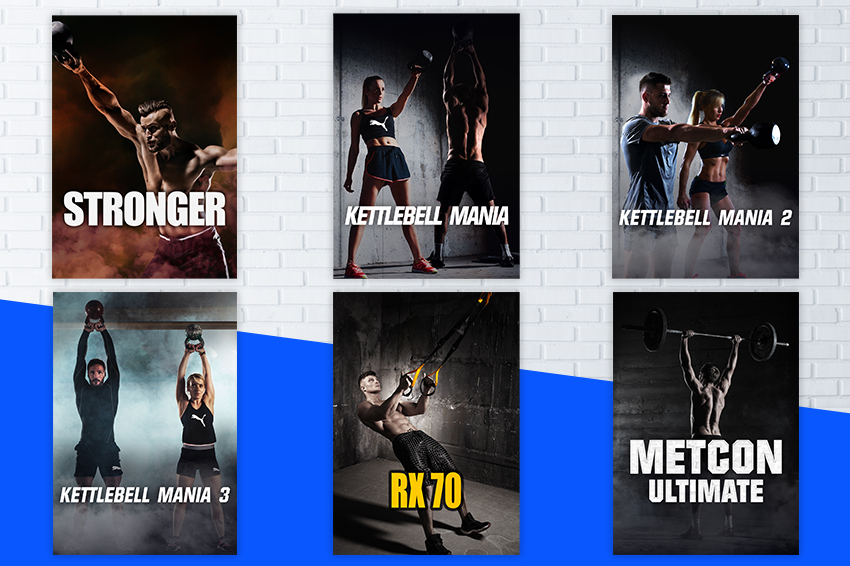 Don't have any equipment? Then ask yourself the following questions:
2. Want to target a specific area of your body?
Yes, my upper body: Muscle, FizzUp's latest strength training program for men, offers the best in equipment-free full body workouts. The sessions target your chest, back and abs with exercises you do in sets. These challenges will build your endurance and muscular power for a bigger and evenly built physique.

Chisel your torso with the Malibu, Malibu 2, Malibu 3 and Malibu 4 saga. With this four-episode bodyweight strength training program, you'll fortify your upper body (pecs, back, arms and abs) by doing essential exercises such as pull-ups, push-ups and core strengthening. Their many variations keep your workouts interesting and guarantee quick progress. Starting in three weeks, you'll witness an impressive improvement in your muscle strength and power. And to top it all off, you'll get more prominent pecs, a sculpted back and visible abs.

Yes, my abs: Proudly show off your midsection with Abs, Abs 2 and Abs 3. These programs offer the best core challenges to shape your abs and eliminate excess fat. A combination of strength training exercises like double crunches and cardio training like mountain climbers guarantees you a more sculpted "six-pack" and a sturdier upper body by targeting your deep abdominal muscles.

Yes, my pecs: Want to perfect your push-up technique and sculpt your pecs at the same time? Then start our Push program. A wide range of push-up variations work all the areas of your pecs, including the space between your pecs to make these muscles really pop.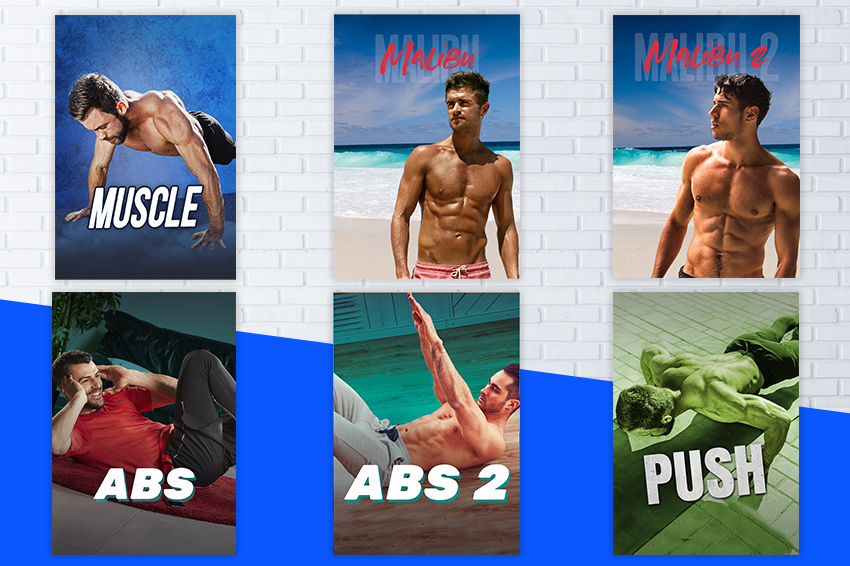 If you want to work your entire body, then ask yourself the following questions:
3. What's your current fitness level?
If you're a beginner wanting to ease into exercise:

Slim down with the Beach Body program. This workout routine brings you 15-minute bodyweight sessions mixing strength training, core training and upper body exercises to speed up muscle gain and weight loss for a leaner physique.

Get fit again and into healthy habits with our 21-Day Challenge. This program is ideal for those who want to start a daily fitness routine in minimum time. 21-Day Challenge includes a range of different bodyweight workouts and other challenges to turn you into a fan of fitness.

If you're a beginner with a sky-high motivation:

Start our flagship programs Muscle or Malibu, where you'll find all of your favorite exercises. Beginner-friendly and effective, these training protocols and workout plans are optimized to help you make quick progress. Gain strength and power thanks to these bodyweight programs made to form your physique.

If you're already athletic:

Train like an athlete by starting our 24/7 cross-training program. In three weeks, you'll build mental toughness, sharpen your athletic skills and push your limits. These workouts packed with burpees, push-ups, pull-ups, core training and cardio leave nothing to chance.

If you're a combat sport enthusiast, Fight offers you the physical conditioning you need to feel confident in the ring and dominate your opponents. Even without practicing martial arts, a workout from Fight develops all the qualities of a fighter with exercises that improve speed, stamina explosive strength and flexibility. Fight is everything you need to feel like a champion.

Start No Limits to challenge and exceed your physical and mental boundaries. This program inspired by street workout focuses on improving agility, strength and stamina with three weeks of workouts that get more and more demanding.
4. How do you feel about cardio?
If you don't really like cardio:

Pick one of our programs that target a specific area of the body. Abs zeros in on your deep abs and sculpts your midsection. You can also check out Beginner Push-Ups, which builds your torso and increases muscle strength.
Swap cardio for strengthening with our series of dumbbell workout programs DB-600, DB-800, DB-900, DB-1000. These plans reinforce your pecs, triceps and delts and sculpt your abs.

If you like some cardio every now and then:

Improve your cardio endurance and overall fitness by taking our 21-Day Challenge, a smart mix of core, cardio and full body workouts.

If you're looking for a short and effective program that torches fat quickly, try the Fast Fat Burner program. Right for all levels, these workouts burn maximum calories with cardio and core exercises based on the high-intensity training method (HIIT). You'll see noticeable weight loss results in as soon as three weeks.

If you're addicted to cardio:

Push your limits with sets of high-intensity interval training with the four installments of the HIIT program series (HIIT, HIIT 2, HIIT 3 and HIIT 4). And if you're looking for something more explosive, rise up to the innovative circuits you'll find in HIIT HR.
The winning combos
Have you finished a program? Way to go, you should be proud of yourself! Why not keep up your momentum for even better results? Here are some ideas to help you pick your next program.

The right combo for muscle gain
If you want to target your upper body:

Sculpt your pecs, abs and back and build muscle in your arms when you move on to the Muscle program or the Malibu program series (parts 1, 2, 3 and 4), our top routines to chisel your perfect torso without any equipment.

If you want to shake up your workout experience, combine an upper body program with targeted workouts by alternating between the Malibu and Abs programs to focus on your abs, or the Malibu and Beginner Push-Ups programs if you want to perfect your push-up technique.

If you want to accelerate your muscle gain, take your training up a notch with dumbbell workouts:

If your goal is to gain muscle mass and fast, experience the effectiveness of dumbbell exercises by doing our DB workout series: DB-600 for beginners, followed by DB-800, DB-900 and if you're feeling brave, DB-1000.

If you have several sets of dumbbells or adjustable dumbbells:

You'll love our Build program series, a training protocol that adjusts to a variety of loads for fast muscle gain, guaranteed. And if you're already a fan of our Build programs, a series that targets a specific area of the body is coming soon, so stay tuned!

Gym aficionados, our trainers are cooking up a special program just for the gym. Keep an eye on your app!
If you're experienced in exercise and need a new workout challenge to boost your body's abilities:

You've got a few different options. Start with 24/7, one of our advanced bodyweight programs, for powerful workouts with a pull-up bar or without any equipment.

If you own a kettlebell:

Smash your records by challenging yourself with the best cross-training exercises included in Stronger, then push your physical and mental limits with Metcon (no equipment required) or Metcon Ultimate (barbell required) to feel like a CrossFitter.
2. The perfect weight loss combo
If you're looking to lose weight, you can pair programs that are mostly cardio and designed to burn maximum calories with strength training workouts. For instance, start the Fast Fat Burner program, then continue with the Burn program, followed by the Maxi Burn program, our latest weight loss workout program. To guarantee lasting weight loss results, add some strength training workouts with effective and full body programs like Muscle or a program that focuses on the upper body like Malibu.
3. The perfect wellness and fitness combo
If exercise is a way for you to relax, unwind, and focus on your own wellness, we've got programs for that, too. For a well-rounded fitness routine, try our Wellness programs (parts 1, 2 or 3). You can also add exercises that relieve back pain and strengthen your core with our Posture programs (parts 1 or 2).