High five! Today's a big day for you and for me, but more for you! Why? Because I finally get to introduce myself: I'm Max, your new trainer. FizzUp's hired me to make you break a sweat, because sweat is my middle name! I just got here and I'm already making some BIG changes to the app, so check out all that's new with update 2.5.
Your weekly workout plan
I just flew in from San Francisco, so I'm a little bit jet-lagged. Luckily for me, FizzUp's new workout plan reminds me that today I've got a workout to do!
Update 2.5 brings you a workout plan containing a list of your upcoming workouts. This list shows the length of both the full and quick versions of your workout. The progress bar at the top of your workout plan will also show you how far along you are in your current program.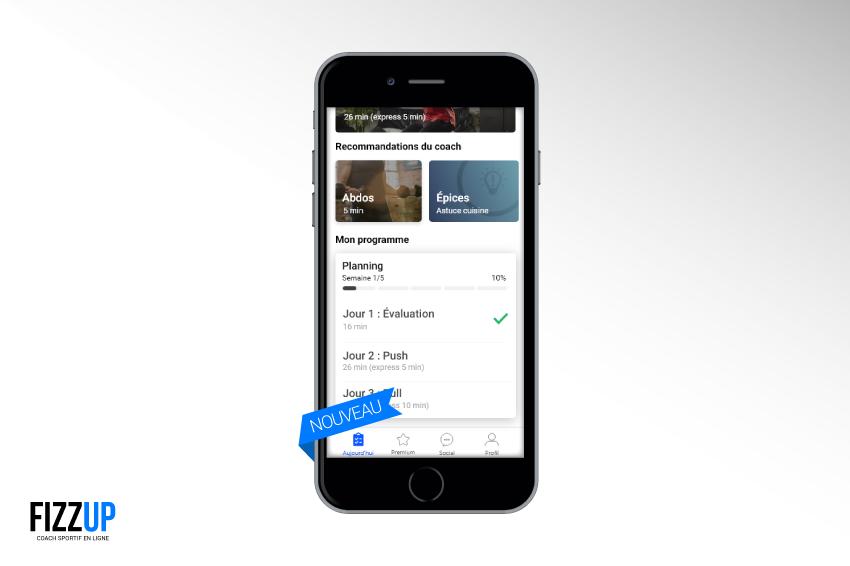 In case you were lost when I say, "full and quick versions of your workout," here's a little reminder: the "quick workout" is the shortest kind of workout you can do. If you're pressed for time, just skip the extra blocks of exercises I recommend during your workout.
More detailed workouts
With the workout plan, you'll also get the details on what's in your workouts, which all include a warm-up and strength training block.
But that's not all! You'll also know ahead of time if I'm going to recommend some cardio, abs exercises and/or a challenge during your next workout. With the new workout interface, you can now choose to do or skip these blocks of exercises as you go!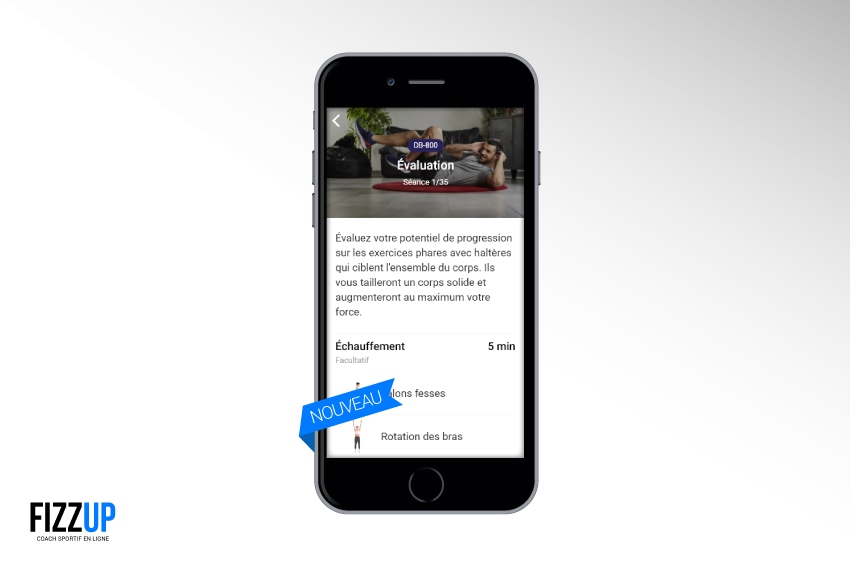 A list will show you the exercises that will be included in your next workout and the amount of weight you need (if you use dumbbells or a kettlebell).
Exercises you need to do in order to make progress toward your goal are listed under the word Mandatory, whereas the exercises I recommend for faster results are listed under the word Optional. In a nutshell, the "quick workout" only contains the Mandatory exercises, whereas the "full workout" contains this and all the Optional exercises, if you're feeling up for a challenge. The longer, the better… especially for your muscles!
With the new workout plan, you'll know the length and exercises included in your workouts up to one week in advance! How awesome is that?!
Your workout history and stats
You want stats? High five! You've got them! Your workout plan also shows your workout history in detail. Check out the length of your past workouts and the exercises you've done. It will also tell you the number of calories you burned during your workout.
You'll also know the time you spent doing each kind of physical effort (strength training, cardio, abs exercises or a challenge) so that you can better track the kinds of activity you're doing after you sync FizzUp to Health (for iOS) or Google Fit (for Android). These apps simplify your life and you can use them as the only place where you store all your health-related data. They can now take your FizzUp data into account.
Follow your number of calories burned, the time you spent being physically active every day and so much more! More convenient than a health journal, these apps can also help you reach more specific fitness goals. So don't wait! Download yours now!
With update 2.5 and FizzUp's new workout plan, fitting workouts into your week just got so much easier! Update your app now to start tracking your data after each workout and find out when your next one is! And don't be disappointed if you don't see me during your next workout. I don't like to be intrusive, so I'll let you finish your current program with Jake, Diana, the Sergeant and Heracles. I'll see you when you start your next program! Can't wait for us to break a sweat together! Double high five!