The update that does the most to help you optimize your time on the mat and put you in the driver's seat of your workout experience is finally here. Now that you've discovered all that the new Premium tab has to offer with update 2.3, FizzUp's bringing you yet another evolution. With this update, now you can either do or skip the extra blocks of exercises (Abs, Cardio, Stretching and Fit Mix) in real time… a real bonus when it comes to making your workout more flexible and convenient.
The New Go Mode: You decide what goes into your workouts
The most significant new feature in update 2.4 is that now you've got the power to decide in real time what you're doing during your workout! In addition to your block of strength training exercises, the FizzUp trainer will suggest extra blocks of exercises for you to do while you're in go mode.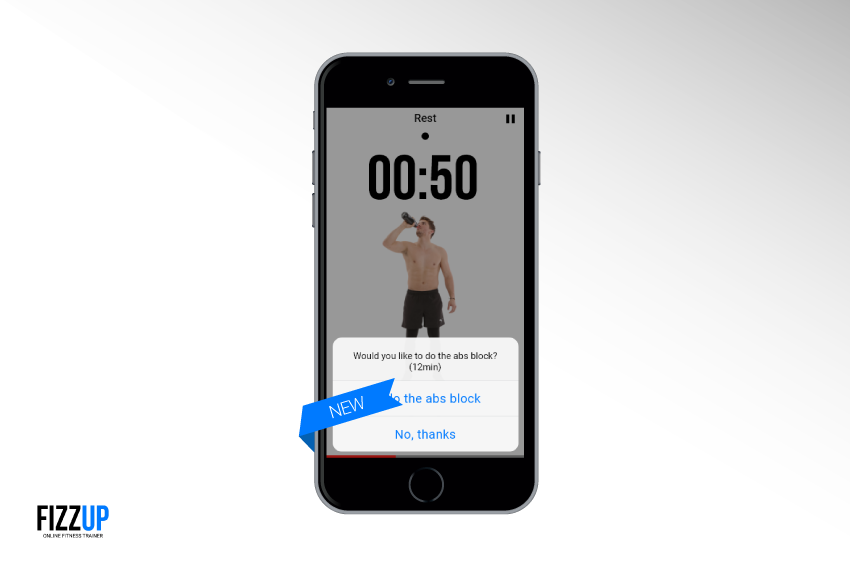 If your workout contains abs, cardio or Fit Mix exercises, YOU decide which block you want to do. This new feature makes your app even handier and the time you spend on the mat even easier to manage.
You can also do every recommended block of exercises to make maximum progress with workouts that are more comprehensive. But that doesn't mean we've gotten rid of the "quick workout." You'll no longer see the screen with the words "Full Workout" and "Quick Workout" before you get started, but you can still change the length of your workout by doing or skipping optional blocks of exercises in real time. If you skip all of them, that's the equivalent of the "quick workout."  With this update, FizzUp's making your workouts even more fun, convenient and personalized. No matter how much time and energy you have, the FizzUp trainer's got something for everyone and every schedule.
Deciding the length of your workout with the trainer's recommendations
Bursting with energy or feeling beat? Got 15 minutes or an hour to spare? These are the questions that will make all the difference in how your workout goes. This update is all about flexibility and helping you better manage your time during your workout. Once you get started, you'll find recommended blocks of exercises carefully selected for your workout of the day. Whether you've got the time or the energy to do them is all up to you.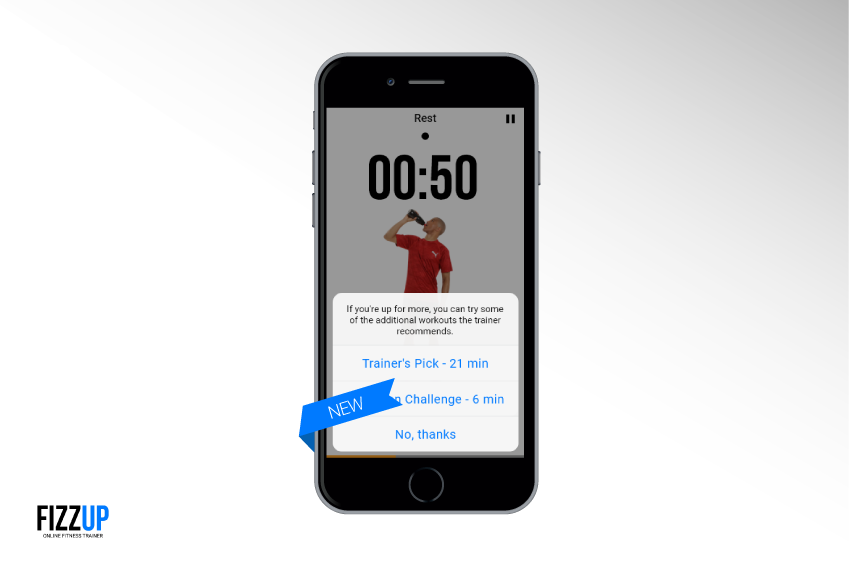 If you're ever up for more exercise after your workout, you can do one of the trainer's recommended additional workouts, which you'll find on your home screen or when you tap "Single Workouts" under the "Premium" tab.
Stretching and the difficulty of the extra blocks of exercises
Stretching is just as important as any other part of your workout. All too often overlooked, taking the time to stretch is a vital key in your ability to make progress. Only long, limber muscles will help you get the fit physique you crave, which is why the trainer always suggests stretches at the end of every workout! Do them without moderation!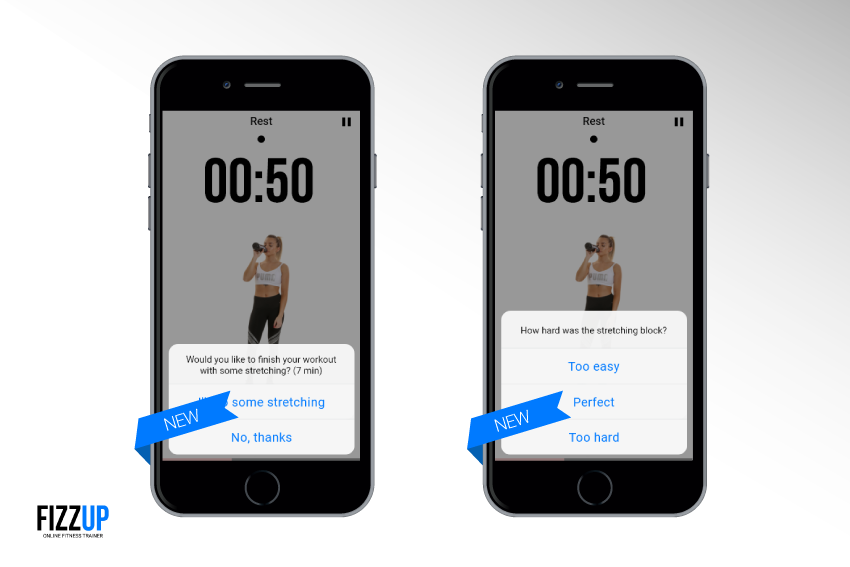 And that's not all! We've added another amazing perk to your fitness training. The trainer will now ask you how hard each additional part of your workout was. This feature prevents you from ever over or under training and makes it possible to better match your future workout content to your fitness level.
Reviewing exercises and setting the weight for your exercises
Not sure how to do an exercise right? Need some advice from the trainer on getting through your evaluation? No problem! Now you can review the exercises in your cycle before you start the evaluation, which is one of the most important parts of your program.
Right after you've finished your warm-up, get the answers to your exercise questions just by selecting the exercise you'd like to review. The FizzUp trainer will tell you everything you need to know about the movements you're going to do during the evaluation.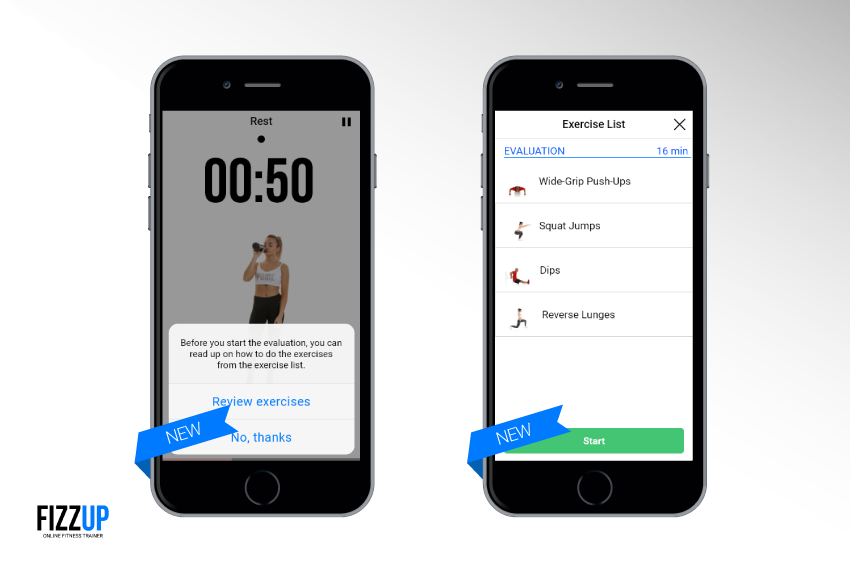 FizzUp's mainly a workout app designed for bodyweight fitness training, but it also includes programs that use light exercise equipment, such as Be Ready, Booty by Chloé, DB-800 and Kettlebell Mania. Now during your evaluation, you can enter the amount of weight you'll use for each of the exercises in a single cycle so that you can better track how much your strength improves.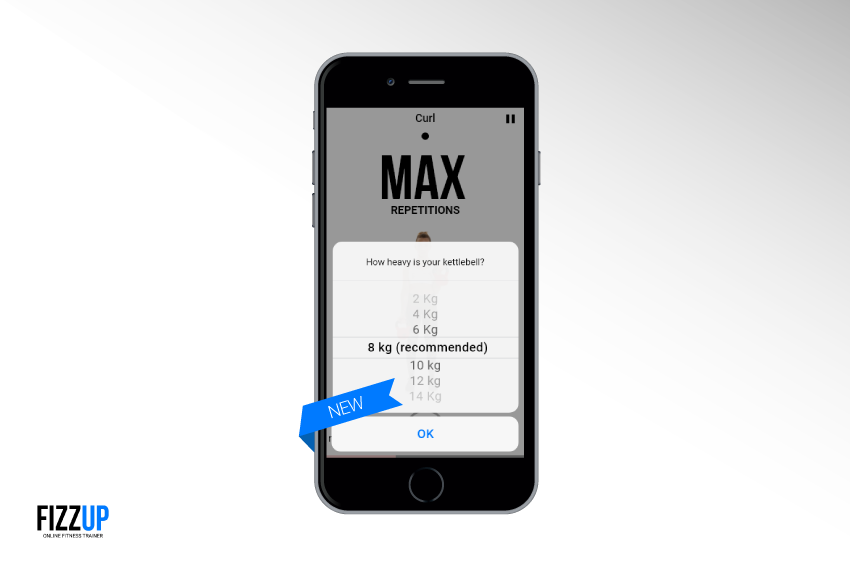 With this update, the FizzUp trainer will also tell you his recommended weight for each exercise, whether you're using dumbbells, a barbell or a kettlebell. Get the most out of your equipment with this amazing new feature that will help you get even better results!
Once again, FizzUp's taking your program personalization to the next level to bring you workouts that are even better for you. Available on the App Store, Google Play and on our website, start your FizzUp program to turn your fitness ambition into reality. With update 2.4, you're in control of what you do during your workout and the time you spend doing it.