Here at FizzUp, we're always making sure the app keeps on growing and evolving every day to bring you a fitness training experience that exceeds your needs and goes above and beyond your expectations. This update is packed with loads of amazing features that are sure to boost your progress even more.
INTRODUCING THE NEW TAB FOR EASIER ACCESS TO PREMIUM CONTENT
The latest version of FizzUp has gotten another overhaul to bring you an all-new interface with a tab just for FizzUp Premium content. If you're a subscriber, this is where you'll find all the features that come with Premium. With this tab, you'll get the absolute maximum out of your app.
Been using FizzUp for a while now and miss the Focus programs? Great news… they're back! If you're new to FizzUp, you'll find out just how effective they are in targeting a specific area of your body. And that's not all! The Focus programs and Challenges are now available right in the app! So hurry… grab your smartphone and give them a try!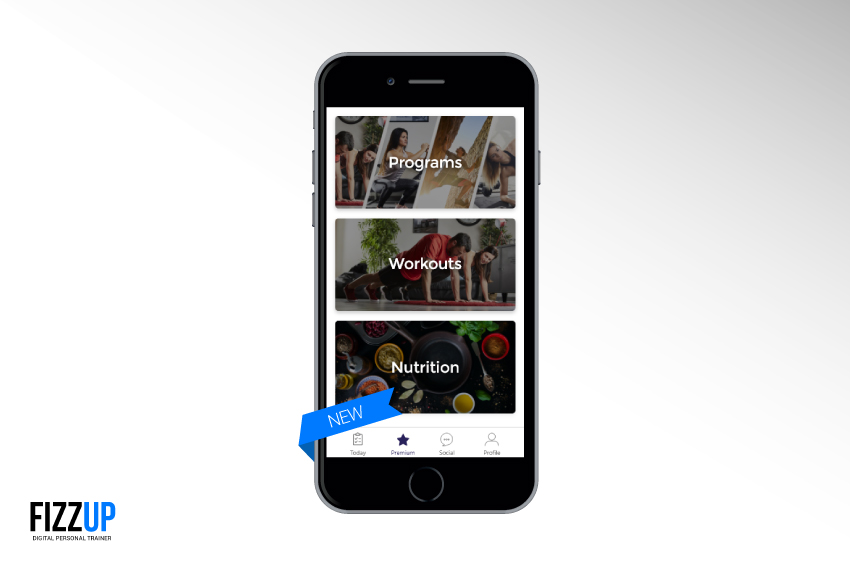 With the Premium tab, you'll also have access to the entire list of FizzUp programs, Challenges and Nutrition in a single tap!
The Premium tab opens up a whole new world of possibilities.
Just like before, your session still includes your personalized workout of the day, the trainer's recommendations and the meals that are right for your specific fitness goal. Adding this handy and intuitive tab makes finding your favorite features faster and easier so that you can spend more time making progress, and less time navigating through the app.
FIZZUP PROGRAMS
Check out the entire collection of FizzUp programs to decide which one is best for your needs or use it to help you decide what your next fitness goal will be!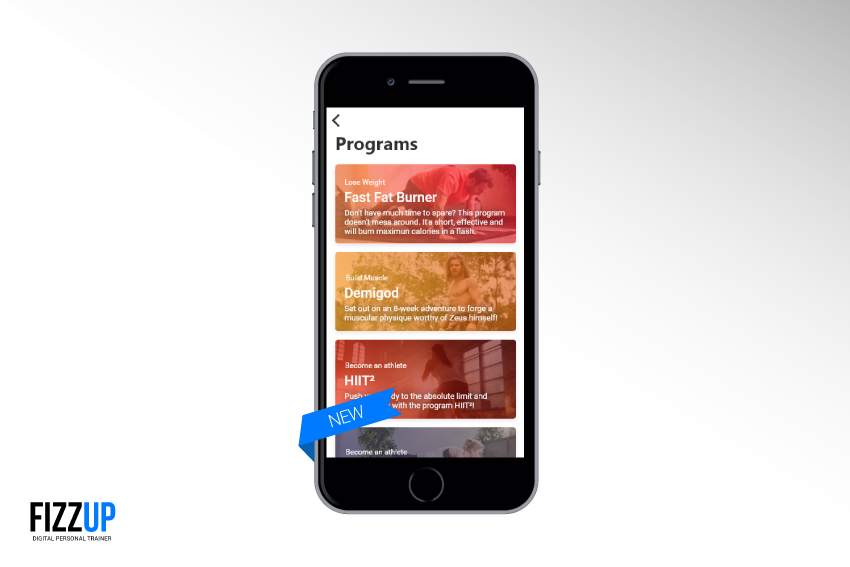 FIZZUP WORKOUTS
In the "Workouts" part of the app, you'll find all your FizzUp Challenges, Focus programs and Stretching circuits! Everything you need to put you in the driver's seat of your experience with FizzUp. YOU decide what's included in your workout, its duration and difficulty and which areas of your body it's going to work.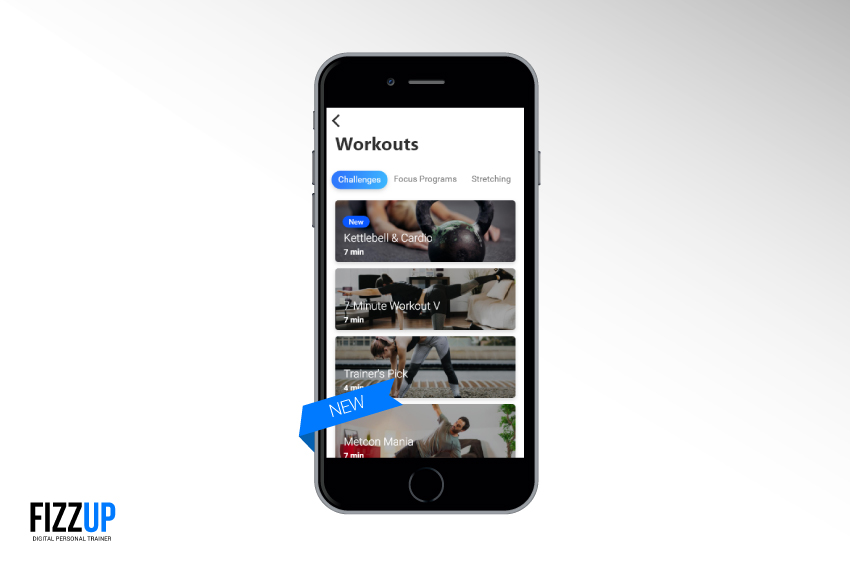 FOCUS PROGRAMS
As a reminder, the Focus programs are five-minute mini-workouts designed to target specific areas of your body based on your fitness goal. They include a warm-up block followed by a targeted strength training block. These are the types of Focus programs you'll get depending on your sex:
FOR WOMEN
Flat Stomach
Glutes
Thighs-Abs-Glutes
Full-Body
Arms
FOR MEN
Pecs
Thighs
Arms
Back
Full-Body
Abs
What are you waiting for? Now's your chance to discover (or rediscover) them!
CHALLENGES
Just the thing to push your limits and put your body to the test! The Challenges give you an infinite number of possibilities when it comes to your fitness training. Burn even more calories with a high-intensity FizzUp Challenge. Is a flat stomach your fitness inspiration? Then you'll love our Abs and Core Challenges! They were made to break up your routine.
Do them whenever you want… including on your rest day! No matter what you feel like doing, pick one from our ever-changing selection that easily fits into any busy schedule.
STRETCHING
With our wide range of stretching sessions, calm your body and mind after intense exercise or a hectic day at work. They can also make your morning wake-up a little easier. There's something for everyone, no matter what you're looking to get out of stretching. Quickly release muscle tension or improve your flexibility with our fast and effective stretches. Once you've given the Stretching circuits a try, you won't want to go a day without them! Like the Challenges, you're free to do them where you want, when you want.
NUTRITION
The FizzUp trainer knows that no fitness training experience is complete without proper nutrition! FizzUp brings you over 250 easy-to-make recipes that will improve your everyday eating habits. Check out the recipe videos that make healthy cooking a walk in the park!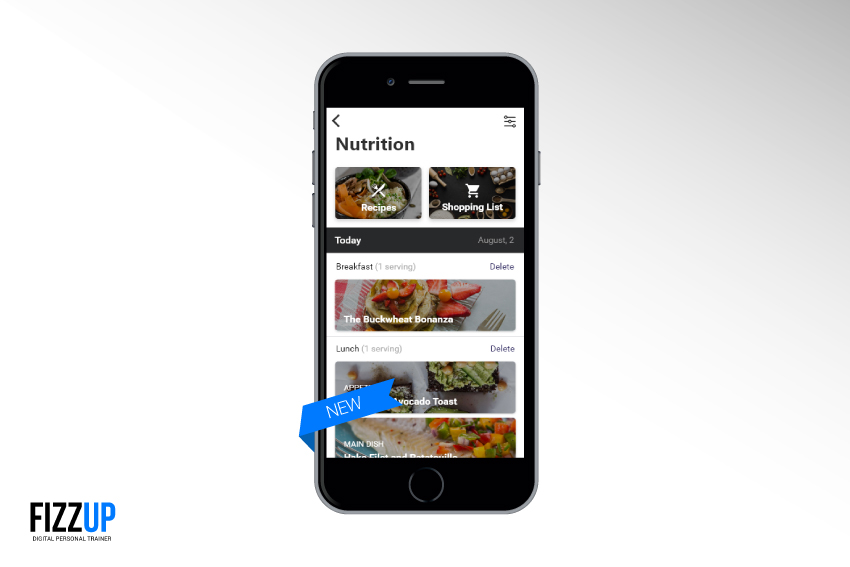 Get the recipes that are right for your fitness goal and dietary restrictions. Whether you want to lose weight or build muscle, just follow the recipes in your FizzUp app to make reaching your goal a snap! Always asking yourself what you should be eating and how much? Not anymore!
And last but not least, FizzUp lets you plan your meals for up to 15 days in advance. Lunches and dinners include an appetizer, main dish and dessert. You can plan your breakfasts, too. Once you've picked your meals, just follow the trainer's lead.
With this all-new Premium interface and your personalized FizzUp program, we've just given you the ultimate freedom to what you want with your app while keeping your motivation sky high and your progress on a steady incline!
FAQ CHAT
This update also brings you a new FAQ chat with the trainer, available 24 hours a day, 7 days a week, right from your app's home screen. Get the answers to almost any question you could have about FizzUp.
To access the FAQ chat, just tap the "Today" tab from your home screen and go to the trainer's recommendations section.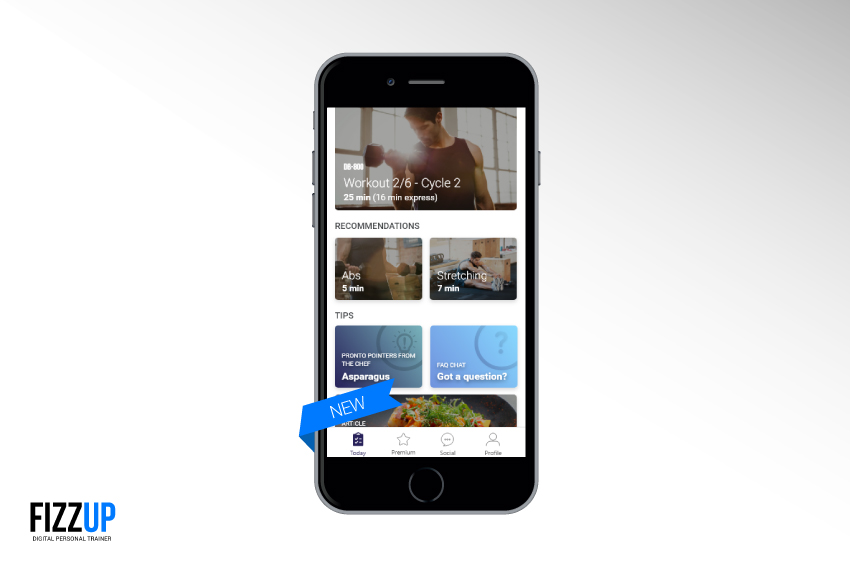 How does FizzUp work? What are the FizzUp programs? What's a repetition? What about the rest days? What's an evaluation? You've got questions, the FAQ chat has answers!
Have a question about your subscription, account or a gift code? Accidentally enter the wrong number of max repetitions for a certain exercise? One of the latest additions to the FizzUp home screen is always there when you need to get in the know!
If you still can't find the answer to your question through the FAQ chat, no problem! FizzUp's technical support team is here for you! Just send us an email at support@fizzup.com.
Every day, your FizzUp app is there to guide you on your journey to better health and is always improving to bring you the very best fitness training experience. Now that you're up to speed on our latest update, open your app now to check out all the newest features first-hand!