The FizzUp app has taken personalization to a whole new level! Now the trainer is even closer to you at any time of the day and night, bringing you workout suggestions based on what you feel like doing and how much energy you have to ensure that you're always getting the motivation you need to make progress. Here's a rundown of the latest innovation that will truly revolutionize how you use the FizzUp app:
The smart dashboard!
THE TRAINER IS EVEN CLOSER TO YOU
With this update, your trainer is always there to meet your needs and guide you in your fitness training morning, noon and night.
Feeling at the absolute top of your game and want to see how far you can push your limits? Just tell the trainer and he'll recommend workouts that will put your body to the test!
But if you're feeling beat after a rough day, the trainer will put together a set of workouts and stretching circuits that will go easy on you.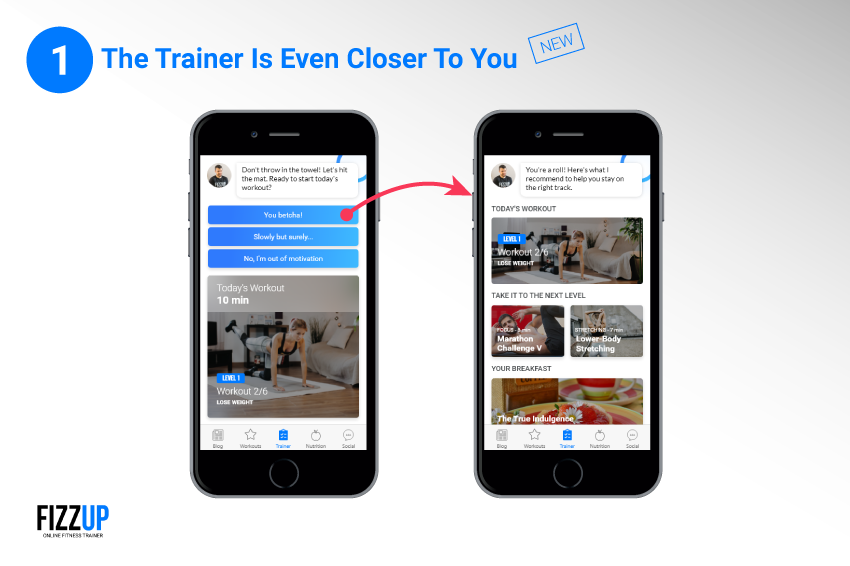 Now that you can interact with the trainer, you'll get workouts that are even more personalized to keep you motivated in the long term so that you're constantly making strides toward your goal.
EVERYTHING YOU NEED ON THE SAME SCREEN!
Your always user-friendly home screen has gotten a makeover with a more lively, dynamic and exciting interface! You'll get workout suggestions that are always right for you and change depending on your fitness and energy level.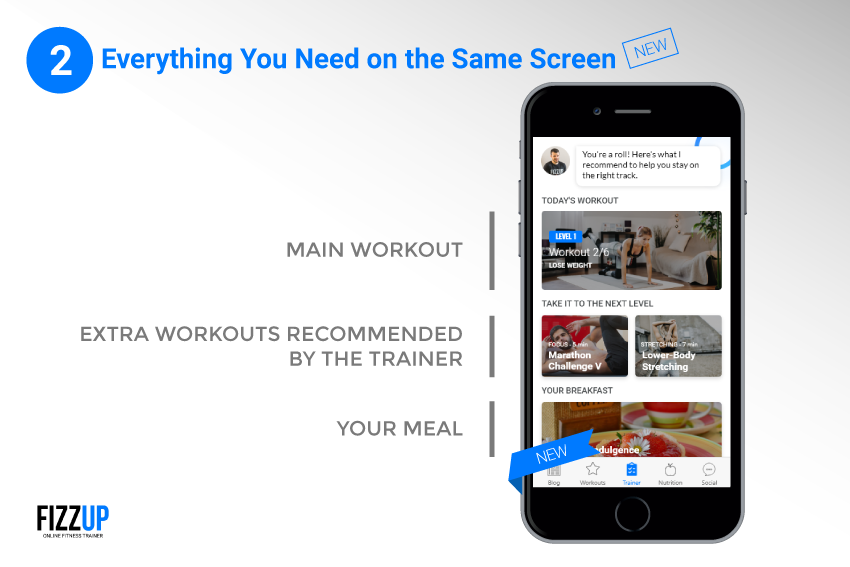 To make it even more convenient and intuitive, you'll find your daily basic workout with all the info you need to know, like your current level and goal. Under that you've got your extra workouts (Challenges, Focus programs and Stretching circuits) that the trainer carefully selects for you when you tell him how much you feel like doing today.
And last but definitely not least, you can easily access the recipes from the meals you selected in the meal planner depending of the time of day you log in. For instance, if you open in the app in the evening, you'll see the dinner you've already planned!
SEE WHAT YOU'VE ACHIEVED TODAY
With an all-new interface and the trainer's recommendations, you've got so many new ways to shake up your fitness training, keep making progress and stick to your routine for good!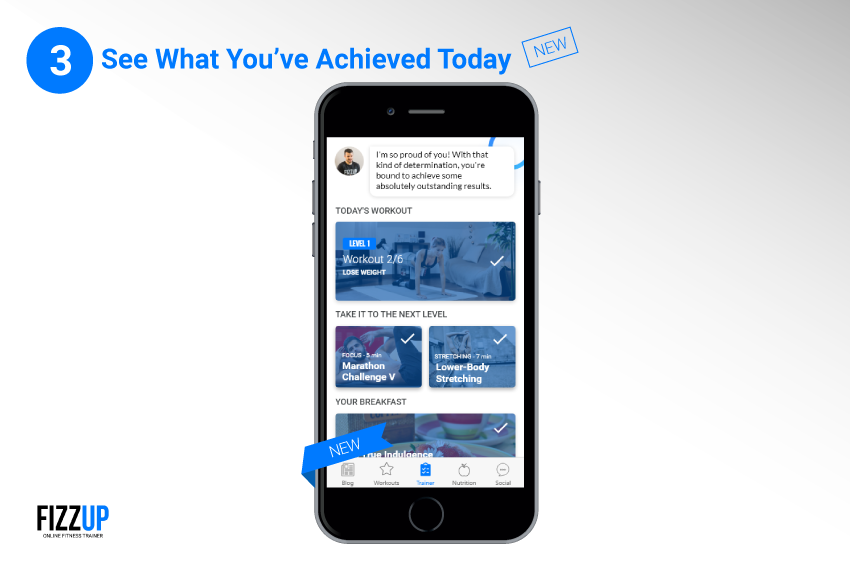 The latest update also lets you see at a glance how far you've gone in your daily fitness training. Just finished a workout? Then it's checked off! When you do all the trainer's daily recommendations, you'll be doing the maximum to achieve your goal and the trainer will always be there to congratulate you on dedication.
IT'S TIME TO HIT THE MAT
Day after day, the FizzUp trainer is there to be the guide that's by your side with update 1.27. You've now got all the keys to your fitness success, minus the guesswork, headaches and stagnation, no matter what your energy level is! Ready to open your app and hit the mat? The trainer is waiting!