The FizzUp trainer couldn't say this enough: 80% of your results depend on what you eat. Start eating a healthy and balanced diet now to get the most out of your fitness training for guaranteed results with the FizzUp Nutrition* update. Get tips, recipes and a personalizable meal planner!
NUTRITION TIPS TO HELP YOU BALANCE OUT YOUR DIET
As the years go by, you might notice that you've gotten into some bad eating habits. Don't worry, because it happens even to the best of us. But it's never too late to make a fresh start!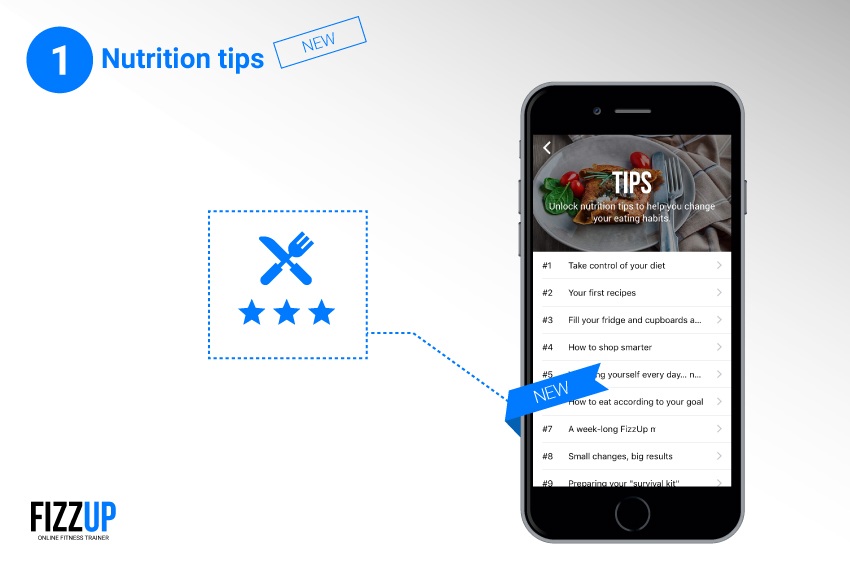 With the FizzUp Nutrition* update 1.23, you'll get 51 nutrition tips right in your app that are unlocked every other day to help you gradually change your eating habits.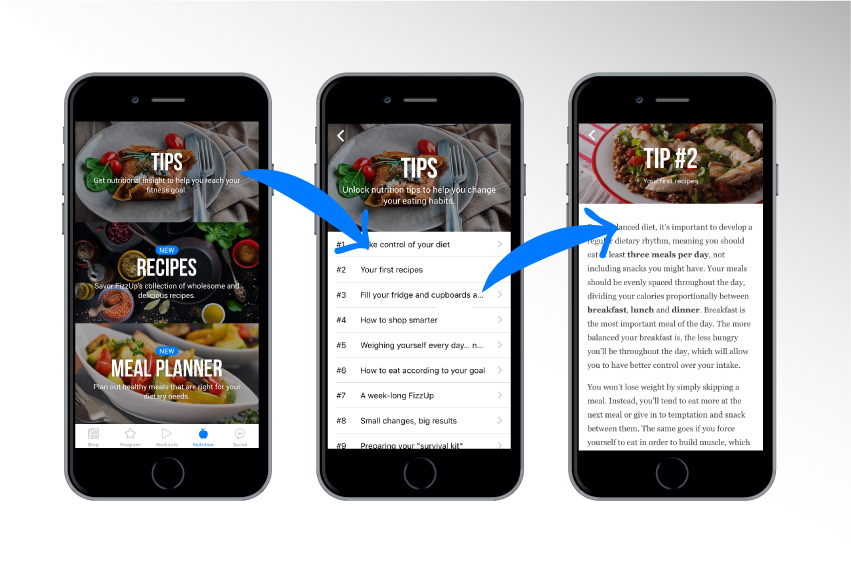 Your diet will evolve using five stages: getting organized, understanding your needs, spotting mistakes, balancing out your diet and enhancing your knowledge about nutrition. With these tips, eating a wholesome diet will be a walk in the park!
130 MOUTHWATERING RECIPE VIDEOS
FizzUp is revolutionizing nutrition with update 1.23, bringing you 130 recipes that include everything from breakfast to dessert.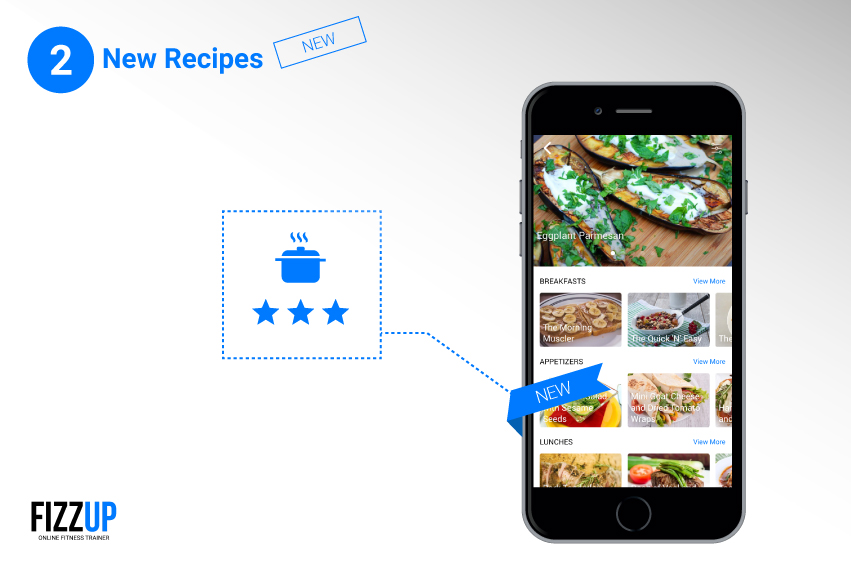 We make eating something different for lunch AND dinner a no-brainer. Viewing your recipes is so easy! Just tap the "Program" icon in the tab bar, followed by "Nutrition," then "Recipes."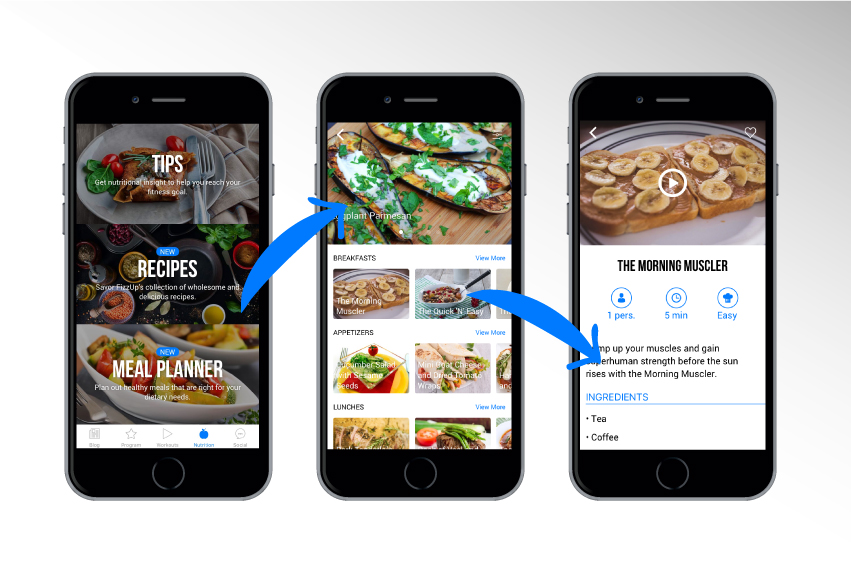 The FizzUp trainer is already one step ahead and gives you easy-to-make recipes that will spice up and balance out your daily meals. If you want to become a five-star chef, watch the videos to see how every recipe is made. They make cooking a cinch! Say goodbye to processed TV dinners that can have serious consequences for your health. Stop the hassle of wondering what you'll eat for lunch and how big your portion sizes should be. Our recipes are right for your sex and fitness goal, knowing that men's and women's nutritional needs are different. Whether you want to lose weight, get in shape or build muscle, just whip up the recipes in your favorite fitness app all to get results like never before.
With FizzUp Nutrition*, you can learn to cook nourishing food in your everyday life that you actually enjoy using out-of-the-ordinary recipes that are great for your health to share with all your family and friends.
DAILY MEAL PLANS THAT ARE RIGHT FOR YOU
FizzUp Nutrition* now brings you personalized meal plans to suit your tastes and dietary needs for even more fitness guidance.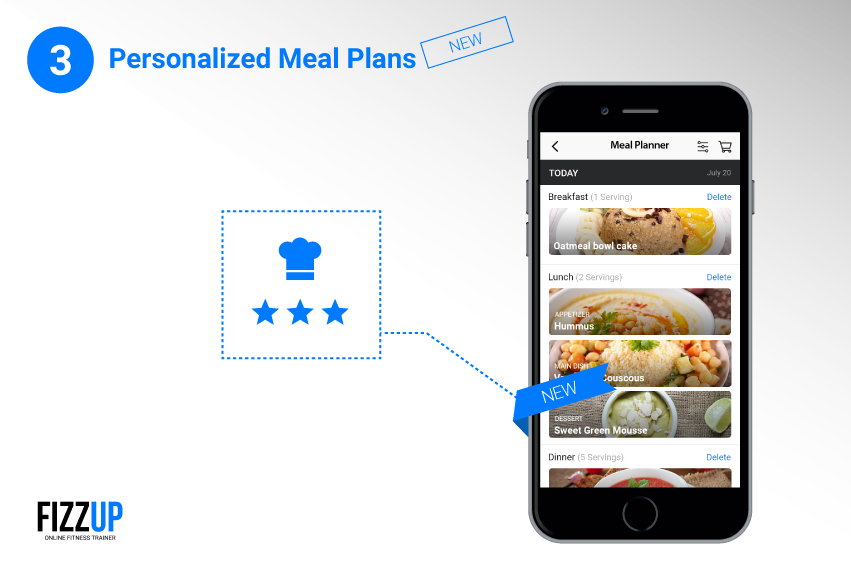 The FizzUp trainer lets you plan out recipes for every meal of the day for up to 15 days in advance. Stop wondering how to eat a healthy diet… the trainer tells you how! Lunches and dinners include an appetizer, main dish and dessert. You can also plan out your breakfasts. When you pick out your meals ahead of time, all you have to do is follow suit!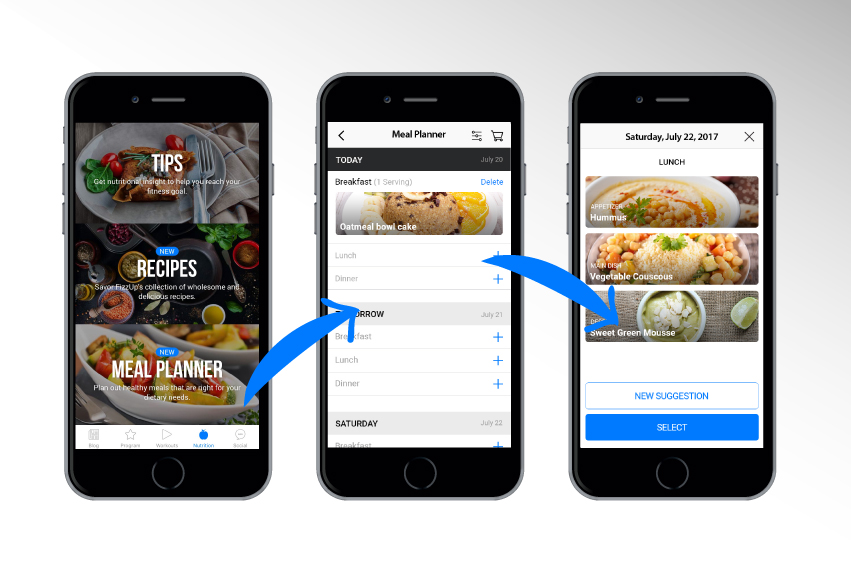 And last but not least, if you tend to forget half of the ingredients you need once you're at the supermarket, you're going to love FizzUp update 1.23 with its convenient shopping list feature. Check off every ingredient in your basket so that you're sure not to forget anything. Now when it comes food shopping, the FizzUp trainer's got your back!
With update 1.23, get everything you want out of your nutrition and back into healthy eating habits. The FizzUp trainer makes it a piece of cake! Just select your recipes, get your shopping list and buy your ingredients. Stop putting a better diet on the back burner and fire up your oven now!
*FizzUp PRO feature