With FizzUp update 1.22, nothing will ever be the same again! Not one, but TWO surprises await you that are just as big as your muscles.
FIZZUP PRO SINGLE WORKOUTS
Because your satisfaction is our biggest reward, the FizzUp trainer is giving you more ways to shake up your workout program with single workouts. These workouts are divided into three categories:
Focus
Challenges
Stretching
The Focus programs are the same as before and still help you target a specific area of your body for even better results. Glutes, arms, legs, back, pecs… the Focus programs work them all.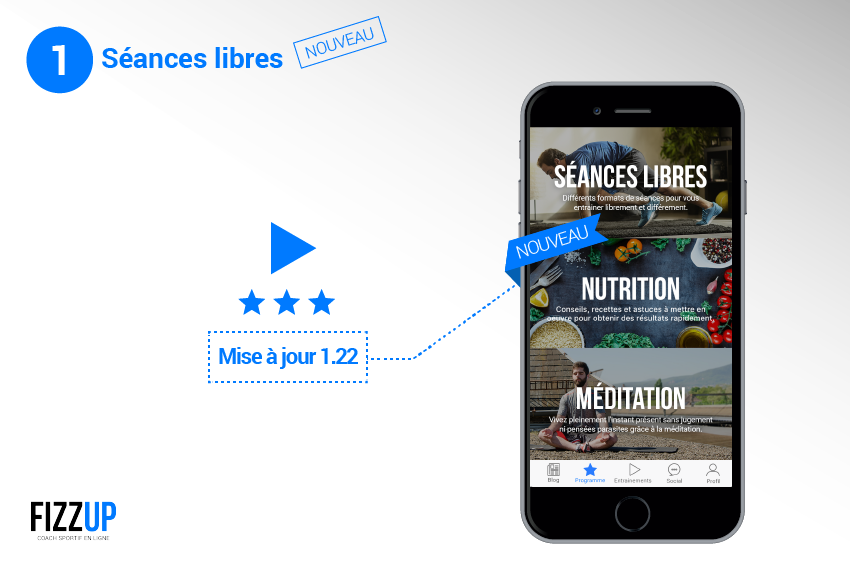 With Challenges and Stretching, you'll get access to brand new exercises like single-leg glute bridges, the sphinx, the knee-to-elbow side plank and many more. You're sure to keep up your motivation and find enough to satisfy your fitness appetite with these new workouts!
ChallengeS ARE NOW PART OF YOUR PROGRAM
The Challenges will revolutionize your fitness training experience. Put yourself to the test with a variety of circuits that change every 15 days to shake up your routine. You can do them whenever you want, in less than eight minutes. Want to get moving on your rest day? That's what the Challenges are for! Want to continue your workout? The Challenges are waiting for you! You can choose your daily workout Challenge depending on what you like and how much time you have because you can see how long each FizzUp Challenge will last before you start.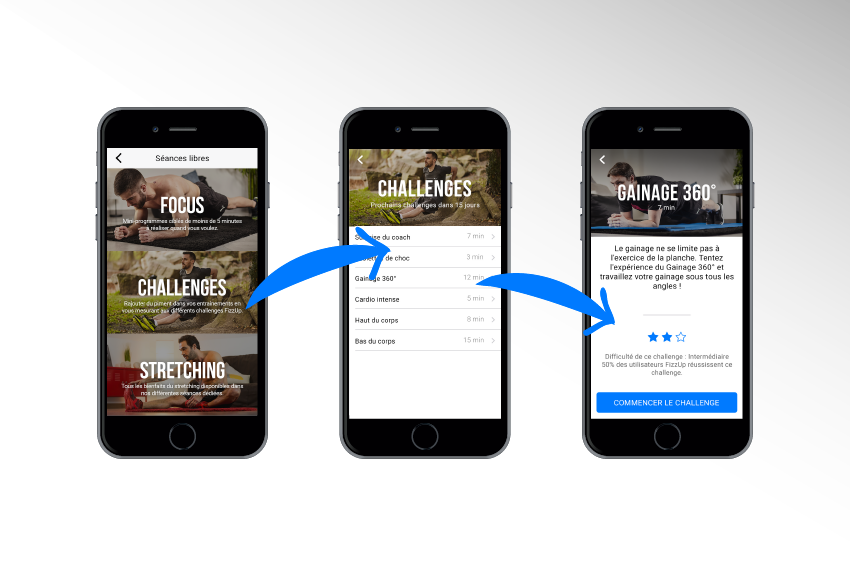 They are different kinds of Challenges:
Trainer's Pick: The FizzUp trainer puts you to the test with rep after rep of unpredictable exercises. Every new Challenge from the trainer is unique, so you'll never know what to expect! Start this FizzUp Challenge to venture into the unknown.
Six-Pack Abs: This mix of traditional and dynamic abdominal exercises will put your midsection to work. A FizzUp Challenge to effectively sculpt your abs.
Core 360°: Fans of core strengthening will love this Challenge because it gives them core strengthening circuits that work to fortify your abs and lower back muscles. Strengthen all 360° of your body.
High-Intensity Cardio: Want to unwind after a long day by breaking a sweat and getting your heart pumping? Then give the High-Intensity Cardio Challenge all you've got to feel the satisfaction of a job well done.
Upper Body: The men's version of this Challenge will satisfy users who want to get a torso like Hercules. The women's version gives the ladies more than enough to strengthen their arms and support their chest for a toned physique.
Lower Body: With this Challenge, you'll never skip leg day again. It's also available for both men and women. From your glutes to your toes, it works everything in between.
STRETCHING YOU CAN DO WHENEVER YOU WANT
The single workouts also give you new stretching circuits to help you relieve stress after a busy day, increase your flexibility or give you a peaceful return to rest after a Focus program. They last 5 minutes or less, which makes them easy to fit into your Schedule.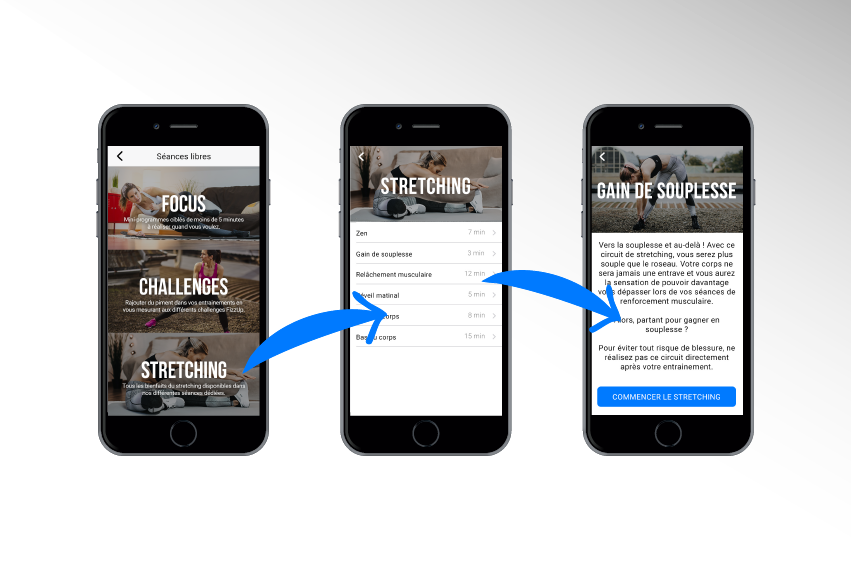 They include:
Morning Wake-Up: This circuit combines easy joint mobility exercises and stretches for a gentle wake-up.
Flexibility Booster: Boost your flexibility with targeted exercises and long stretching times.
Full-Body Stretching: This circuit includes muscle-stretching exercises you can do after any workout, whether it's a FizzUp workout or any other physical activity!
Yoga: Give yourself some time to completely relax with these stretches that work your entire body. Prepare yourself for full-body wellness!
Upper Body: Try stretches that target your upper body, which are great after a Back, Pecs/Chest or Arms Focus, for instance.
Lower Body: Try stretches that target your lower body, which are great after a Glutes or Thighs-Abs-Glutes Focus. It's also useful for anyone who loves to hike and wants to relax after an excursion.
The FizzUp trainer is here to guide you every day. Your FizzUp PRO program gives you everything you need to boost your wellness and help you live a more energetic and active life. What's your favorite Challenge?