Your FizzUp app has just hit the ultimate peak when it comes to personalized fitness training and helping you keep making progress with motivation that never fades.
With our users' high expectations and an ever-evolving fitness training experience at the forefront of our innovation, we're pleased to present to you the new version of FizzUp after many so months of hard work!
Now, whoever you are, whatever your goal or fitness level is, FizzUp's got the right program for you. With our first wave of completely personalized programs that each have their own specific theme, every day of your program is designed to keep you gradually making progress toward your goal.
On a quest for more muscle? Then start the Demigod program and join Heracles on an epic journey.
Want to get your heart pounding for a feel-good adrenaline rush? Then the program HIIT² was made for you.
Ready to push your absolute limits? Thomas, winner of the 2017 Ninja Warriors competition, and his program No Limits will put your body to the test.
Need to whip your glutes into shape before summer? The Sergeant and her Booty Boot Camp program are waiting for you, cadet!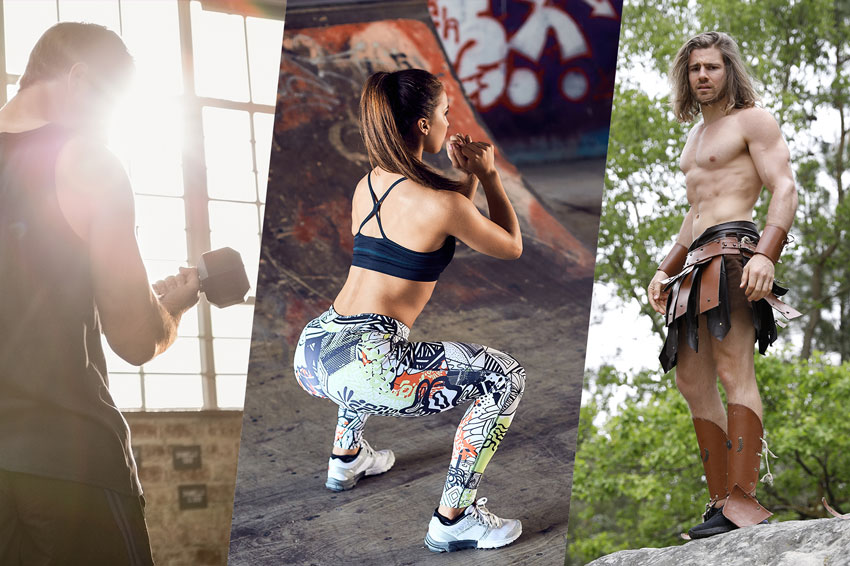 Check out our entire range of programs and you're sure to find what you're looking for.
Bringing you a one-of-a-kind fitness training experience with a program specially designed to get you the exact results you crave was the driving force of this major app innovation. And it represents the biggest FizzUp update of all time.
HERE ARE THE TOP EIGHT!
For the initial launch of this update, FizzUp is bringing you eight unique programs*, each one with a different goal and its own extraordinary universe. They cover the majority of our users' goals and expectations by breaking down the standard goals that already exist ("Build Muscle," "Get Fit," "Feel Like an Athlete," and "Build Muscle with Equipment"). Having trouble deciding which one is right for you? Julien's here to give you his recommendations on which FizzUp program is best for your goal.
Fast Fat Burner: Running short on time? This five-week program doesn't mess around. It's short, effective and will get you burning calories in minimum time. We recommend it for anyone who wants to torch fat in a flash.
Booty Boot Camp: For seven weeks, the Sergeant will take you through this program day by day with a single objective: to tone your glutes and build a booty of steel! So no more excuses… see you on the field!
Demigod: Set out on an eight-week adventure to forge a muscular physique worthy of Zeus himself! Together with Heracles, you'll sharpen your body and mind to make them as honed as Cerberus's teeth and as solid as a centaur.
HIIT²: Six weeks of intense cardio! Exterminate calories in record time with the program HIIT². Get ready to break a sweat with 20 high-energy workouts and set your muscles on fire to boost your metabolism and achieve faster results!
Kettlebell Mania: Whether you're a beginner or a kettlebell pro, this program brings together the top kettlebell exercises that will make your head spin!
No Limits: Winner of the 2017 Ninja Warriors competition, Thomas will tell you all the secrets to achieving the ultimate level of physical fitness. Agility, strength, endurance and mental toughness are only just a few of the athletic skills you'll build. This program has been optimally designed to include equipment, but a bodyweight version is also available.
DB-800: There's still time to keep robots from overthrowing the human race! Use your dumbbells to push your limits and transform your body into a real war machine in less than two months.
Mission: Weightlossible: If you've had enough of excess fat, then get ready to set out on a mission for better body confidence! This program has been specially designed to help you fight extra pounds with 25 targeted workouts over 7 weeks and savvier nutrition choices.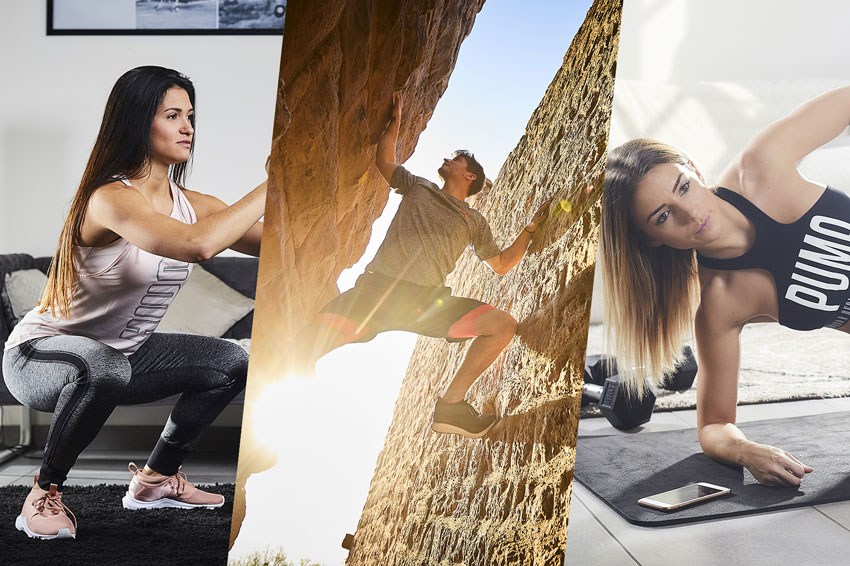 Whether you're male or female, a fitness beginner or seasoned athlete, need to build muscle or trim some belly fat or want to become a dumbbell or kettlebell pro, we've got the program you need.
What you get when you sign up for FizzUp*:
Access to our entire collection of programs and all app features
A personalized and individualized workout plan that's based on your fitness level and energy level
Workouts, challenges and stretching circuits that are specially designed to help you make progress and keep having fun on the mat
A nutrition feature personalized according to your own tastes, dietary preferences (vegan, vegetarian, gluten free and lactose free) and goal (lose weight, build muscle or get/stay fit)
Motivational messages from the trainer
Unlimited access to user support
And results that are guaranteed!
YOUR PROGRAM
Our programs were designed to maximize your results and bring you an unprecedented personalized fitness training experience. Each program uses several factors that are each adapted according to your specific goal and program:
Length
Total number of workouts
Number of workouts per week
Exercises
Evaluations
Workout protocols that determine the volume and intensity
Rest time length
Additional training blocks (abs, cardio and stretching)
These elements are all adapted to suit your goal so that you continue to progress. Remember, every day of your program is unique and has a specific function in your program. These are the pieces that are incorporated into each cycle of your program. You can find the name of the cycle on your home screen below your workout of the day. Think of each cycle as a link in the chain of the progress you're making.
Every day, you'll have:
A warm-up to prepare your body and mind for exercise
On a workout day, a specific workout that's designed to make you progress, each one including exercises that were chosen specifically for your program
Abs and core strengthening exercises to fortify every muscle group in your body
Additional short cardio workouts and challenges designed for your program and recommended according to your fitness level if you're up for more
Stretching circuits created to accelerate the recovery process and relieve physical or everyday stress
Motivational messages and recommendations given to you by the trainer according to your energy level that change every day of your program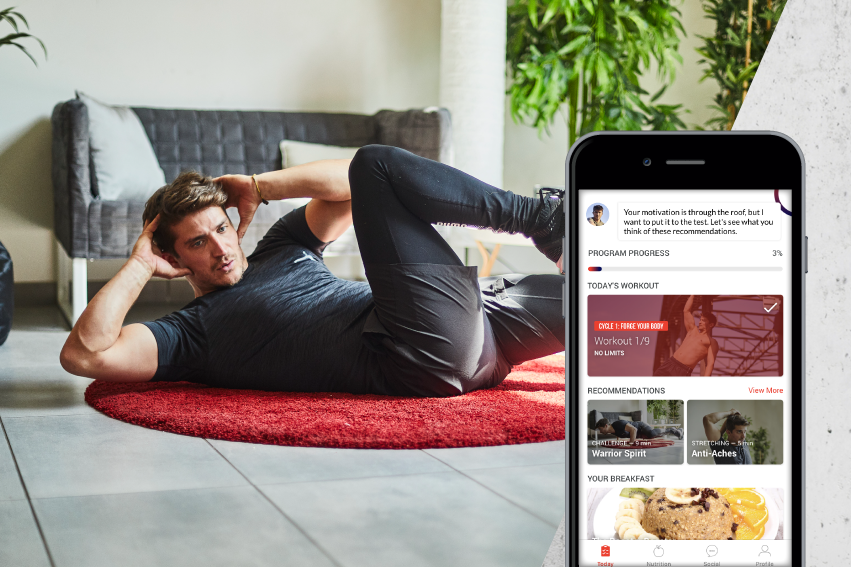 The cycles replace the former levels of the older version of the app and are made up of an incredible range of exercises that vary throughout the duration of the program and the individual workouts. You'll start your cycle with an initial evaluation that includes several exercises that enable us to completely personalize the subsequent workouts included in the cycle and adapt our workout protocols according to the maximum number of repetitions you do for each exercise. Our programs were created so that the difficulty (of the protocols, exercises and recommendations) within the cycles gradually increases in order to help you make progress at the steady rate. Simply put, we use the basic principles of fitness training while applying a gradual increase of physical stress over time to get your body to evolve. Thanks to this strategy, FizzUp completely adapts to suit your goal and personal profile while still making exercise fun.
WHERE DID MY ADD-ONS AND FOCUS PROGRAMS GO?
Don't worry! All your Add-ons (Cal Burner, Six-Pack and Stretching), Focus programs and Challenges are still available within your workout program. Because we wanted to bring you a completely personalized fitness training experience, we've now made them part of your main workout or your daily recommendations from the trainer. You'll find them for every day of your program, organized in such a way to bring you an even higher level of personalization for each of our programs and your energy level when you start your workout to supercharge your progress.
Additionally, you can also access your Single Workouts* (Focus programs, Challenges and Stretching circuits) on our website!
READY TO FIZZUP YOUR LIFE WITH THE NEW PROGRAMS?
So what are you waiting for? Check out our growing range of programs where there's something for everyone. Have no fear! Take the plunge and sign up for FizzUp today! Still skeptical? Then try one of our free programs such as Fast Fat Burner and Demigod to tide you over as you wait for a mass explosion of new programs coming soon!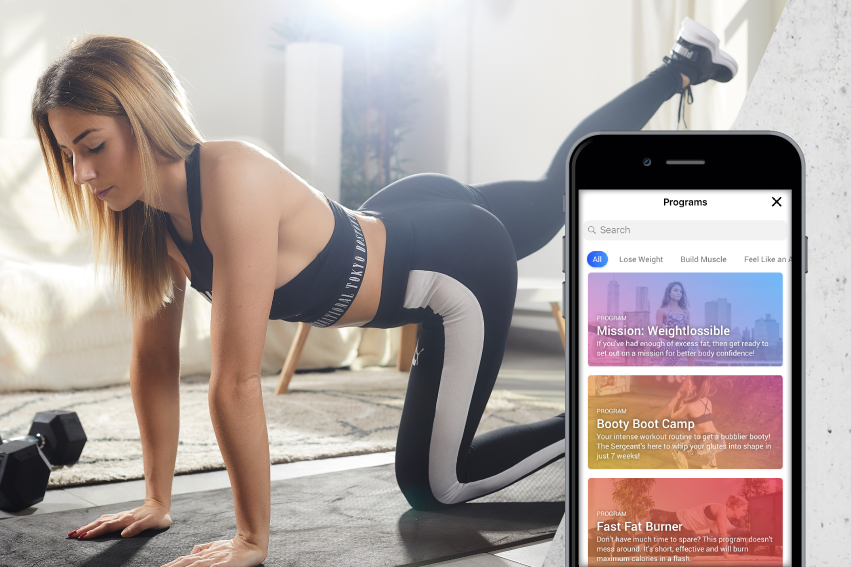 We know it's sometimes hard stepping up to new physical challenges, but that doesn't mean you shouldn't give it a try. That's the only way you'll push your body to make a change. FizzUp's here day after day to help you make yours a reality with this update. Now you have every reason to start your body transformation confident you'll make it to your goal.
Open your app now to get the 360° guidance you need to reach and maintain your fitness goal!
*FizzUp PRO features