Kettlebell Challenges, Marathon Challenges and 7-Minute Workouts: What New Features Are Waiting for You on FizzUp
Can't get enough? Then we've got what you need. Kettlebell Challenges, Marathon Challenges, 7-Minute Workouts and Time to Unwind are all new Challenge or Stretching circuits that are waiting for you under your Single Workouts*. Check out what the FizzUp trainer has in store for you!
NEW FEATURES: THE KETTLEBELL CHALLENGES
Were you dying to add a kettlebell to your workout? Now you finally can! Using a kettlebell is an easy and effective way to work all your body's muscles. It builds both cardiovascular and muscular endurance at the same time. Burn fat as you evenly sculpt your glutes, back and arms. Not to mention your abs, because doing exercises with this piece of equipment puts a high physical demand on your abdominal wall.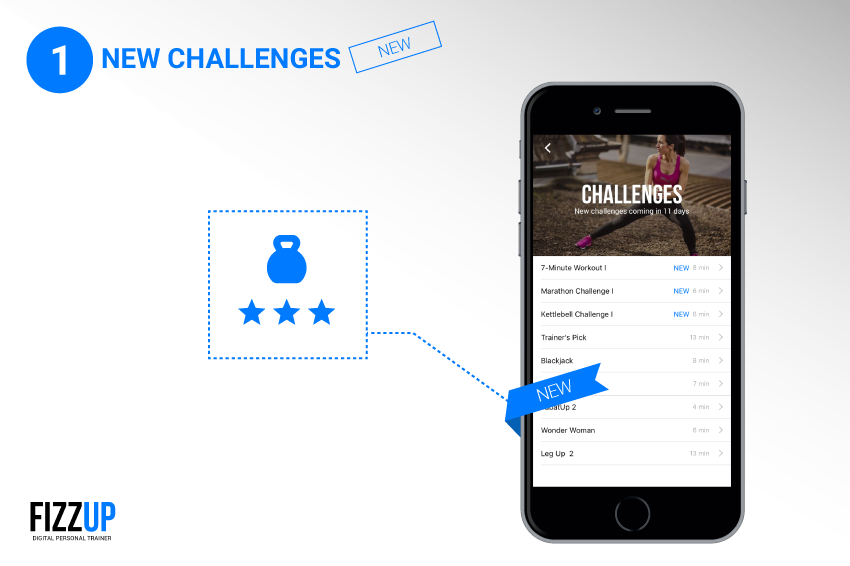 And the best part? It takes up almost no space when you store it or use it, so it's perfect for at-home fitness training. The Kettlebell Challenges give you a wide variety of exercises to show you all the ways you can use it. Make sure to read how to do the exercises because knowing how to them correctly is so important if you want to avoid injury and get faster results.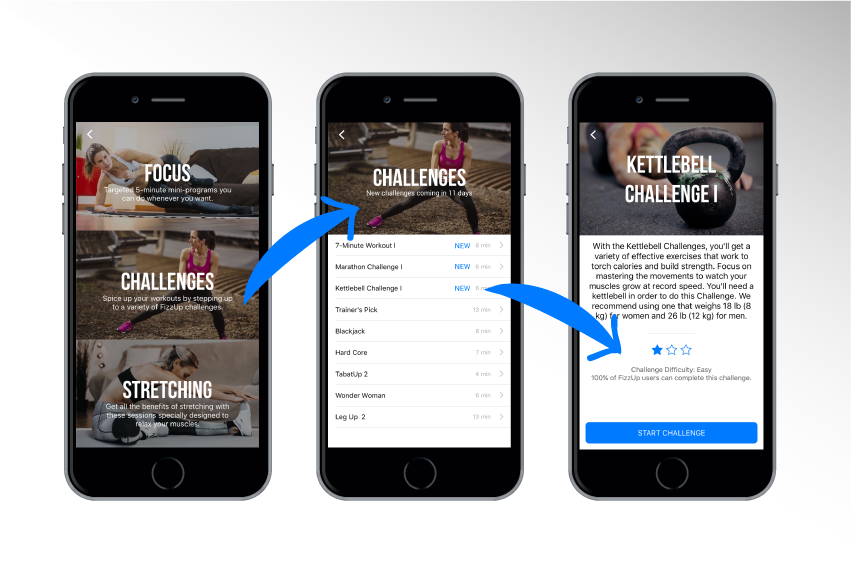 Don't know how heavy it should be? The FizzUp trainer recommends using a kettlebell weighing 18 lb (8 kg) for women and 26 lb (12 kg) for men.
NEW FEATURES: THE MARATHON CHALLENGES
As you can tell by the name, the Marathon Challenges are longer than other Challenges. They take about 10 to 15 minutes to do. You can do one after your FizzUp workout, but the FizzUp trainer recommends doing one on your rest day to make it the optimal supplement to your regular workout program.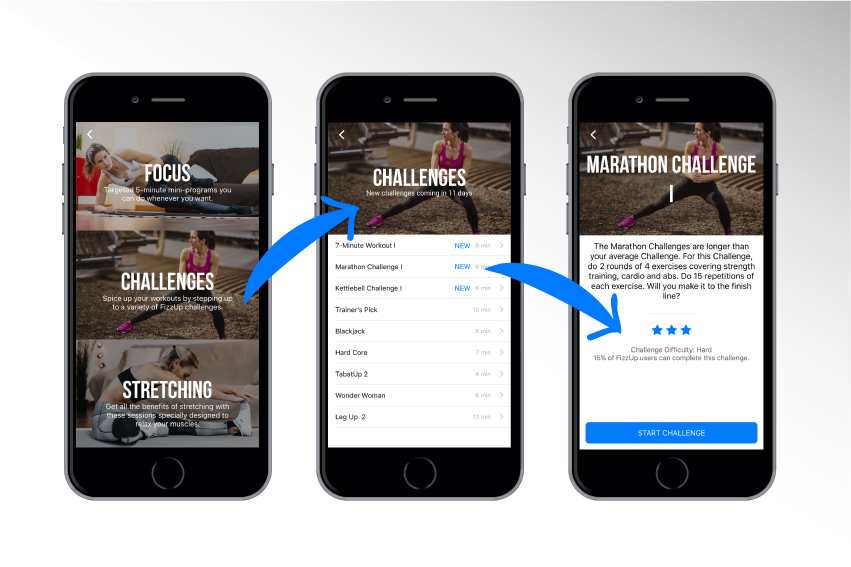 These Challenges work different athletic skills and change every 15 days. They can include strength training, cardio and abdominal exercises. So who are these Challenges for? If you're in top shape and feel motivated enough, give them a shot to see how far your athletic skills will take you. These Challenges are hard, but they're sure to spice up any experienced athlete's workout routine. If you're a beginner, you can still try them out and go at your own pace.
NEW FEATURES: THE 7-MINUTE WORKOUTS
The 7-Minute Workouts are known for getting you results with less time and effort. Designed using HIIT method (high-intensity interval training), the 7-Minute Workouts include 12 exercises that you do for 30 seconds each with 10 seconds of rest time between each exercise, based on circuit training. These workouts only use your body weight because that makes it easier for you to alternate between strength training and cardio exercises. Work different muscle groups at your leisure to develop an evenly sculpted physique.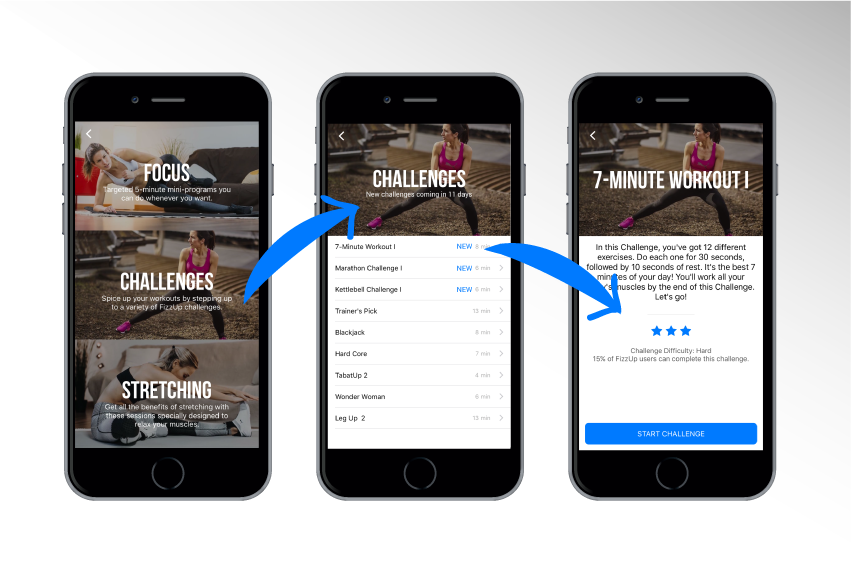 The 7-Minute Workouts are for any users who are determined to build their endurance or who don't have enough time to do their entire FizzUp workout. To get the most out of this Challenge, the FizzUp trainer recommends giving each exercise your all. You can do them at a slower pace if it feels too fast or too hard. It's also better to do this Challenge on your rest day.
NEW FEATURES: TIME TO UNWIND
There's a new way to stretch under the Stretching circuits*, which are included in your Single Workouts*: Time to Unwind. This is the perfect program to help you stretch your legs after you've been sitting for hours at the office or on a long plane ride. Use them to relieve stiff joints, relax your neck, loosen up your shoulders and stretch your back.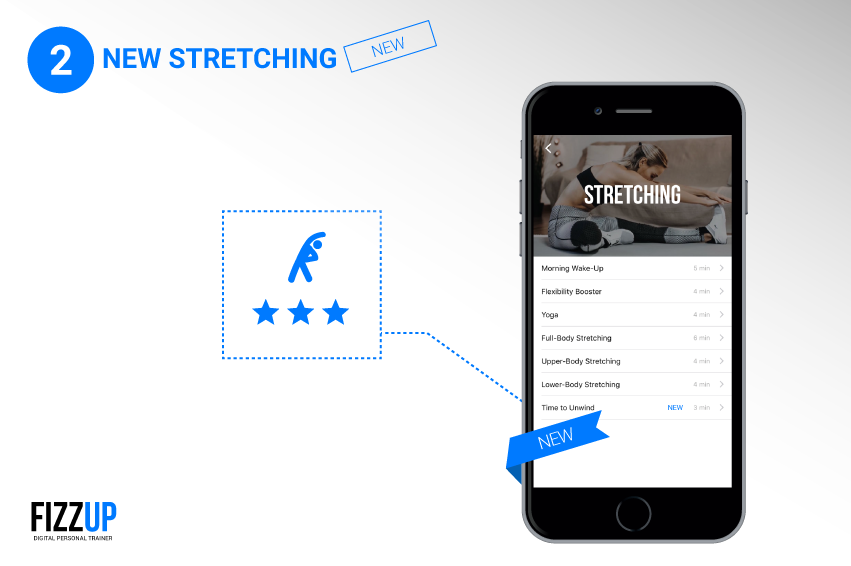 It's one way to help you fight back pain, which is caused by sitting for long periods of time. Decompress and feel better in your body when you take some time out for your wellness.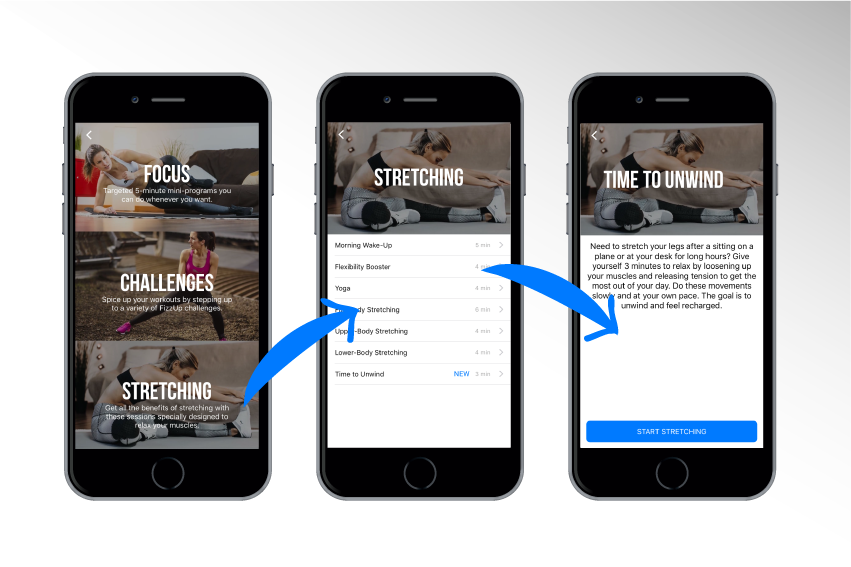 These Stretching circuits only last three minutes at most and you can do them at the office, airport or at a rest area while traveling as long as you've got your FizzUp app with you. Remember to read the instructions so that you can do these stretches like a true yogi.
COMING SOON: THEMED CHALLENGES
And that's not all from the FizzUp trainer! Soon you'll find a brand-new Challenge category in your app called the THEMED CHALLENGES. How exciting is that?!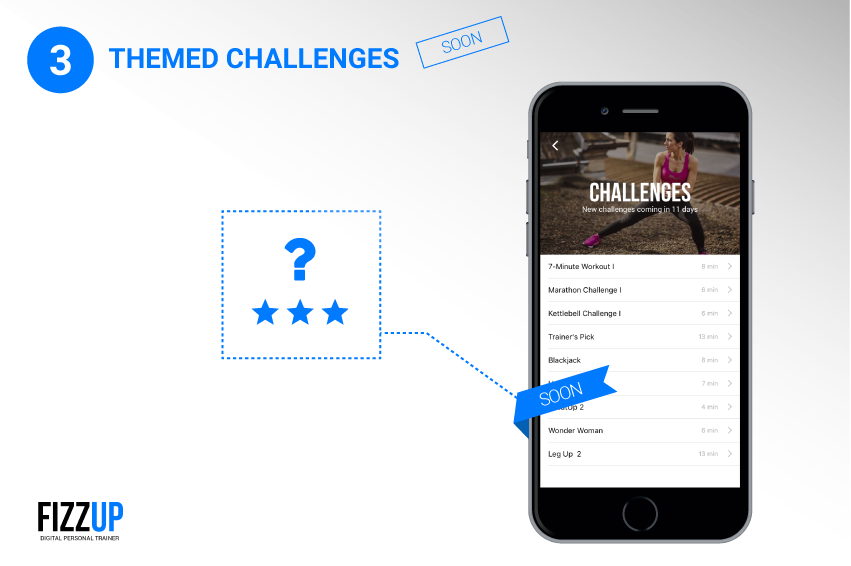 Every 15 days, we'll bring you a new themed Challenge* that's even crazier than the last. Stay tuned and keep an eye on your Challenges for even more fun during your workouts. Anyone can do them!
These new features are sure to add more variety to your workout program and take your fitness training to new heights. With these Challenges, you can say bye-bye to boredom during your fitness routine. Which new Challenge can you not wait to try?
*FizzUp PRO feature