Summer is officially in full swing and here at FizzUp, July has been the perfect month to bring you loads of features you've been asking for, like one-of-a-kind workout programs and unexpected challenges.

Read on to learn the FizzUp's biggest news this month, including the latest programs, yoga sessions and new tips from your trainer Max!

Yoga makes its debut on FizzUp!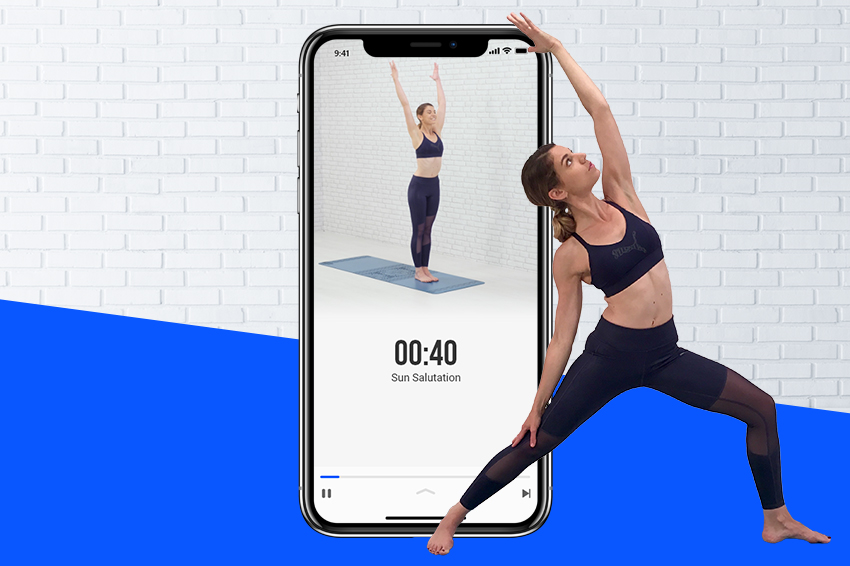 What's the headliner of this month's new releases? Our brand-new yoga sessions, now available in your FizzUp app! To get you started, we're proud to release six yoga sessions created by a professional yoga instructor that you're going to love!

Sun Salutation
Detox Yoga
Yoga for Shoulders
Energizing Yoga
Yoga for Hips
Yoga for Back
Practice soothing breathing techniques, improve your flexibility and unwind with these sessions people of all fitness levels can do! Fill your mind with positive thoughts as you give your muscles a deep stretch to release stress with FizzUp's new yoga feature!

Programs

Just because it's vacation season doesn't mean you should put your fitness routine on the back burner! Even though it's hot, July is still a great time to work out, especially when you've got some more time on your hands than usual. Check out these new programs designed to step up your training and get you to your goal in no time!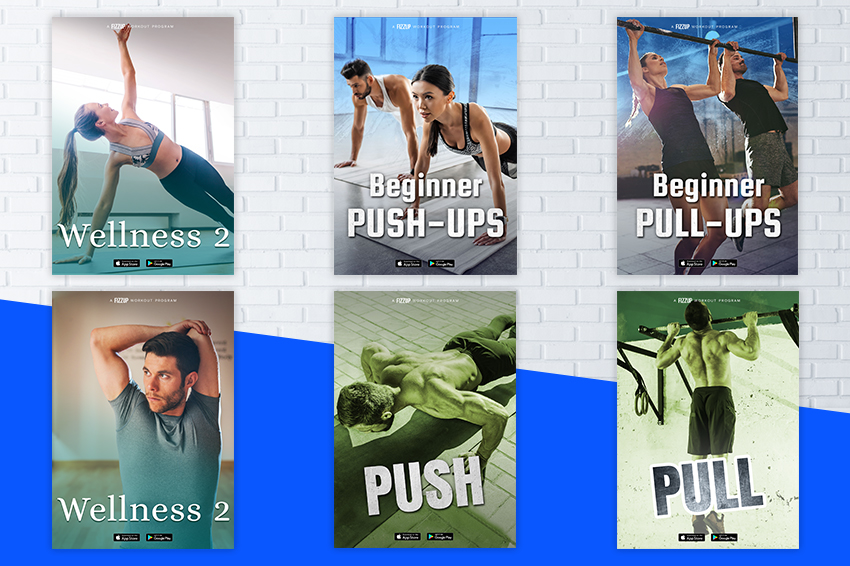 Wellness 2 (available as a men's and women's program)

Looking for a comprehensive, versatile and simple program to keep you fit? Then the next installment of our Wellness program is for you!

Wellness 2 brings you the best of fitness with a mix of strength training, cardio and stretching to give your physical and mental well-being a boost with workouts under 20 minutes! This short program of three workouts a week is the ideal comb of exercises to keep you feeling fit during vacation season or all year long!

Make exercise part of your life with simple, equipment-free exercises anyone can do. Relax and forget about life's everyday worries with Wellness 2!

Beginner Push-Ups and Beginner Pull-Ups

Always wanted to do multiple reps of push-ups or pull-ups with ease, but you just haven't found the right program to show you how? FizzUp's got you covered! These programs were designed to perfect your technique of these two fundamental bodyweight exercises.

The Beginner Push-Ups and Beginner Pull-Ups programs will gradually introduce you to push-ups and pull-ups. After just three weeks, you'll finally be able to do reps without struggling.

Push and Pull (men's programs)

Do you want to impress your loved ones with as many push-ups and pull-ups as possible or simply reach a personal record? The Push and Pull programs are for you.

Break your records and reach the maximum number of repetitions possible with these programs dedicated exclusively to your mastery of push-ups and pull-ups. At the end of these 3 weeks of training, you will add a significant number of repetitions to your max to finally be the best during your challenges between colleagues or against yourself!

The Health Programs

FizzUp's catalog of workout programs has gotten even bigger this month with seven new programs released all at the same time! Created with your health in mind, Easy on the Shoulders, Easy on the Knees, Mama 12, Mama 24, Mama 36, Break and Quit programs are here for those who want to work out despite a handicap or conquer a smoking addiction thanks to exercise.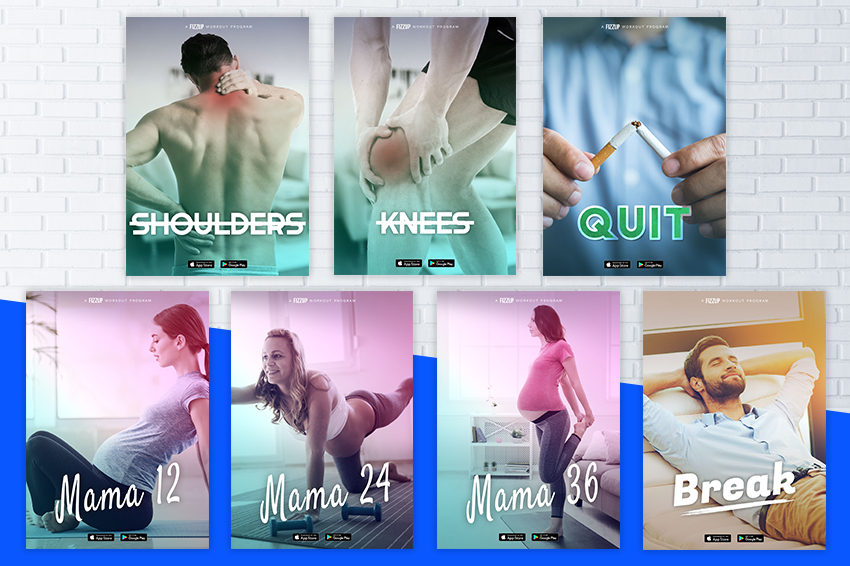 Got pain in your upper body joints? Don't let that stop you from working out! This program mainly focuses on your lower body so that you can keep your fitness routine on track.

With this program, you can still work out even if you have knee or ankle pain! Easy on the Knees involves just your torso and arms as it sharpens all of your physical abilities.

Trying to kick the habit of smoking? This is the ultimate secret weapon to help you! Exercise alleviates nicotine withdrawals. With Quit, get your daily dose of physical activity whenever you feel those withdrawals the most. In three weeks, you'll be well on your way to quitting cigarettes for good thanks to exercise and healthier lifestyle habits.

Introducing three new programs for expectant mothers. As you wait for your little one to finally arrive, start one of these programs to stay fit and keep your weight down. You'll be doing something good for both you and your baby!

Need to take a time-out from your current program? No problem! Break is a seven-day plan that will shake up your routine with new and simple exercises. Feel revitalized and ready to get back into your normal strength training program after Break!

The Golden Rhythm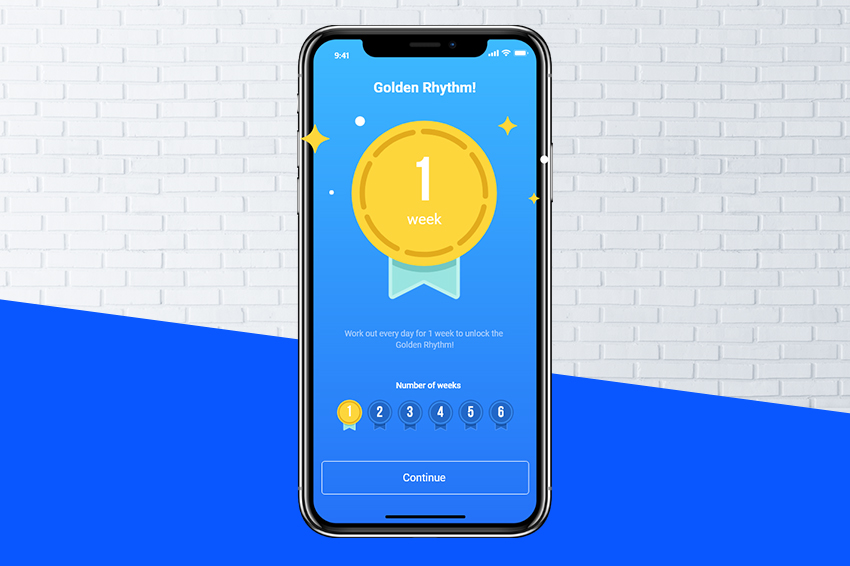 How motivated are you? Let it show with the Golden Rhythm! Every time you work out every day for seven days in a row, you'll unlock a badge to reward you for your efforts!

Keep your Rhythm green to see the gold! And don't forget to share your badges with your friends and see who'll keep their Rhythm gold the longest. Good luck!

Our Instagram feed has just gotten a makeover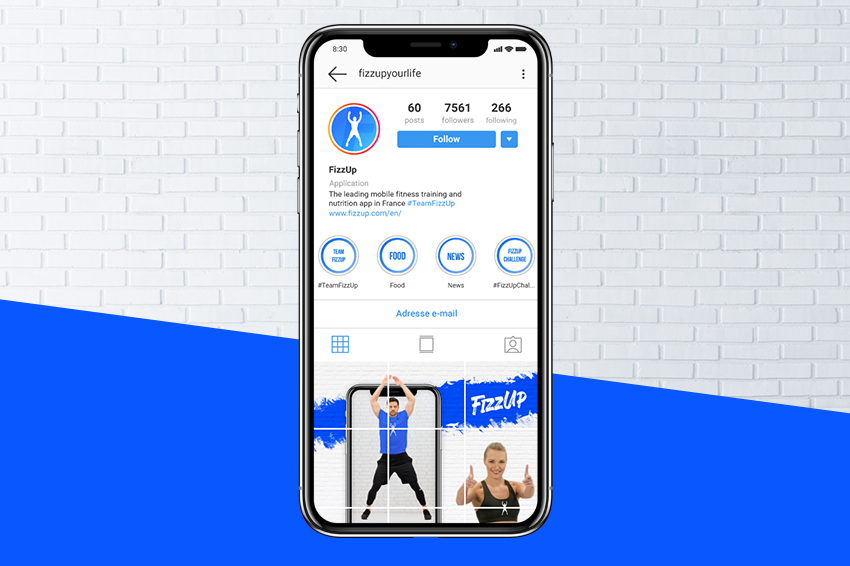 Learn more about the FizzUp staff, trainers, features and nutrition with our new and more modern Instagram feed. Then be sure to stay tuned to catch behind-the-scenes glimpses of life here at FizzUp's headquarters. Follow @fizzupyourlife on Instagram and tag us in your best workout selfies!

Go even further in tracking your progress with advanced post-workout data

Love numbers and stats? Now you can see even more statistics in your progress reports to give you an even better vision of how your body is evolving: know which days you work out the most and what kinds of exercises were included in your workout (cardio, strengthening, stretching, etc.). We've included these data to show you where you've been and where you're going on your fitness journey!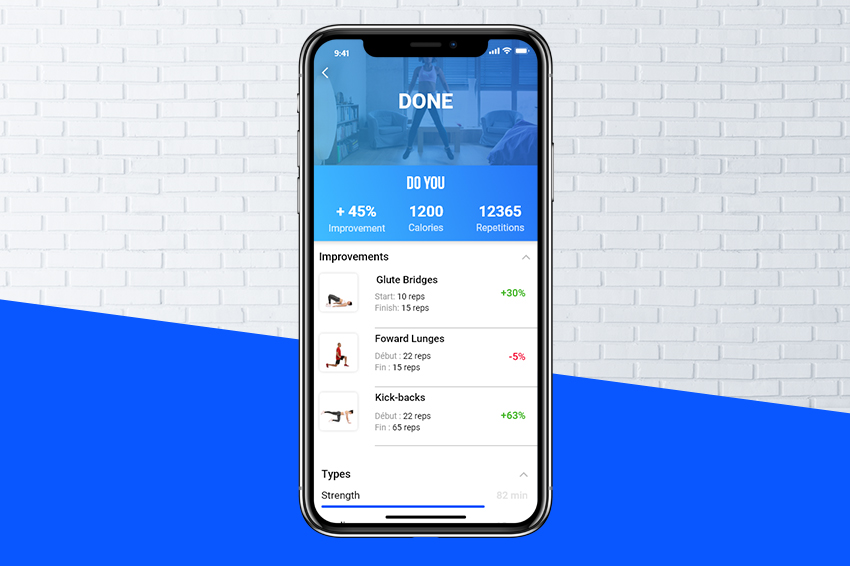 Blown away by with this month's explosion of new features? Then be sure to update your app on a regular basis so that you're always the first to experience our latest releases. Remember to follow us on Instagram and as always, have a great workout with FizzUp!