At FizzUp, we never stop innovating. Today is an exciting day. Today is a revolution. Tap the "Play" button in your application to experience FizzUp in a whole new way. "What's new?," you ask? In this article, the FizzUp Staff will tell you everything about innovations that are going to change the way you work out.
New levels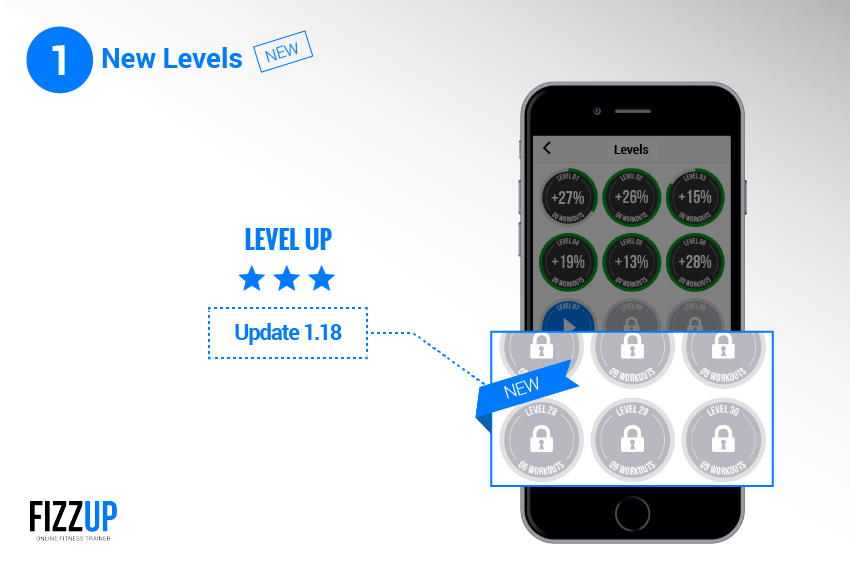 The FizzUp community is growing. Every day, more and more users are working out with their favorite fitness trainer. Some users have been working out with FizzUp since the very beginning, and are still motivated and trying to get an even higher Rhythm score. They never stop working out, reaching the goals that the FizzUp trainer sets for them. From one level to the next, they make progress and start to reach the highest levels in their program.

For those who are wondering what they'll do once they complete the last level, have no fear! The end is nowhere near in sight! The FizzUp update 1.18 gives you a total of 30 levels that are packed with more variety and new features.

Why not take a look at your current level, the ones you've already completed or the ones that are coming up? When you take some time to see how far you've come, you'll be more motivated than ever to keep working out with FizzUp.
New workout structure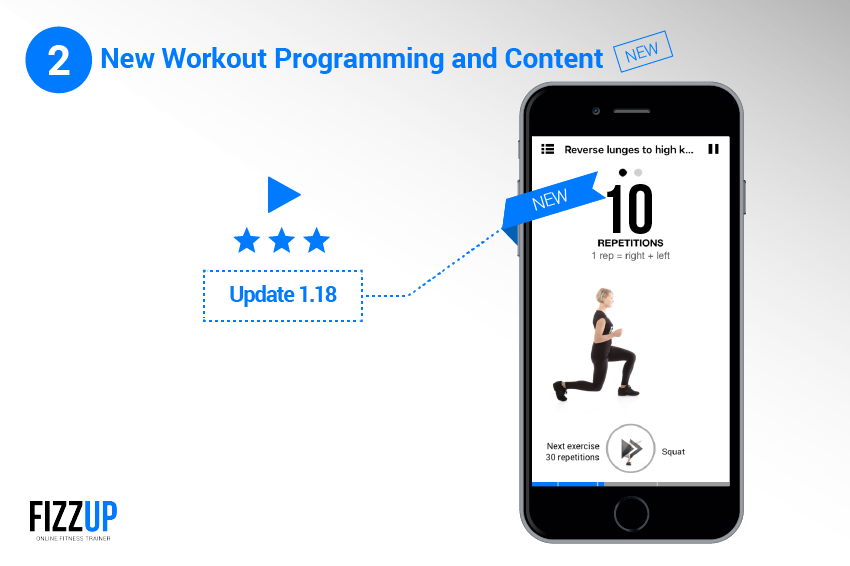 Improving your workout program content is your trainer and his staff's top priority. Sure, you'll now find new levels, but you'll also get new program content that better meets your expectations. We're sure you'll love your FizzUp program that now has more variety, new workout programming and improved content. FizzUp is designed using progressive levels, enabling you to gradually make progress without cutting any corners.

The levels' length has been changed so that it's easier for you to give it all you've got over two to three weeks, with three workouts a week. Why did we make this change? So that we can measure your progress even faster and show you that all your hard work is paying off after just a few weeks of working out!

With new workout programming, the FizzUp revolution is now. But that's not all. The sequence of your workouts has also been changed to help you stay motivated. Many users asked us why the exercises are the same throughout a single level. There are several reasons why working your muscles using the same exercises from one workout to the next is a must:
You effectively work the targeted muscle

You learn how to do the exercise perfectly

You get results using optimized workout protocols
Keeping these three highly important points in mind so that you get long-lasting results, we've given your workouts more variety. Starting today, your workouts will never be the same from one workout to the next thanks to the new workout protocols we've implemented that include a wider variety of exercises. So, what are you waiting for? Transform your workout experience and fitness routine!
These features are available when you start your next level on FizzUp and are exclusively for FizzUp PRO members. In the future, they'll be available to those who use the free version of the application.
The blog in the application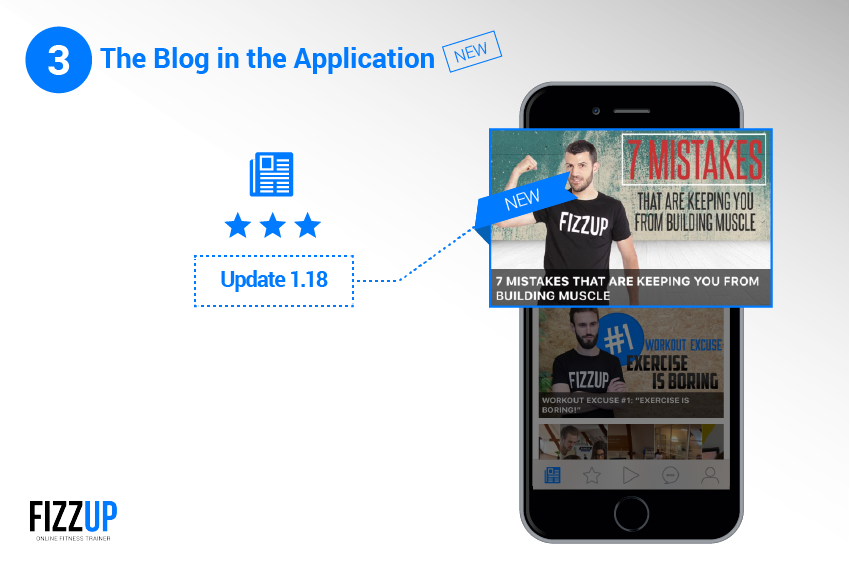 Did you know that a treasure trove of knowledge that's bursting with motivation is now at your fingertips? You're not dreaming… FizzUp has made it a reality. The FizzUp blog is now available right in your favorite application. Open it by tapping on the first icon in the FizzUp tab bar. You'll find everything you love.

Not sure how to do an exercise correctly or want to know which muscles you strengthen with a specific exercise in your FizzUp program? Click on the "TIPS FROM THE PROS" section so that you can perfect your exercise technique or find out more about what that exercise can do for you. Need a boost of motivation before a workout? Get fired up when you read the articles under the "MOTIVATION" section. Have questions about your eating habits? Have a look at the "NUTRITION" articles, which will help you get into good nutrition habits and give you healthy meal ideas. Need to start your day off right? Browse through the blog's latest news articles to know more about what's going on at FizzUp. They'll keep you smiling for the rest of the day.

A wide variety of articles are waiting for you!

The FizzUp update 1.18 is starting a revolution that's going to radically change how you think about exercise while bringing you even more enjoyment during your workout and teaching you more about fitness. FizzUp will never cease to amaze you!