Nowadays, more and more fitness fans around the world are working out at home and are using mobile devices to exercise with or track their progress. This strong trend shows a real evolution in how we work out. There are many reasons that explain why we're using mobile devices more and more, such as  fewer time and space constraints and more freedom and comfort. With FizzUp, there are no more excuses. Here are 10 good reasons to work out at home.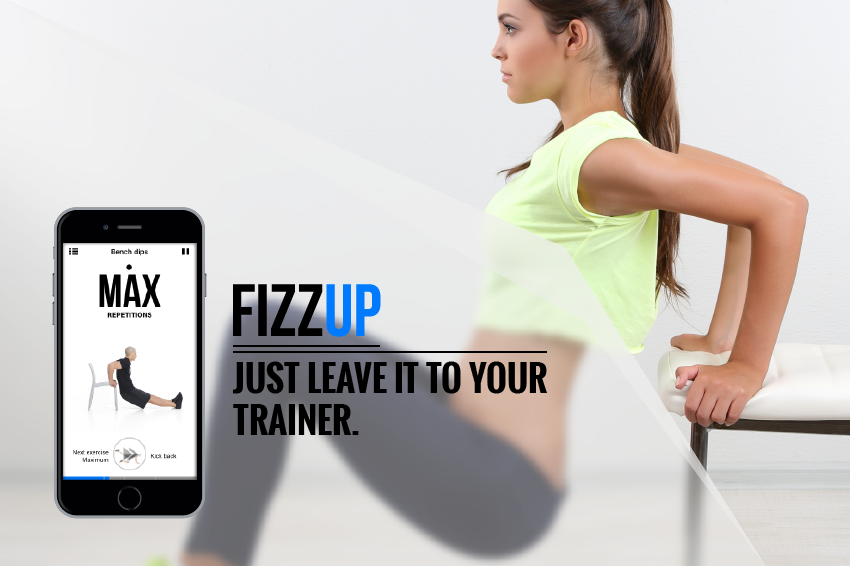 1 | Save Time
Do you always feel like your days are too short? Forget about the time you waste on your way to the gym, on public transport or when you're stuck in traffic. By staying at home, you save precious time. Thanks to an optimized workout program, 20 minutes of your time is all you need for an effective FizzUp workout. This advancement in technology has been made possible thanks to the latest innovations in exercise physiology through over five years of research and development.
2 | Save money
FizzUp fitness training is absolutely free: never spend a single penny and get a customized workout program to help you reach your chosen goal. If you want to get faster results and reach your goal more effectively, subscribe to FizzUp PRO to get access to 200 new workouts, the Cal Burner, Six-Pack and Stretching Add-ons and the Focus programs, which are mini-workouts that target specific areas of your body depending on your goal.
80% of your results depend on nutrition; that's why FizzUp offers a Nutrition Guide that contains over 150 tips, tricks and recipes, which you can access directly in the application to get personalized fitness guidance wherever you are.
With FizzUp, you'll feel the heat at home during the winter, on the beach, in the park or at the hotel in the summer as your trainer guides and supports you on a daily basis. All this for a fraction of the cost of a gym membership, which can set you back at least €30 a month.
3 | Work your body…
FizzUp at-home workouts are made up of bodyweight ​exercises. Put another way, you work your muscles using your body weight, making special exercise equipment obsolete. You learn to better control your body, which you'll need in order to master the exercises. With the 200 exercises included in the various FizzUp levels, you'll do a variety of movements that will improve your coordination and mobility. By working out, you'll manage to do new movements and become the master of your own body.
4 | … And take better care of it
Contrary to exercises using machines at the gym, bodyweight strength training is a gentle and natural method enabling you to take better care of your body. It helps prevent postural and muscle imbalance caused by working out at the gym. When you work out at home with FizzUp, you'll develop a coordinated and balanced musculature as you sculpt your body. A slender physique and muscles of steel can now be yours!
5 | Boost your confidence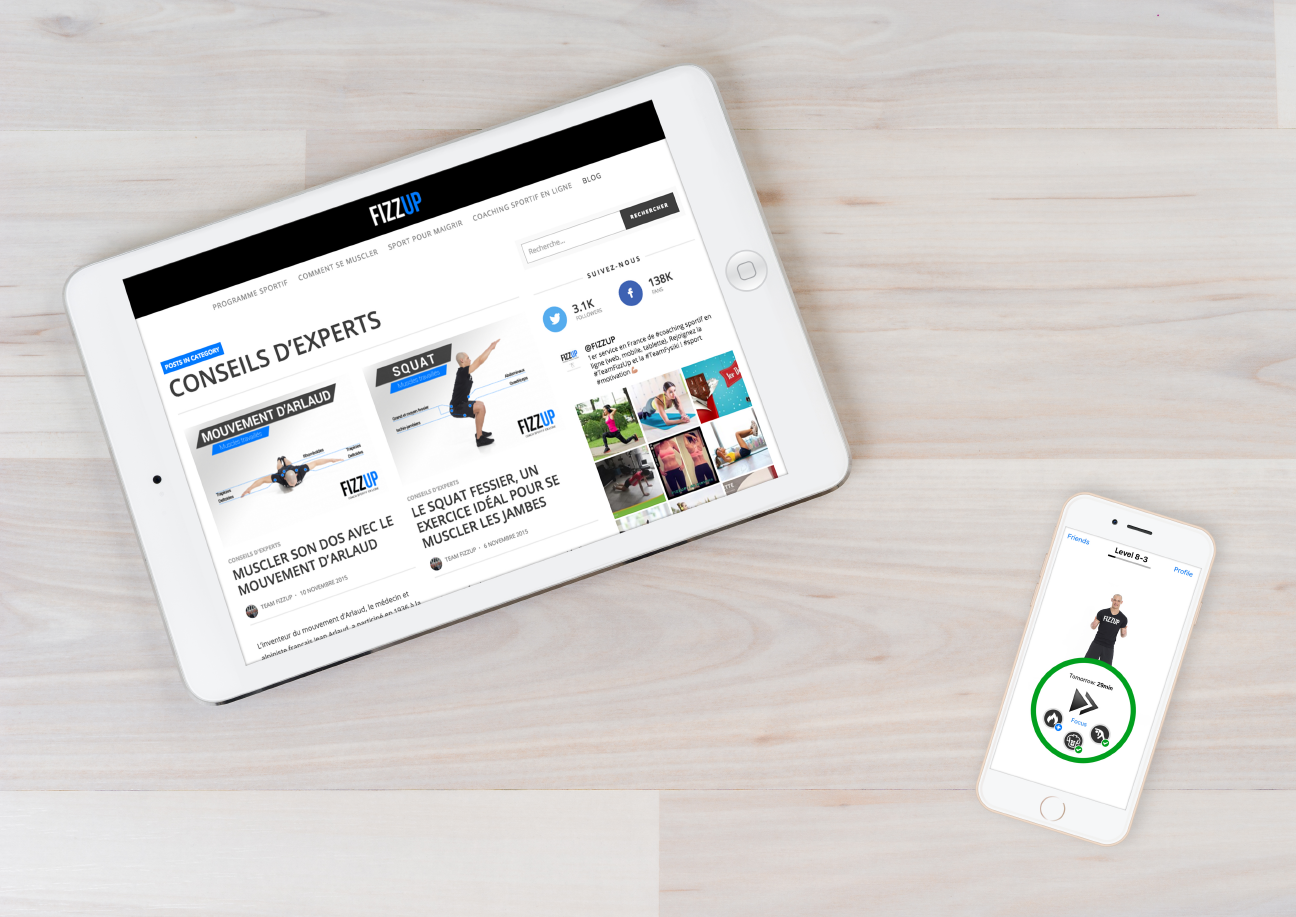 Regular physical activity is a source of wellness and self-­confidence. The more your body and physical fitness evolve, the more confident you'll be. Your friends and family will definitely notice the difference and let you know it. There's nothing like a compliment to make you feel good in your own skin and proud of what you've achieved.
6 | Stay motivated and go beyond your limits
Your FizzUp online fitness trainer is well aware that the key to your success is working out regularly. That's why we've made every effort to boost your motivation by giving you a variety of exercises adapted to suit you, making it possible to work out at home and chatting with your friends within the app, launching the Rhythm to track how often you work out which you can use to keep each other motivated, as well as giving you evaluations at the beginning and end of each level to show you how much progress you've made. With FizzUp, you can become a better version of yourself and learn how to safely go beyond your limits.
7 | Feel like the trainer is really guiding you
At the gym, fitness specialists are in high demand but rarely available. Without their guidance, you may injure yourself by using the machines improperly or get discouraged and try to come up with your own workout program. The FizzUp app changes everything: the exercises are adapted to suit your fitness level. Using videos and written instructions from the comfort of your own home, you have all the time you need to review the exercises before doing them.
If you're lacking motivation, are unsure about how to do an exercise correctly or want to get targeted results, you can also get the FizzUp Premium Motivation Package. You'll get unlimited email correspondence and three chat sessions with a FizzUp Expert for completely personalized fitness guidance. You can also send a video of you doing your exercises to your FizzUp Expert so that they can correct your technique if needed.
8 | It's convenient
With FizzUp fitness training, you're free to do your workout whenever and wherever you are: in your living room or bedroom, while watching your favorite TV show or listening to our motivational workout playlists; it's up to you! Once you've finished your workout, you can take a well­-deserved shower in YOUR own bathroom. Working out at home is pretty convenient, isn't it? And if you're traveling, the FizzUp app enables you to take your workout with you whenever and wherever you go, without having to worry about the logistics
9 | Have peace of mind
For beginners and experienced athletes alike, when you work out at home, you work out in peace. No more preparing your gym bag ahead of time and forgetting something as you're on your way to the gym. You'll also never have to worry about being watched by other people. Wear what you want and work out when you want. That's the most important thing.
10 | Have no more excuses
If you want to start getting in shape over the long term, working out at home with FizzUp is the best decision you can make. Thanks to FizzUp, you'll steer clear of any excuses that prevent you from working out, such as not having the money, time or motivation.
The FizzUp trainer is there to guide and support you on a daily basis. In order to create a workout program that's 100% adapted to suit you​, your trainer takes your physical potential and current fitness level into account. Just three workouts of 20 minutes a week is enough to get impressive results.​ No wonder FizzUp has been the most downloaded fitness app in France in 2016, and soon in Europe. ​You too can try hassle­-free fitness with FizzUp!