FizzUp is the most downloaded fitness application in France in 2016 and the only one that's recognized by the French Ministry of Higher Education and Research. How did it get so successful? How is FizzUp fitness training revolutionizing physical activity? Vivien gives his review about FizzUp PRO, after having tried weightlifting in a gym and several other fitness apps.
Review about FizzUp #1: An at-home muscle-building program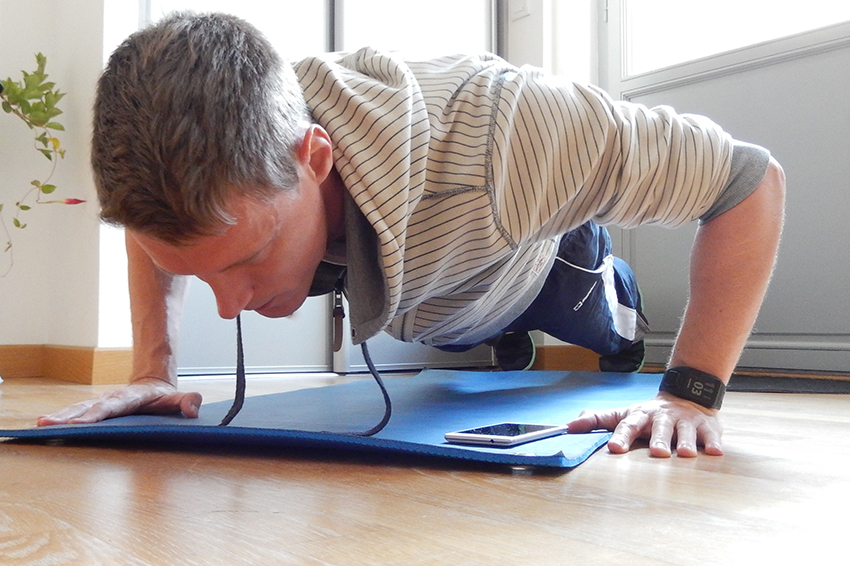 I just turned the big 3-0 not too long ago. And most people take a good look at themselves when they turn 30. That's exactly why I started building muscle with FizzUp PRO. My days were long when I spent an hour and a half at the gym after work four times a week and got home around 9:00 pm! I got tired of it pretty fast. I felt like I was spending all my time either at work or at the gym. Simply put, I didn't enjoy it anymore and just really wanted to spend more time at home.
I stopped lifting weights at the gym for several reasons. I really liked weightlifting, but I had to spend so much time at the gym to start seeing results… at least one hour every other day. The other downside of the gym was that the results were only on the outside and not really consistent if you didn't follow the strict program that an expensive trainer gave you. Going on vacation became a nightmare because it meant that I would stop making progress. Not to mention that I was spending so much time looking for workout programs online.
So I searched for gym alternatives, especially something that I could do instead of using those big machines that, in my opinion, aren't good for your joints or flexibility over the long term… I wanted to start working out at home. I did some surfing online (because it's not like there aren't a ton of fitness apps on the Internet) and FizzUp caught my eye.
Review about FizzUp #2: Just leave it to the trainer
Why did I choose FizzUp? Because this application seemed like the only one that would really work with my goal. I wanted to get an athletic and natural physique. FizzUp is the real deal. You build muscle using your own body weight. All I need is 20 minutes to feel the changes in my body and get fitness guidance that beats the price I would pay at the gym.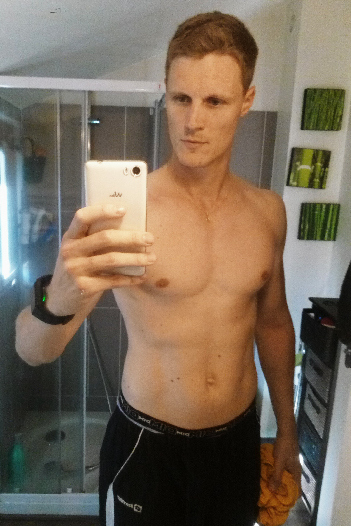 I also wanted to become more flexible and start breathing better. The Cal Burner Add-on* seemed like just the thing I needed, because it includes the HIIT method and pushes me to improve my cardiovascular endurance. I've also lost so much flexibility when I used machines, so I was really lucky to have the stretching exercises included in the Stretching Add-on*. There aren't many programs that bring together muscle building and stretching. I felt the results almost immediately. That's why I decided to take a step further with this fitness application by becoming a satisfied PRO user.
FizzUp PRO also gives me access to the Focus programs*. I wanted to concentrate more on my lower body. I started with the Thigh Focus and followed the FizzUp trainer's advice, always telling me to do my Focus before my workout so that I could keep the same workout rhythm and avoid getting tired for no reason.
FizzUp really does me good. I give it all I've got when I do the evaluations so that the levels are as accurate and as personalized as possible. I like thinking that the workout was hard when I finish. Given my results, that's the main thing that gets me motivated and helps me feel good enough to keep going. Sometimes I'm just too tired, so I forget about the Focus and only do my workout, which is good enough for me. On the flip side, if I feel great and full of energy, I'm able to do one or two Focus programs during my rest day. I always do a short workout when I'm motivated. That's also the biggest advantage of FizzUp: it can adapt the workout program content so that it works with your schedule and current physical fitness level.
I've been using FizzUp for the last six months and I feel like my flexibility has really improved and so has my breathing when I work out. That's exactly what I was looking for. I'm evenly sculpting my entire body, and fast. Well, a lot faster than I thought I would when I started! Sometimes I go hiking and there are a lot of hills in my region, so I have to have strong cardio endurance so that I don't get out of breath too fast when I go up the hills. Now, thanks to FizzUp, I can just enjoy the countryside.
I do a lot of walking every day and have to carry heavy loads on a regular basis for my job. I need to be muscular and flexible so that I can protect my back.
I had another problem with weightlifting: I used to wake up with joint pain and a bad back ache all the time. The more progress you make, the more weight you put on the machine, and that's not necessarily the best way to build muscle. I was damaging my joints and sometimes I was in the wrong position, which is what would cause my back pain. I thought that it was time to find another alternative. With FizzUp, I always feel pain after exercising, but I feel it in my muscles and know that it won't get too intense because I do stretching*.
Review about FizzUp #3: Guidance from fitness training to nutrition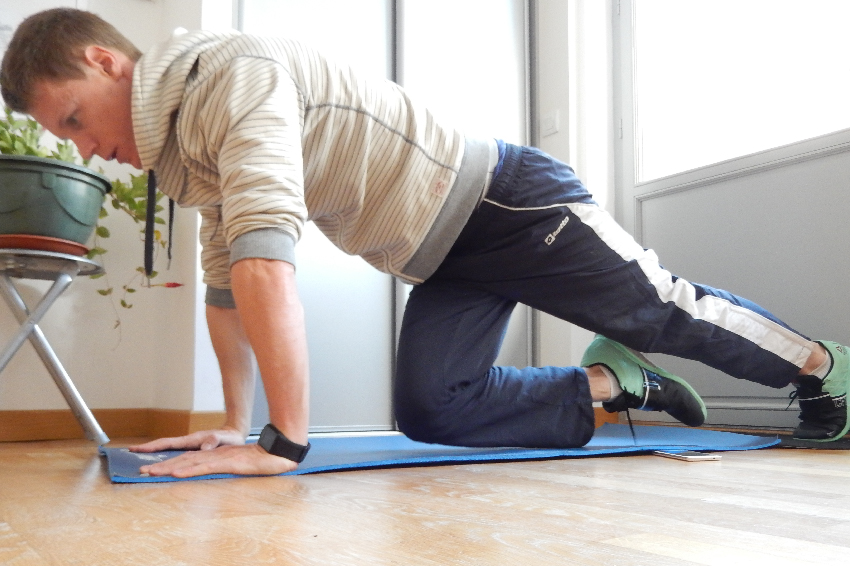 I feel so much better ever since I started using FizzUp. Every new level gets me even more motivated, especially during the second evaluation. I see that I've got a lot of room for improvement. The satisfaction I get from succeeding is what pushes me to keep going every day. What's my review about FizzUp? There's no way I could go without this application! There's no way I can lose the progress I've made because I can use FizzUp anywhere and without any equipment. I travel a lot so I work out abroad and still don't lose my results.
FizzUp gives you total fitness training as far as your body and nutrition goes. The FizzUp Nutrition Guide is a real plus if you follow it along with your workouts. It gives you some great advice for a really reasonable price. The recipes are delicious!!! I can access them right in my application.
The FizzUp community has never stopped growing since I signed up and that's also really motivating. People get how useful an application like this is and they quickly realize that they can't go without it. If I ever notice that someone hasn't worked out lately, I just give them a little boost and send them a message reminding them that their trainer is waiting.
I recommend FizzUp to anyone who wants a healthier lifestyle and to make some positive resolutions; to anyone who wants to take better care of their body without making it suffer through long hours of weightlifting; to anyone who doesn't really know how to work out or wants to still have some freedom in their workouts, because you can do FizzUp anywhere, anytime! I also recommend it to anyone who's on a tight budget, because FizzUp is free. Anyone who wants to see their body change can try FizzUp PRO, which really works.
That was Vivien's review about FizzUp. Join him on FizzUp to share this unique fitness experience.
*FizzUp PRO features