Body transformations are everywhere you look on social media… so much so that you could almost forget that other kinds of transformations even exist that are even more powerful. Celine proves that, because she was able to overcome depression with FizzUp. She managed to find deep within herself the strength to fight her demons.
OVERCOME DEPRESSION WITH THE APP THAT CHANGED EVERYTHING
I discovered FizzUp in July 2016. I immediately fell in love with how fun and convenient it looked, so I decided to give it a try. I'm glad I did, because it went above and beyond my expectations. I couldn't recommend this app enough! It's the perfect all-in-one tool to keep my wellness in check.
In the fall of 2016, I fell into a deep depression, working out less and less until I hadn't worked out in over a month. In the spring of 2017, I went on sick leave, went into social isolation, was crying uncontrollably from time to time, ate mindlessly and suffered from insomnia almost every day. Then in May, I had to start medical treatment. But an article I read on FizzUp's blog called 5 Habits That Are Hurting Your Mental Health encouraged me to take a risky gamble and use exercise as treatment instead of medications. And with that, I started imagining all the ways in which I could improve my health, from my diet to my lifestyle, to exercising on a daily basis to better managing my stress.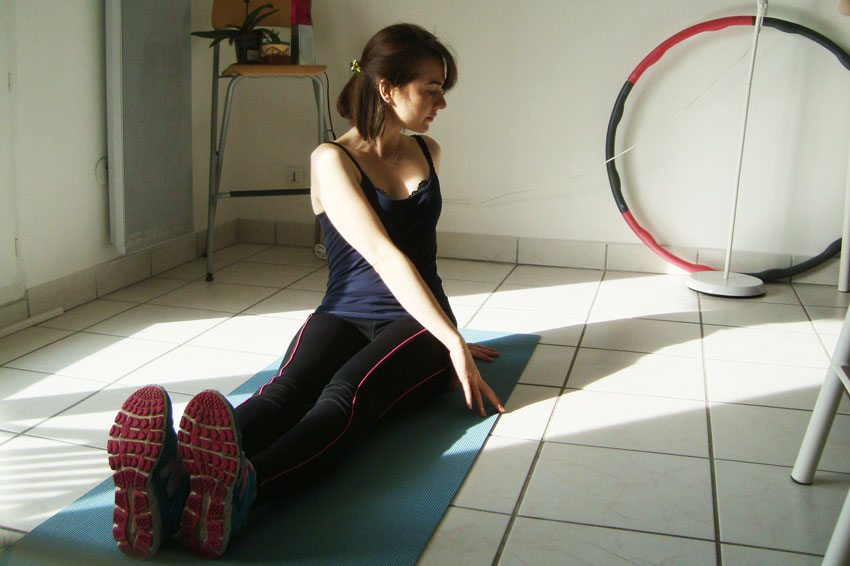 So I decided to head into this battle against myself using the energy of my despair. In the beginning, the only thing that motivated me was my refusal to take medication. Sometimes hours would go by between me rolling out my exercise mat and actually tapping the play button in the app. A lot of times, an anxiety attack would keep me from finishing my workout or I would just stop in the middle of it, because I would get discouraged by the number of reps the app would tell me to do. But I stuck with it thanks to the encouraging emails, the "Well done!" I would see at the end of my workout and the Rhythm badges I was earning. While I was feeling so alone in my disarray, these were lifesavers. Gradually, I started making myself do one workout a week, then two, then three, then one workout every other day.
I wasn't alone. The FizzUp trainer would automatically plan my next workout and keep me motivated. In my darkest hours, I clung onto this crazy dream of mine. His guidance helped me believe in myself. I regularly received alerts and his workout reminders kept me engaged by refocusing my attention on something other than my depression. I started to come out of my shell. Although I had missed workouts and did the exercises sloppily, I kept getting so many kind messages from Team FizzUp and absolutely no criticism from them when I wouldn't work out. I was really touched by that. In the beginning, I needed messages like that to keep me pushing forward, but by the end, I only needed self-love.
Meanwhile, I also got into meditation and that helped me gradually become more mindful of my body. I was able to change my relationship with it just through my breathing.
OVERCOME DEPRESSION AND LIVE IN THE NOW
In early July, I changed my eating habits so that I wouldn't get discouraged anymore when I saw other users getting results. For the first time ever, I took action. No more energy drinks, less gluten, more organic ingredients, no ready-made meals and no more excuses to not cook my own food. And to my surprise, I started enjoying my life again. I tried a few FizzUp recipes and that gave my cooking confidence a boost. By fall, the app was yet again a huge help to me. With the season changing, obligations related to my new job and the fact that I had stopped going to therapy, I was back in my rut. The meal planner kept me from throwing in the towel. I realized that FizzUp's tips were helping me come back out of the darkness in my life. Exercise has become a way for me to pamper my body, soothe my mind and live in the present moment.
Now that I feel better in my head, I can strengthen my mental fitness by using the same techniques athletes do. To do that, I assess my strengths and weaknesses and I accept my personal issues, restrictive thoughts and mental blocks with kindness. I acknowledge that I'm scared of success and feeling beautiful in my own skin, that I lack patience and perseverance, that I get anxious when I listen to my body, that I'm terrified of letting other people see who I really am and that I refuse to simply exist. Taking this kind of "spiritual inventory" helped me set clear goals, define my action plans, find the resources I needed and surround myself with good people. But the battle is far from over. Some mornings, my motivation doesn't make it out of bed with me, but I remind myself that what matters is the journey, not the destination. I'm finally letting go of my inhibitions and I'm enjoying it!
Talking about this painful episode in my life and realizing that I can't always stay on the right path is about breaking a taboo. My victory isn't my body transformation; it's just the fact that I'm here. FizzUp is so much more than just a workout app. It's a source of inspiration, of reassurance, of wellness… and it's an amazing tool for personal growth.
Everyone here at FizzUp thanks Celine for being brave enough to share her touching story so openly. We won't let her down. Remember, you're never alone in your fight against depression.