Team FizzUp never ceases to amaze us here at headquarters. This is Stephanie's success story. She lost 44 lb (20 kg) after one year of fitness training with FizzUp.
How it all started…
My name's Stephanie and I'm a mom. I've been working out with FizzUp for over a year now, but let me start from the beginning. I've always found reasons not to exercise and they worked, so I'd never been very active. Because of that, I didn't like my body and actually, I never have. My belly was too big, my thighs were too big… My thighs were what I hated the most. I've gone on a lot of strict diets, but I'd always stop after a month because I wasn't losing weight as fast as I wanted to.
So what made me finally take action? My 30th birthday coming up. I knew I needed to get active and do something for me, for my body, for my family and especially for my kids. I wanted to stop feeling out of breath every time I run around with them or when I take the stairs.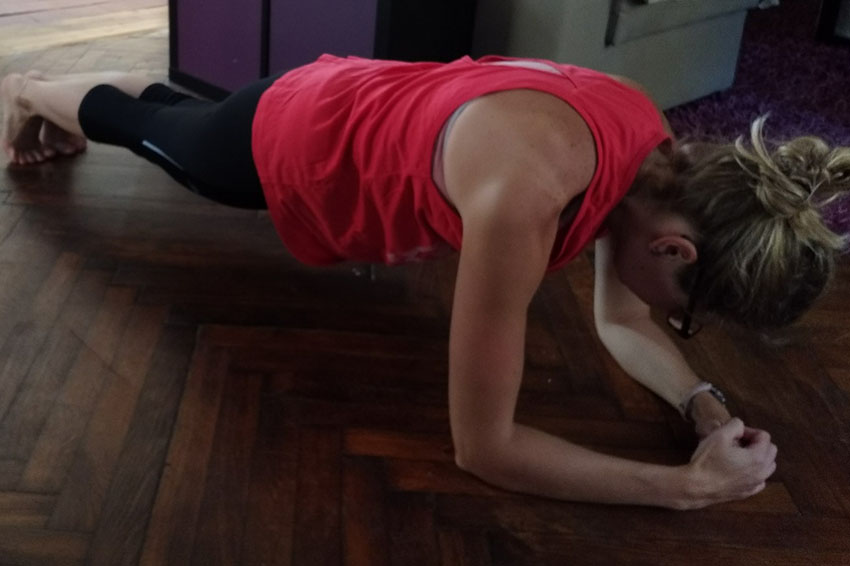 One time, I noticed that a friend of mine had liked FizzUp on Facebook, so it piqued my interest. It sounded like app that covered everything I needed, so I said to myself, "OK, give it a try. You might not lose as much as you want, but at least you'll be making an effort and it's free."
I lost 44 lb, but I gained so much confidence
Then I started using it. For a while, I was doing the free workouts, but with summer on the way, I decided to upgrade to FizzUp Premium, and I really felt the difference! What kept me going was seeing the number on the scale drop and my body slim down with every workout. And words of encouragement from my husband helped, too, of course!
Since August 14, 2017, I've been eating a more balanced diet and my goal was to lose 22 lb (10 kg) at my own pace. But I was losing quite a bit of weight without having to restrain my eating habits, so I kept going. These photos also made me persevere, too. On August 1, 2018, I'd lost 44 lb and gained so much more confidence in my body!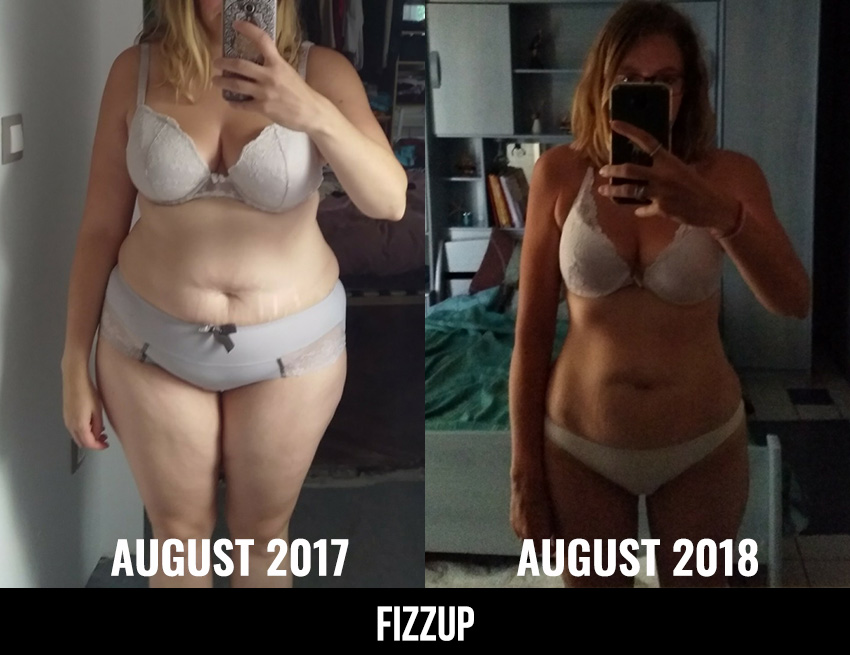 Today I feel amazing, both in my body and my head. I'm happier and more cheerful, and everyone's noticing it, which is so satisfying. I was surprised that I actually liked the cardio and best of all, now I love exercise thanks to FizzUp! When I don't work out, I feel like something's really missing from my day, and that's crazy!
On a side note, for the first time in my life and pushing 30, I bought a pair of shorts! ME, the person who hated her thighs, but now loves them!!! My new goal is to keep up my workout routine because I like it. Now I just need to tone up and keep my weight stable.
And last but not least, I want to thank everyone at FizzUp from the bottom of my heart for the Mission: Weightlossible program! I swear, you guys turned me into a fitness fan and I still can't believe that I can say that! This program tracked and covered everything. I love the concept and the recipes. Now I just need to find the right program to help me tone up, but with so many new ones being released, I'm sure I will!
No goal is impossible to reach if you've got determination and the right guidance. We know how to turn you into a fitness fan, just like Stephanie! Join Team FizzUp and show us your weight loss or muscle gain results.