If you want to stay in shape, it doesn't mean fighting a losing battle. Starting a healthy lifestyle simply requires motivation as well as regular physical activity that you enjoy, which can quickly become essential to your wellness. Camille, a FizzUp ambassador, was able to sculpt her body and stay in shape thanks to her online fitness trainer, so why can't you?
My story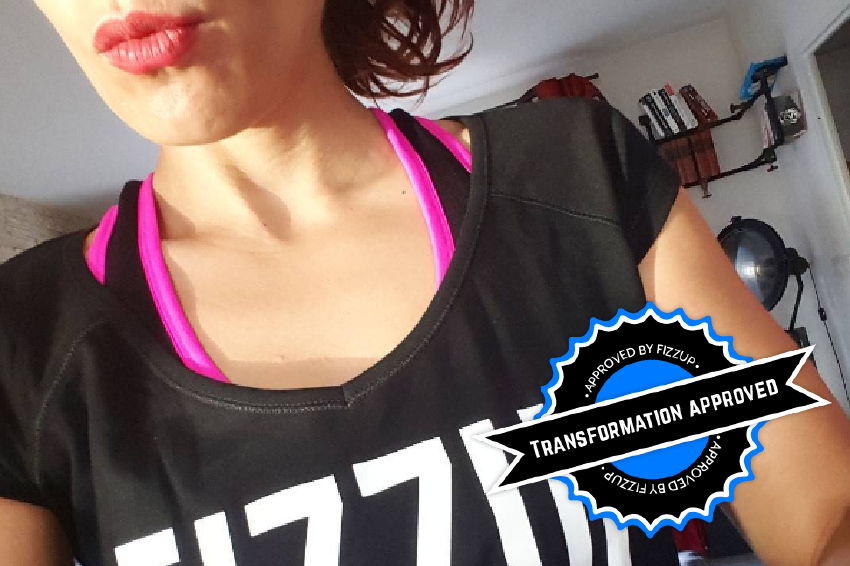 My name's Camille (@Jenychooz on Instagram) and I just turned 30. I'm really into sports, but that hasn't always been the case. When I was 16, sport was a real challenge for me, almost torture… I was overweight at 158 lb (71.5 kg) and just over five feet tall. I couldn't stand the way people looked at me, and as I'm sure you know, teenagers are sometimes so cruel. I couldn't find the motivation to exercise, play sport or lose weight because I have to admit, exercising should be, most importantly, something that you enjoy doing and a way to stay in shape and feel good, which wasn't at all the case in my situation. Instead, exercise and torture went hand in hand. That's why I needed to learn to love it. My mom showed me how fun it could be to go for a walk one hour a day in the hills. It wasn't much, but it reconnected me with nature and my body, especially. I felt my muscles, heart, lungs working, not to mention a bit of muscle soreness. I was so happy to feel alive. What I'm most proud of is that in two years, I lost almost 27 lb (12 kg).
A note from the FizzUp trainer: To easily lose weight, get into healthy habits with FizzUp.
My relationship with exercise
One day, I was finally able to say to myself: "That's enough. I want to love my body" and I got hooked on exercise. I started running, rollerblading, cycling, lifting weights and hiking, just like the FizzUp staff… I tried many sports in order to find the ones that I enjoy the most and are the ones I find most fulfilling. Running is a sport that I had never thought about before. It's hard to run when you're 22 lb (10 kg) overweight! Despite this, it was so fun going beyond my limits, facing myself, giving myself challenges and going all the way. That's what exercise means to me: it's an ally and a way to unwind. Exercise is what pushes me to go further. On average, I exercise one hour a day (with two rest days in between). Maybe I've become addicted to exercise, but that's so much better than smoking or drinking, isn't it?!
FizzUp and I
I've been using the FizzUp application for two years now. When I discovered the online fitness trainer, I said to myself: "Why not give it a try?"  I've been running a blog (editor's note: which we recommend reading!) for three years and I love discovering new things that I can then tell my followers about. I try to instill the desire to do any sport in my community. You could say that I'm a sort of driving force for my followers. And FizzUp is a driving force for me! I think the application is great for easily staying in shape, because it's user-friendly and can be used as a tool to communicate often with other users and keep each other motivated. The program doesn't require any equipment and I can do it anywhere, even outside! You can't make any excuses for missing a workout… nowadays, everyone has their mobile device on them. The application is so easy to use and it has a variety of exercises. At the beginning, I was afraid that I would get bored, but I quickly got caught up in the game and I keep wanting to go further. This application is addictive. Ever since I started using it, I've been able to slim down my body even more. I use it in addition to running. Thanks to the Focus programs, FizzUp PRO helps me deeply work specific areas of my body. These mini-programs complement the strength training exercises so that users get more results. I currently weigh 121 lb (55 kg) and have become more muscular with a sculpted stomach and firm thighs. Every day, FizzUp helps by guiding me and telling me to never give up: I can now accept myself as I am.
A note from the FizzUp staff: The trainer even takes your wake-up into account by giving you morning circuit stretching routines so that you can get your day off to a good start.
Sharing is caring
So, I wrote about discovering this fantastic application on my blog. I was proud to see that so many of my friends and family members signed up and downloaded the application for various reasons. We've created a small fitness group and keep each other motivated. That's the best thing about an application like FizzUp: sharing and solidarity. I say "great job" to the people who created this application and I applaud their fun and user-friendly approach to fitness training! I've never felt alone in front of my mobile phone or tablet. We're building a strong connection between users. The continuous tips and encouragement from the trainer are proof that we're really being guided.
A note from the FizzUp trainer: Follow #TeamFizzUp on Instagram!
FizzUp fitness training adapts its workouts to suit each and every user. By personalizing your training, the trainer makes it possible for you to reach your goal and maintain it over the long term and is a motivating way to stay in shape. Give it a try now to see how effective it is!