After having three kids, Dominique wanted to set himself some new challenges to get back into rock climbing. What could be more thrilling than the GR 20, a long-distance trail in Corsica? To brave the Corsican mountains, Dominique found FizzUp fitness training, which has proved its worth by enabling him to reach his fitness goals.
Goal 1: one year of fitness training with FizzUp to reach my fitness goals
When I started FizzUp, my goal was to train for the GR 20 (located in Corsica) in four months. It's a 15-day hike through the Corsican mountains, walking six to eight hours a day. Now, my new goal is to work out until the end of March, which will be the end of my first year of working out with FizzUp.
One thing about me is that I have a slight handicap: because of an accident, my left elbow is stuck in the extended position at a 120° angle. That's why I can't do a regular workout at the gym because the machines usually make you completely extend your arm. Being able to work out at home without any equipment seemed like a good alternative to me. Although when I started FizzUp, I was scared that I wouldn't be able to do it because of my handicap. Julien, the trainer, was really reassuring and would remind me that I can tweak the exercises to my own ability and replace one exercise with another. The most important thing is to work out regularly. Because of my arm, doing push-ups was a real challenge. Now I use a push-up bar to keep my left hand lifted.
In nine months, my body started to change, but my weight stayed the same (163 lb / 74 kg and 5'11"/1.82 m), but I burned a ton of fat around my midsection. I try to use the three Add-ons (Cal Burner, Six-Pack and Stretching*) for every workout as much as I can. But when I don't have much time or am not feeling up to it, I only the warm-up and the strengthening training exercises, which puts me in a great mood. With FizzUp PRO, you can adapt your workout to how you're feeling that day by activating or deactivating the Add-ons you want.
Goal 2: do the GR 20

With FizzUp, I was able to train for the GR 20. This experience was a challenge for me because it was the first time I had ever been on a hike for several days straight. The FizzUp program seemed to be a great basic fitness training program with cardio and strength training workouts every other day. I just added a weekly hike to supplement my fitness training.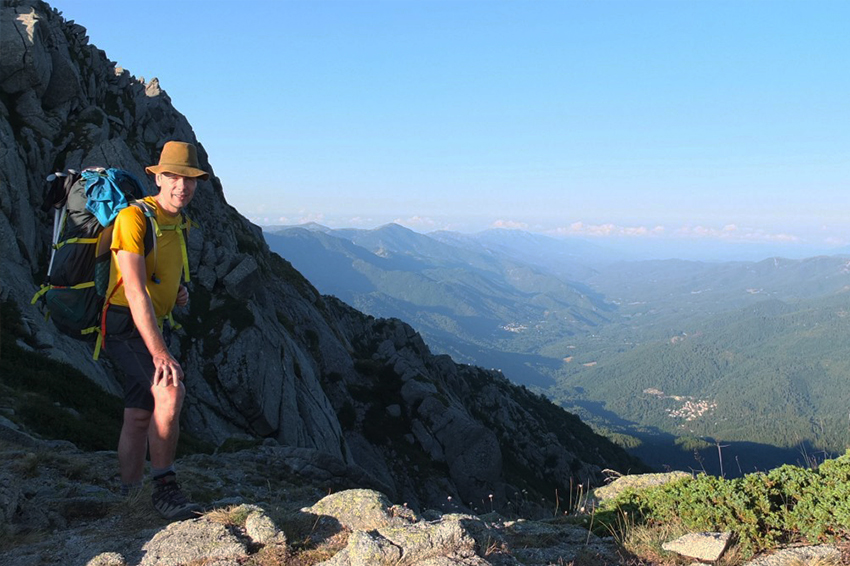 Four months later, I didn't have any problems doing the GR 20! Thanks, FizzUp! I wasn't trying to convert them, but when my wife and daughter saw what it did for me, they both signed up for FizzUp.
Memories of some incredible workouts with FizzUp
I remember two FizzUp workouts in particular. The first was after climbing Sainte-Victoire Mountain for six hours, then coming back down. I was absolutely exhausted, but I was able to finish my FizzUp workout a few minutes before midnight on the same day so that I wouldn't get behind in my program.
The second had to be the day when I was hiking in the mountains. I really needed to find some cell reception, so I ended up doing my FizzUp workout in a parking lot along the interstate, not far from trucks passing by… a pretty smart thing to do, I know!
Goal 3: revive rock climbing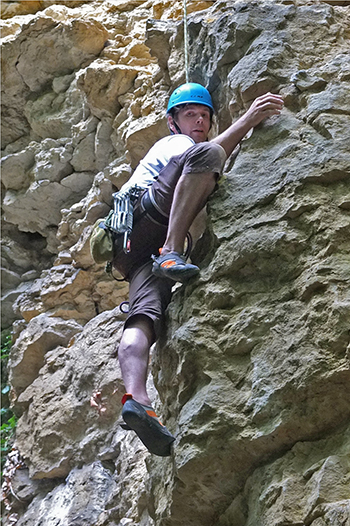 I started rock climbing when I was in high school, but I became less and less active because of a busy work and family life. But all that aside, at 43 years old, I decided to revive my favorite activity and FizzUp does so much to help me reach that goal.
To be an advanced rock climber, you've got to have a strong midsection in order to hold certain static positions when you move your hands or feet. The core strengthening exercises included in FizzUp's program really help me improve that. I'm also really keen to try the new Back Focus* to get my shoulders used to intense exercise. The stretching exercises at the end of the workout also boost my flexibility, which is a must when you do rock climbing. What's more, FizzUp works and builds all the muscles in my body and treats muscle imbalances that rock climbing can cause. Take the Arlaud movement. It reduces my risk of rolled shoulders. One of the best things about FizzUp is that it's compatible with all other sports.
If you want to achieve new fitness goals, choose FizzUp to help you get reach the summit just like Dominique, a determined rock climber who's not afraid to go beyond his limits.
*FizzUp PRO feature