Having a baby is a joyous occasion, but it can also mean weight gain for most mothers who don't know what to do about it before and after their pregnancy. Alice wanted to get back in shape by losing 18 lb (8 kg). With the FizzUp PRO workout program and the FizzUp Nutrition Guide, she was able to lose weight after pregnancy and get back her self-confidence. Not only did she reach her goal, she surpassed it. Her story is a true example to follow for our entire community.
MY LIFE BEFORE FIZZUP
I'm a gymnastics coach and I've been passionate about exercise since I was little. In January 2015, I learned that I was going to be a mom. From that moment on, everything changed. At the time, I gave fitness classes in addition to my gymnastics classes so that I could stay active without having to work out on the side. When I found out I was pregnant, I did my personal physical activities less often because I thought that exercise could be dangerous for my baby. What really started acting up during my pregnancy was back pain and blood flow problems… I should have talked to someone.
After I gave birth, I was excited to go back to work and start working out again. I had 18 lb (8 kg) to lose to get back to the weight I was at before my pregnancy (132 lb or 60 kg). I had to wait a while before I could get active again, because I had C-section and had to wait 3.5 months.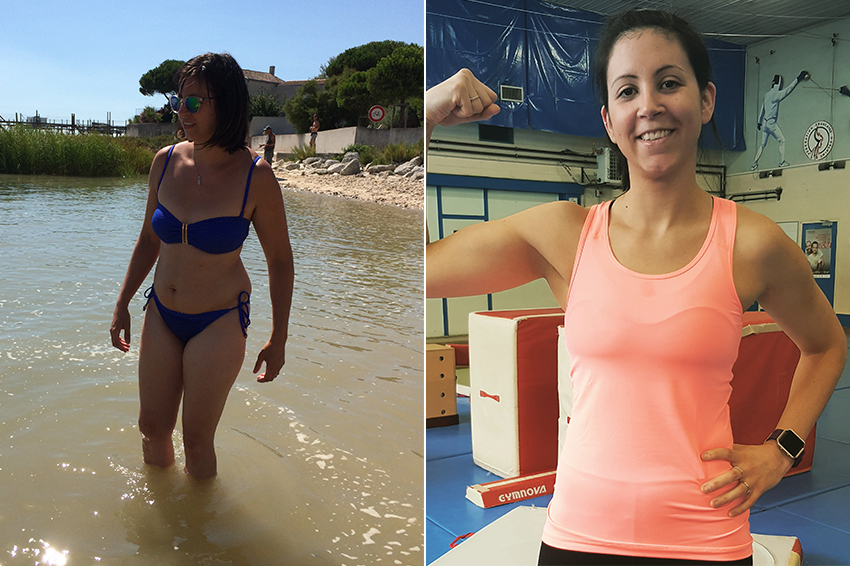 After one year "without" any physical activity, my New Year's resolution in 2016 was to get back in shape, work out and watch what I eat. I decided to get back into exercise with a colleague. The first workout was really hard! I felt heavy and ran out of breath really fast. My whole body was in pain. I wasn't in shape anymore, which was a feeling I had never experienced up to that point!!! This really got me down, instead of getting me motivated. And then, with my new life as a mom, I was too tired to move. As soon as I had time, the only thing I could think about was resting, instead of exercising. I thought it would be better to put exercise on the back burner and told myself that I would get back into it once I had lost some weight.
With summer was on its way, I was able to lose 6.5 lb (3 kg), but I still hadn't gotten back into physical activity besides my job, which gets me moving a little bit.
LOSE WEIGHT AFTER PREGNANCY: THE MOMENT OF REALIZATION
When I saw myself in vacation photos with big, flabby arms, fat thighs and a huge stomach one year after I gave birth, I didn't feel beautiful in the eyes of my husband, and definitely not in shape. When you carry your son and your back hurts, you've got to do something about it! Signing up for a gym membership didn't seem like an option because I would have had to find someone to watch my kid. And I've got to say, the price of a membership is too expensive. So the best option was to work out at home.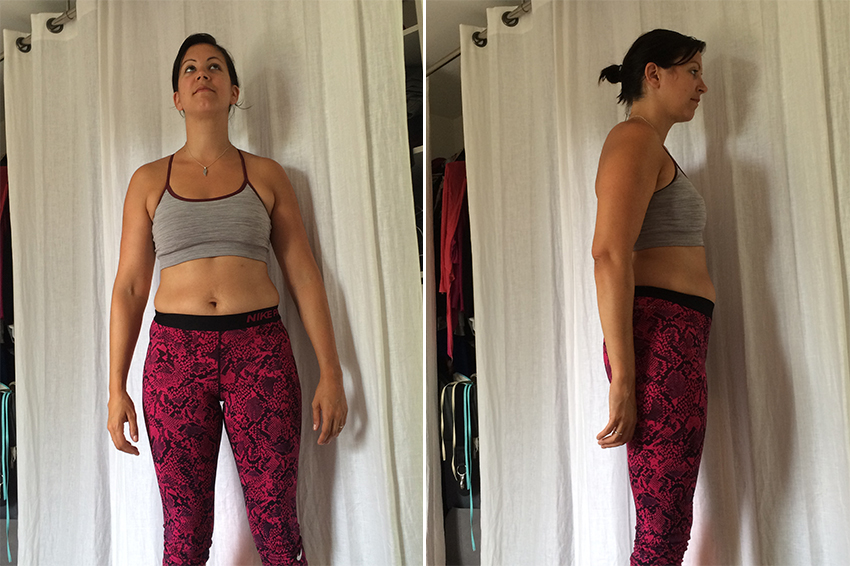 I saw that a girlfriend of mine was always posting FizzUp articles on Facebook and I noticed that she was working out pretty regularly. So I signed up for FizzUp PRO out of curiosity. My friend and I decided to go to swimming once a week.
START:
It all started on August 28, 2016: 143 lb (65 kg)         GOAL: lose 11 lb (5 kg)
MEASUREMENTS:
Around the waist: 30 in. (77 cm)
Around the stomach: 30 in. (88 cm)
Around the hips: 38.5 in. (98 cm)
Around the thighs: 37.5 in. (95 cm)
GETTING STARTED WITH FIZZUP
I was really excited and motivated when I started workout 1-1, choosing the "Lose Weight" goal. I stayed motivated, workout after workout, because I saw that the workouts were right for my physical potential. I didn't think the program was too hard, but at the same time, I felt like it was actually working. I was following the tips in the FizzUp Nutrition Guide on the side, and also applied them to my husband's eating habits. My FizzUp workout had turned into "me time" when my son was taking his nap!
I weighed myself every two weeks and took my measurements once a month so that I could track the changes. Every time I weighed or measured myself, I was always happy, because there was only ever good news, which gave me even more encouragement. I feel better in my body. My back pain disappeared because I was able to tone my abs and back. I reached my goal in no time: in only two months, I lost 11 lb (5 kg). I couldn't believe it! I still wanted to tone my body more, but I was happy to see that my work was paying off. Then I decided to change my goal on FizzUp to "Sculpt My Body".
The sets are longer and I could feel my body becoming more toned right away. I had sore muscles one or two days after my workout, but I was surprised to see that I kept losing weight. In December, I got down to 127 lb (58 kg). I was more motivated than ever, so I decided to go back to running. I thought I'd be exhausted and that my whole body would hurt, but actually, not at all! I ran for 30 minutes without having to push myself. I was able to breathe, didn't feel any pain in my joints and I felt great afterward. Sometimes, I even did my FizzUp workout right after. Yes, I still use FizzUp! I wouldn't have had such a successful start without it.
AFTER 5.5 MONTHS OF WORKING OUT WITH FIZZUP
I tell all my friends that they should start exercising with FizzUp. Actually, my friend Lulcasp just started and I actively encourage her to keep up her Rhythm score. I got back my athletic physique, started swimming every week, do three or four FizzUp workouts and run once or twice a week, and I might even sign up for some races.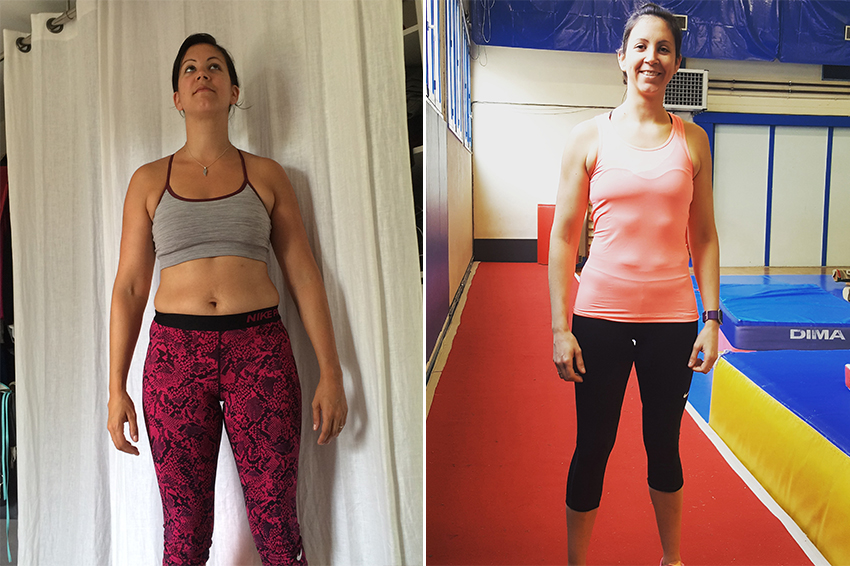 I feel better both in my body and mind. I've gotten back my self-confidence. I'm doing something I enjoy and like working out again. A big thank you to FizzUp, and I'd also like to say thank you to HélèneFizz for her tips and encouragement. I've made it this far thanks to her, because she's the one who told me about this amazing app. Not to mention my husband, who has always been there and is proud of me.
RESULTS:
On February 14, 2017: 127 lb (57.5 kg)
MEASUREMENTS:
Around the waist: 28 in. (71 cm) = 2.3 in. (6 cm) lost
Around the stomach: 31 in. (78 cm) = 4 in. (10 cm) lost
Around the hips: 35 in. (89 cm) = 3.5 in. (9 cm) lost
Around the thighs: 35 in. (89 cm) = 2.3 in. (6 cm) lost
Alice's FizzUp transformation should definitely get you inspired. FizzUp helps you get back your self-confidence and shows you that you can overcome any obstacle. Take action today and enjoy the results tomorrow. To lose weight after pregnancy, you just have to follow the trainer's tips and keeping working out regularly. Anthony, Julie, Lisa and the entire FizzUp community are waiting for you!