Do you feel like your wallet is always empty? Does money burn a hole in your pocket? Sadly, this workout excuse won't really fly with the FizzUp trainer. When you say, "I don't have the money to work out," the trainer hears, "I can't get motivated enough to work out". Not only is FizzUp free, but you also don't need to invest in any exercise equipment. Fitness training isn't just for the wealthy. Anyone can get the help of a trainer, no matter their fitness level, goal or budget.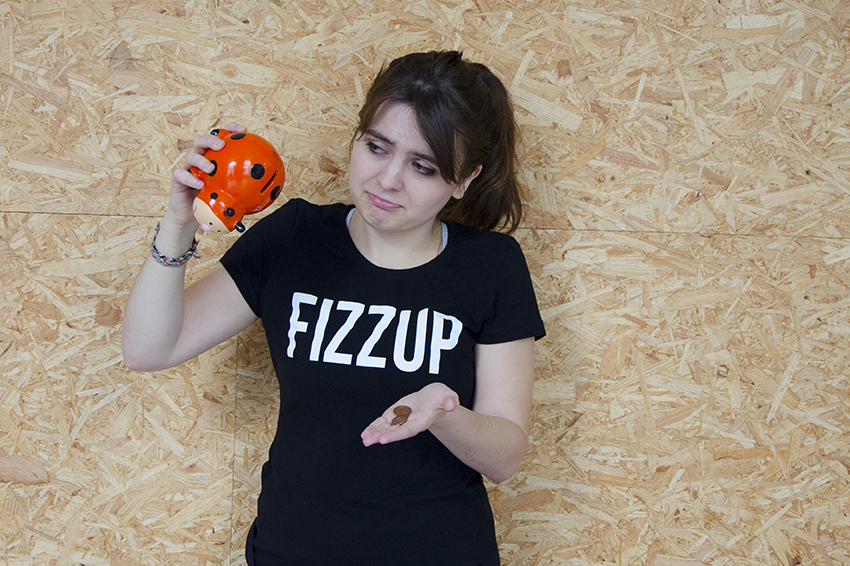 "A trainer is too expensive!"
Rather than making you spend your hard-earned money, a trainer should be someone who is there to help any rising athlete develop all kinds of skills. That means that a trainer's role is to be an actual guide who can train you and keep you motivated; in short, everything your FizzUp trainer can do in the palm of your hand!
A fitness trainer is someone who helps you reach your goal. In order to be called a "trainer," they also need to take your needs, expectations, physical fitness and weaknesses into account so that you can get a workout program that's right for you. The relationship between you and the trainer should be based on trust. The FizzUp trainer guides you, answers your questions and gets you motivated as soon as you need a boost.
Action plan
You might already know what a fitness trainer is, you probably have a good reason to keep on saying, "I don't have the money to work out". You might be on a really tight budget or would rather spend your money on an activity that takes less effort and costs less money. But remember that personalized fitness training doesn't have to be expensive.
How to choose your fitness trainer
For the cost:

FizzUp is a fitness trainer that can fit within your budget. Why? Because it's free.

But,

that doesn't mean it's not a high-quality program. In fact, it's the only fitness training service recognized by the French Ministry of Higher Education and Research. Having the recognition from the government means that our team is made up of experts in workout program development and nutritional guidance.

For the convenience:

In addition to the cost, you also might not be able to work out because you don't have time, which is another excuse that the FizzUp trainer knows all too well. In your mind, there's no way you could make yet another trip to the gym when your schedule is already really busy. No problem! Besides saving you money, FizzUp fitness training saves you time because you can take it anywhere on your smartphone, tablet or computer. Wherever you are, you can take better care of your health and body by doing a quick workout. Twenty minutes every other day is all it takes! There are no more excuses when you get the FizzUp fitness trainer.

For a personalized workout program: Another thing you should consider is how hard your workout program is for you. You might be thinking that you're going to suffer through one of your workouts. But rest assured that FizzUp fitness training creates workout programs with this philosophy in mind: make physical activity something anyone can do, from beginners to experienced athletes. If you stopped working out a long time ago and aren't motivated enough to start it back up again, you'll find that the FizzUp trainer is an excellent solution. Every program is unique and completely personalized because it's designed using the results from the evaluations you do at the beginning and end of each level, which calculate your own physical abilities and your current physical fitness level. So there's no way you'll suffer through a workout or stop making progress! The workouts are personalized to suit you. That's how the FizzUp trainer makes working out fun again.
For your enjoyment:

No program has been able to satisfy you, until now. Whether it was too strict, too impersonal, too boring or too repetitive, there was always something missing. With FizzUp, exercise is always fun. Your trainer is there to motivate you every day and give you over 200 different exercises to try. You'll never get bored because there's always something new to discover. You can also encourage your friends by sending them a "boost" or saying congrats on the progress they made using instant messaging. Not forgetting the FizzUp trainer's three models you'll see one after the other in the app while you do your exercises to shake up your workout. Thanks to the trainer and your friends, you'll stay motivated come what may.

For your health: The trouble with this workout excuse is that it doesn't take into consideration that the most important thing you're investing in is your health. Being physically active on a regular basis not only improves your quality of life because it gives you more energy, but also your mood and your sleep. You'll look on the bright side of life while taking better care of your wellness.

What do I need?
You only need one thing that's worth its weight in gold: elbow grease. The FizzUp app is free and the workouts don't require any equipment. You might need to get a towel so that your back and knees are more comfortable when doing certain exercises. One or two chairs, the edge of your couch or a coffee table can also be useful when you do dips or incline or decline push-ups. Getting back into exercise has never been easier.
FizzUp helps you get back in shape using bodyweight exercises. This method enables you to strengthen your all of your muscle groups so that you can gain muscle mass throughout your body, giving you visually coordinated results. This fitness training method helps you melt body fat. You'll lose weight while you build muscle. Besides getting results you can see, you'll build your strength, power, agility and flexibility on a daily basis. Building muscle without any equipment also promotes better posture, significantly reducing your back pain, as Marc will tell you. FizzUp makes your everyday life easier.
Don't worry about breaking the bank. With FizzUp, you've found the free solution to getting back into working out and putting an end to the excuse, "I don't have the money to work out". The trainer that fits in your pocket is worth its weight in gold because you get a completely personalized, equipment-free workout program that you can do at any time of the day that works best for you. Get started now and put an end to workout excuses #1 and #2!