The FizzUp trainer is taking a closer look at what's on your Christmas dinner plate, telling you more about the nutritional value of the most popular dishes people savor during this time of the year. He's here to help you choose the foods that will balance your diet and keep you from letting all your hard work go to waste. It goes without saying that you should enjoy your meal, but it's always a good idea to eat in moderation for the rest of the week.
Your Christmas dinner: sides
Whether you're eating it on Christmas Eve or Christmas Day, your table is sure to be covered in a festive, mouth-watering spread for your guests' enjoyment. To make this a feast fit for a fitness king or queen, choose your favorite dishes that will also help you reach your FizzUp goal.
1 | Cranberry sauce
Depending on where you live, cranberry sauce (also called cranberry jelly) is typically eaten with roast turkey for Christmas in the United Kingdom and for Thanksgiving in the United States and Canada. Cranberry sauce can also vary in flavor depending on where the berries are grown. Canned cranberry sauce is high in carbohydrates but low in fat and protein, containing around 210 calories per ½ cup, of which nearly all those calories are from carbohydrates.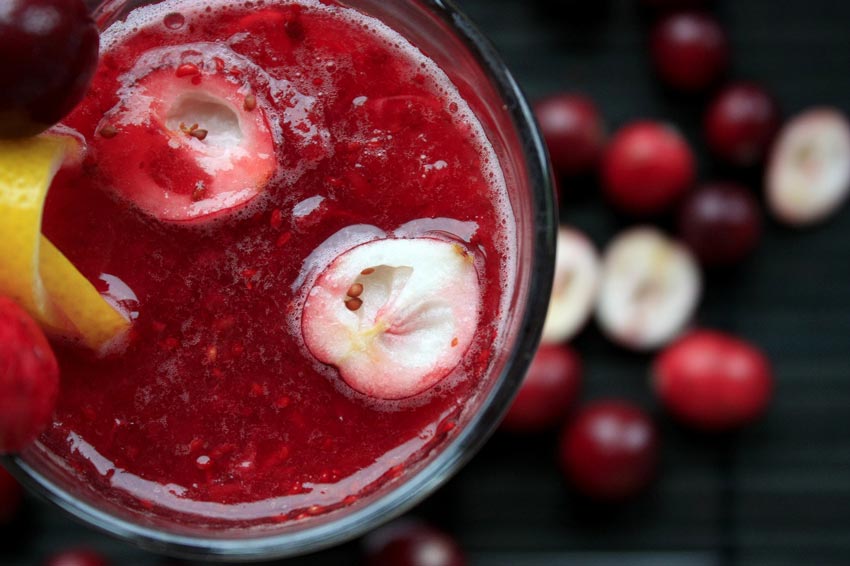 Cranberry sauce has many healthy benefits. It contains 1 g of fiber per ½ cup. Fiber promotes healthy cholesterol levels and reduces the risk of heart disease. Eating ½ cup of cranberry sauce gives you 4% of your daily vitamin C intake. Fortunately, cranberry sauce is extremely low in fat, containing only 1 g per ½ cup. Cranberries are also high in antioxidants, which can help prevent cancer and heart disease.
FizzUp nutrition tip: Although it's readily available canned, we recommend making your own homemade cranberry sauce. This way you can control how much sugar goes into it. Also try using cranberry sauce as a substitute for oil in marinades and dressings.
2 | Stuffing
Stuffing (also known as dressing) is usually made from cubes of dried bread, celery, onion, salt, pepper and other spices and is traditionally used to fill another food (such as turkey) while it's cooking. A prepared dry stuffing mix can be high in fat and calories and low in nutrients. A ½ cup of stuffing can contain 9 g of fat and 22 g of carbohydrates.
FizzUp nutrition tip: Make your own stuffing with whole wheat bread for added fiber and bulk it up with veggies like celery and onion. Add some more flavor using low-sodium chicken broth instead of butter.
3 | Mashed potatoes
Mashed potatoes might be everyone's favorite side dish, but they're typically prepared using large amounts of butter, cream and milk, which are high in fat and calories. The situation isn't made any better when you douse them in gravy. Homemade mashed potatoes with whole milk have about 175 calories per cup. If you skip the butter, they're still relatively low in fat, with only 1 g. But don't be fooled. Like any starchy food, most of the calories are from carbohydrates. In terms of vitamins and minerals, a 1 cup-serving contains 24% of your daily vitamin B12 intake and 18% of your daily potassium intake.
FizzUp nutrition tip: Use roasted garlic. It gives flavor to your mashed potatoes without a lot of extra fat and calories when you make them the traditional way. Use oil instead of butter to cut down on saturated fat and use low-fat milk or low-fat sour cream.
Your Christmas dinner: main dishes
Depending on where you're from, your Christmas sides can accompany a number of different meaty main dishes. What's in your favorite poultry or pork dishes?
1 | Turkey
A Christmas classic found on almost every table. The white meat of a roast turkey contains 140 calories per 100 g, whereas the dark meat contains 162 calories per 100 g. Now that's a low-calorie dish you can enjoy! It's also low in sodium and a good source of vitamin B6 and phosphorus.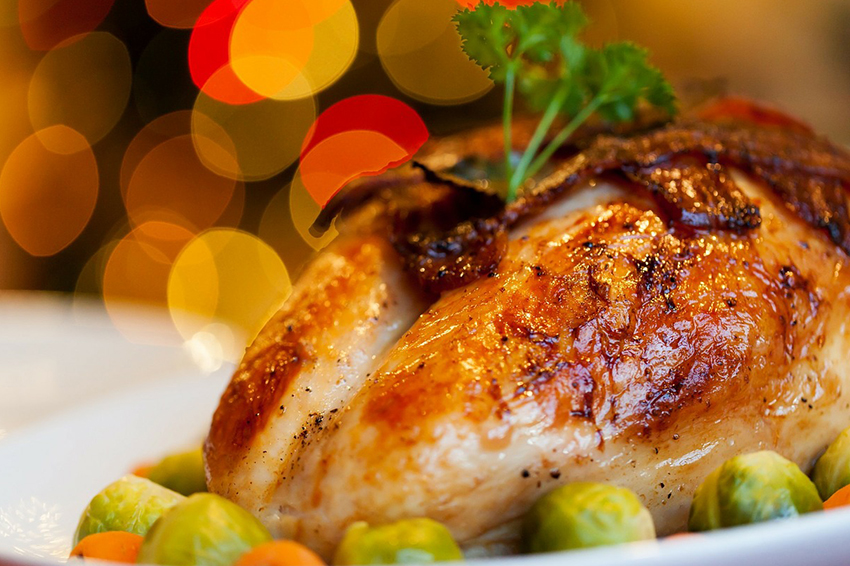 Turkey's packed with protein, so for FizzUp users who want to build muscle, you've got the perfect combination for bigger muscles when you eat this meat with spinach.
2 | Chicken
A less popular alternative to turkey during the holidays. One cup of dark meat contains around 249 calories. Light meat has slightly fewer calories, with 214 calories per cup. Like turkey, both light and dark meat are a great source of protein and are low in sodium. Both contain high levels of niacin, which can boost "good cholesterol," and selenium, which strengthens your immune system.
Your Christmas dinner: desserts
A delicious holiday meal always ends with a delectable dessert. There are so many dessert possibilities. Here are just a few of the most popular examples.
1 | Pudding
Originating in medieval England, pudding is a traditional Christmas dessert eaten mainly in Britain and Ireland, but also in Canada and New Zealand. Christmas pudding is made up of many dried fruits mixed together with eggs and suet (a type of animal fat). Treacle or molasses is then occasionally added to make it moister and spices such as cinnamon and nutmeg are added for flavor. One slice of Christmas pudding is around 300 calories. It also contains 9 g of fat, 55 g of carbohydrates and 21 g of sugar.
FizzUp nutrition tip: Share a rich dessert like this with a friend or loved one. You'll still be able to finish your meal with something sweet, but not have a stomach ache after your Christmas dinner.
2 | Pumpkin pie
This is a holiday favorite in North America, and typically eaten for Thanksgiving in the United States. It's so well loved that nowadays you'll see products everywhere that are "pumpkin" or "pumpkin spice"-flavored, from coffee to pancakes to beer. Eat this treat in moderation, because a single slice can contain around 316 calories and 4.9 g of fat, which is 25% of your daily intake. But here's the good news: pumpkin is rich in antioxidants and vitamins and their seeds also contain vitamins, minerals and omega-3 fatty acids.
FizzUp nutrition tip: Cut the fat and calories by making the crust using gingersnaps and the filling using low-fat milk and stevia sugar.
3 | Christmas cookies
To end on a sweet note, you CAN enjoy yourself to the fullest during the holidays. There are plenty of cookie recipes out there. That's why it's hard for your trainer to estimate their nutritional value.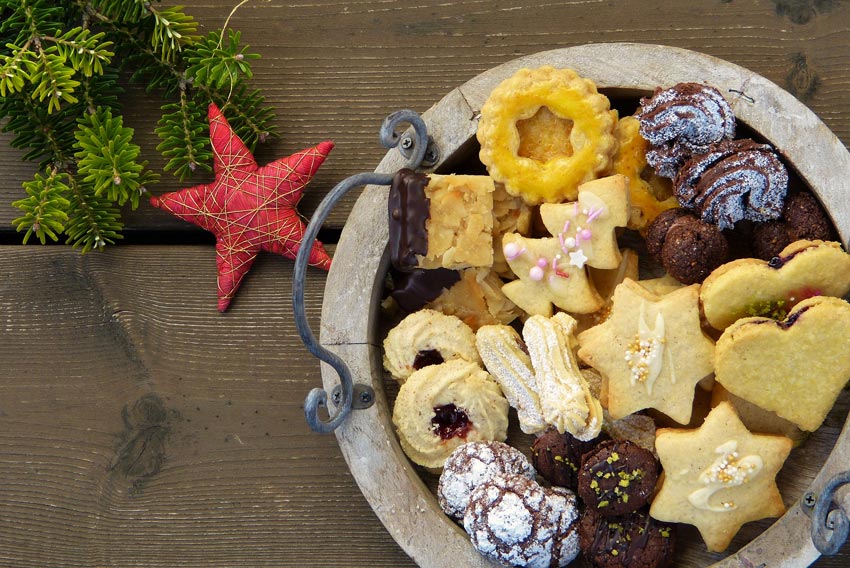 FizzUp nutrition tip: Try FizzUp's Christmas cookie recipes, which are healthy, low in calories and full of flavor.
With these estimated nutritional values, you now know what's in your favorite holiday dishes. Pair them wisely and let yourself indulge without getting off track. Your Christmas dinner will still be festive, delicious and balanced! What dishes do you have planned for your holiday meals?