Gorgeous days are here, and the good news is that they're bringing the spring fruits and vegetables with them. Spring means that the days are longer and sunnier, the flowers are in bloom and summer is on its way. But spring is also the season to enjoy the return of your favorite seasonal fruits and vegetables. Now that spring has sprung, FizzUp is giving you a short guide to help you choose your spring fruits and vegetables that will boost your energy and give you your fill of vitamins.
1 | WHY CHOOSE YOUR FRUITS AND VEGETABLES DEPENDING ON THE SEASON?
To eat a balanced diet, opting for seasonal fruits and vegetables is a must and here's why.
For starters, they're cheaper, which is an undeniable advantage for your wallet that makes upping your nutritional intake and improving your health easy. That's how you can get your fill of healthy vitamins and boost your metabolism, notably because of the fiber that fruit contains.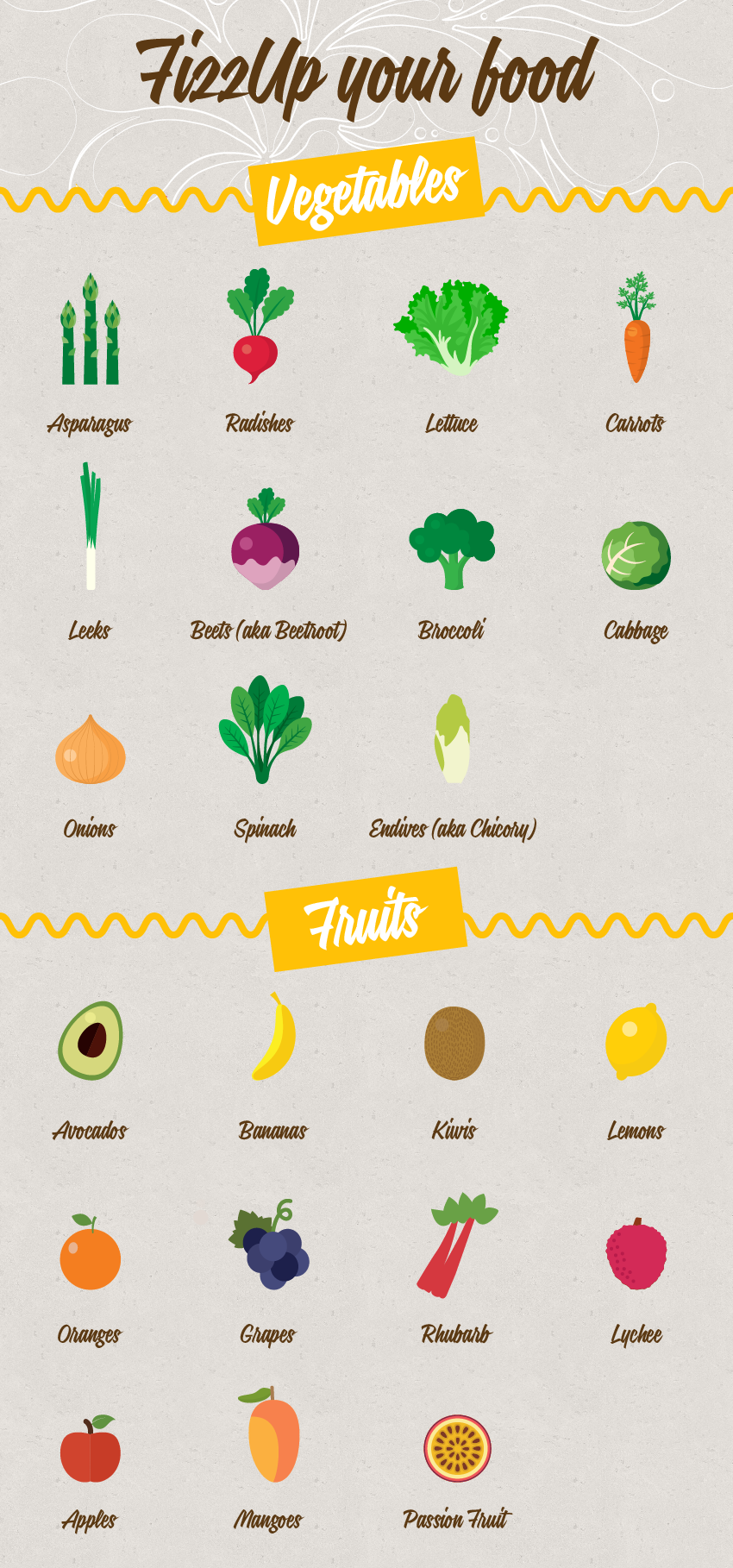 Secondly, seasonal fruits and vegetables are easier to find on produce stands at markets and at the supermarket. You can also buy them directly from local farmers. They taste better because the produce spends less time in storage and being transported.
And lastly, seasonal fruits and vegetables don't grow in heated greenhouses and don't come to you from the other side of the planet. That's one way to care for the wellbeing of Mother Earth. To help you get your bearings, here are some tips to bring something new to your table with spring fruits and vegetables.
2 | SPRING FRUITS
MARCH – APRIL
As for fruits, you can keep good old vitamin-packed oranges and clementines in your basket and add lemons, which are loaded with health benefits, as well as apples, pears and kiwis.
MAY – JUNE
Just before summer arrives, try apricots, cherries, figs, strawberries, raspberries, melons, nectarines, peaches, plums and rhubarb. But, of course, you shouldn't forget imported fruits such as pineapples, mangoes or bananas, which you can rely on in case you need an energy boost or something to snack on.
You can eat strawberries without moderation because they're one of the fruits that are the lowest in calories (as long as you don't put sugar and whip cream on them), so enjoy them fresh and let your imagination run wild to come up with different smoothies or fruit salads that are more colorful than ever.
FizzUp nutrition tip: FizzUp Nutrition is a great way to stock up on handy tips, tricks and recipes and get into healthy eating habits.
3 | SEASONAL VEGETABLES
MARCH – APRIL
Early in the spring, the vegetables you can bet on are asparagus, beets (US) / beetroot (UK), carrots, celery, zucchinis (US) / courgettes (UK), cabbage, cauliflower, endives (US) / chicory (UK), fennel, lettuce, onions, leeks and radishes.
FizzUp nutrition tip: If the temperature outside is still a bit chilly, you can try some homemade soup by blending several of these vegetables together.
MAY – JUNE
Artichokes, eggplants (US) / aubergines (UK), beets, carrots, cauliflower, cucumbers, spinach, fennel, green beans, lettuce, onions, peas, bell peppers, potatoes and tomatoes are the vegetables in season that will give you a taste of the salads that you can serve at your barbecues all summer long.
FizzUp nutrition tip: Watch out for how much dressing you put on your salads, which are usually high in calories because they loaded with fat.
Try mixing and matching vegetables and different ways to prepare them. Blend them, steam them or just enjoy them in a salad. Create your own hot or cold dishes as you like by pairing several vegetables to give your dishes even more color. Experiment and discover new flavors that will delight your taste buds and your family's, too!
No more excuses: now that spring has sprung, eat seasonal fruits and vegetables. The more local they are, the better! In recent years, it has become even easier to buy produce from local farmers directly, so take advantage of it and stop by the one who might be right next to your house or on your way home from work.