Looking for a small superfood that really packs a punch for fall? We've got one, and it's even better than the pumpkin it comes from. Use the powerful nutrients in pumpkin seeds to ward off end-of-the-year sniffles! The FizzUp trainer will take you through all the benefits of this superfood. Have a handful (or two)! This seed a guilt-free treat.
POWER-PACKED PUMPKIN SEEDS
You can't have Halloween and other fall traditions without pumpkins. They were first used by the Native Americans for their health benefits before the seeds fell into the hands of explorers who then responsible for their boom throughout Europe.
For thousands of years, people have loved pumpkin seeds because they're easy to preserve and so high in nutrients, making them an exceptional superfood you can eat anytime, anywhere.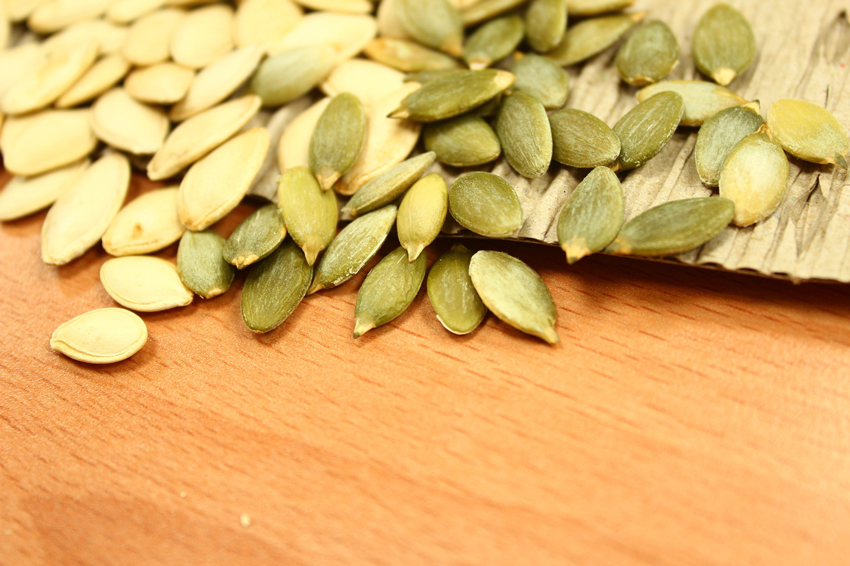 Dried or roasted pumpkin seeds are extremely high in protein (which helps your muscles recover after a workout), fiber (which eases digestion) and healthy fat (which is vital for your cells and endocrine system).
Pumpkin seeds also contain significant amounts of vitamins (such as vitamins B, E and K) and minerals (such as phosphorus, magnesium, manganese, copper, zinc and iron, which are nutrients that play hundreds of very important roles throughout your body). To this you can add all the antioxidants and phytosterols that help you lower the risk of cancer and degenerative disease by fighting oxidative stress.
Here are a few nutrition facts from the USDA for 100 g of pumpkin seeds: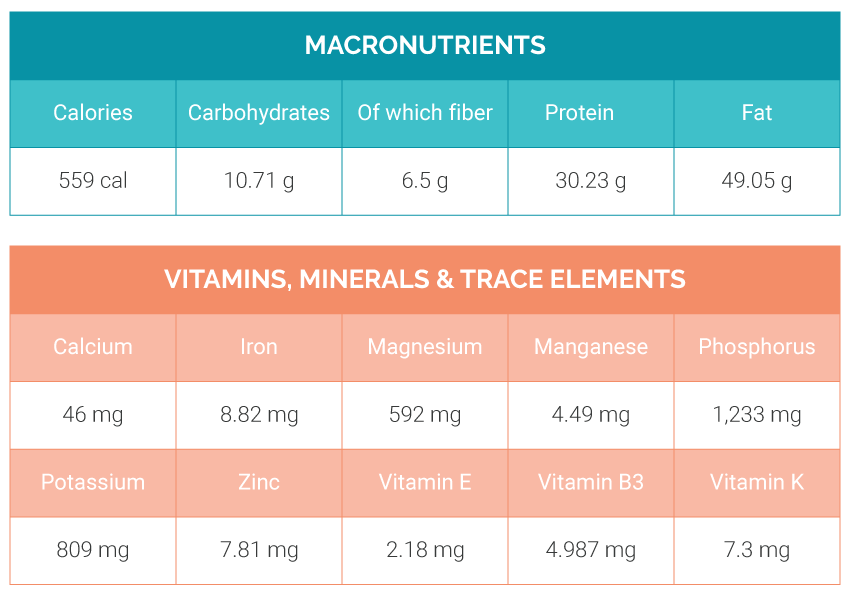 Remember that with a single serving of pumpkin seeds, you'll easily satisfy all your recommended daily intake requirements in magnesium (197%), copper (30%), zinc (78%), potassium (40%) , phosphorus (123%) and vitamin B3 (33%). Most of the general population suffers from serious deficiencies in these nutrients, which is why you should focus on getting enough of them in your diet.
THE BENEFITS OF PUMPKIN SEEDS FOR FERTILITY
Pumpkin seeds are known to boost men's sexual health because they're high in zinc, lignans and other phytosterols. They also help reduce benign hyperplasia in the prostate, promote its healthy function and also prevent urinary tract infections. These conditions affect most men over the age of 40.
These seeds are also beneficial for fertility because they're high in minerals such as magnesium and zinc, which stimulate testosterone production and boost sperm quality.
THE BENEFITS OF PUMPKIN SEEDS FOR YOUR HEART
High in vitamin E and magnesium, pumpkin seeds promote heart health. Vitamin E protects heart muscle tissue and reduces blood pressure, which lowers the risk of blood clots. Magnesium plays a key role in preventing heart disease by helping your heart's muscle tissue contract normally and keeping your blood vessel tissue healthy.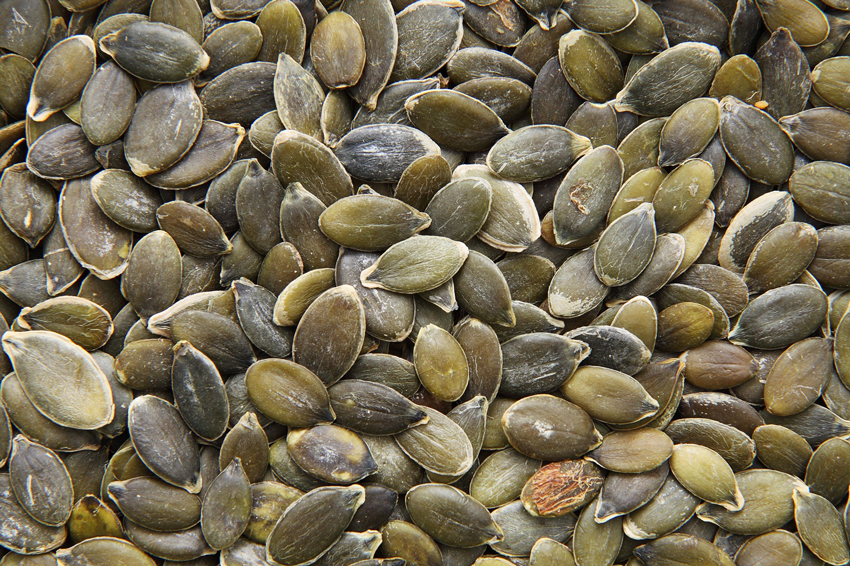 Not to mention that the phytosterols in pumpkin seeds stabilize your cholesterol levels and have a direct impact on lowering your risk of cardiovascular disease and stroke.
THE BENEFITS OF PUMPKIN SEEDS FOR YOUR IMMUNE SYSTEM
Whether they're raw or made into oils or extracts, there are many benefits of pumpkin seeds that you can enjoy for your immune system. They have antimicrobial, antifungal and antiviral properties that come from lignans and other valuable phytonutrients.
They're also high in zinc, which regulates immune response and lowers the risk of viral infections. Zinc can also prolong your lifespan.
THE BENEFITS OF PUMPKIN SEEDS FOR AGING
Because they're high in antioxidants such as carotenoids, lignans, phenolic compounds, vitamin E and antioxidant minerals such as manganese, pumpkin seeds really are like an elixir of youth. Antioxidants help you ward off oxidative stress and free radicals. These are partly responsible for certain cancers, joint deterioration and degenerative diseases such as Parkinson's and Alzheimer's disease.
THE BENEFITS OF PUMPKIN SEEDS FOR STRESS RELIEF
Pumpkin seeds are packed with tryptophan, making it easier for you to get to sleep and relieve stress. This amino acid is the precursor to 5-hydroxytryptophan (5-HTP), which reduces stress when it helps your body produce serotonin, followed by melatonin. Melatonin is a neurotransmitter commonly known as the "sleep hormone" that maintains your body's circadian rhythm.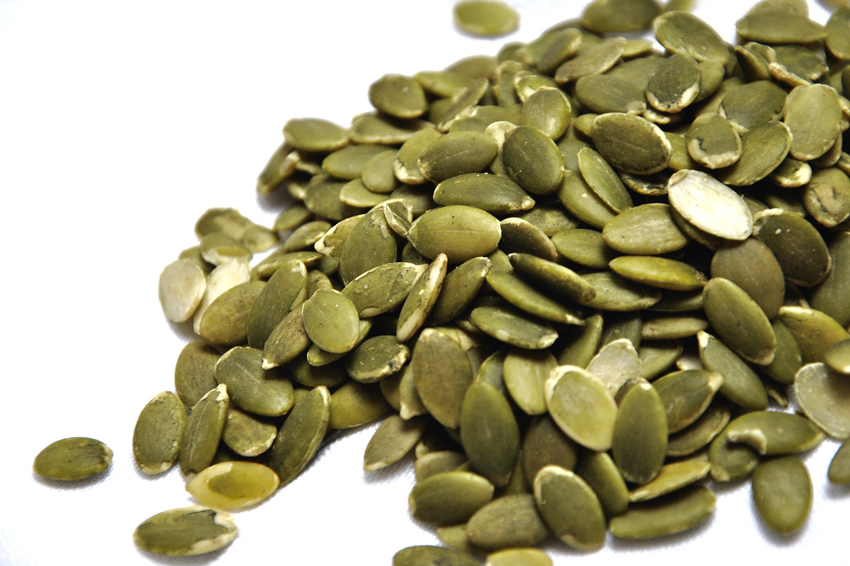 Zinc and magnesium found in pumpkin seeds are also two minerals that promote sleep and fight anxiety by calming your nerves, making it easier for you to relax. If you want to take it to the next level, try some mindfulness meditation!
THE BENEFITS OF PUMPKIN SEEDS FOR YOUR DIGESTION
Pumpkin seeds are a great source of fiber. It eases digestion, lowers blood pressure, regulates cholesterol levels and helps to prevent diabetes and colon cancer.
Taking good care of your digestive system gives you a higher chance of living a long and healthy life.
PUT SOME PUMPKIN SEEDS ON YOUR PLATE
There are so many different ways you can eat pumpkin seeds. Have them raw or add them to any dish you prepare, whether that's with vegetables, grains (such as rice, buckwheat or barley), smoothies, yogurt, soups or salads. Sprinkle them on breads or use pumpkin seed flour to give your baked goods a punch of protein. The possibilities are endless when it comes to tickling your taste buds and improving your health with this tiny superfood.
Now you're ready for winter! With our wide selection of recipes and nutrition insight, your eating habits will turn your fitness efforts up a notch, no matter how cold it is outside. Check out the FizzUp's nutrition feature* right in your app!
*FizzUp Premium feature