Never heard of fennel? That's weird, because this is one superfood you need to make part of your fall and winter diet starting now! It won't be long before you're totally familiar with its bizarre shape and licorice-like flavor. The FizzUp will tell you all about this flowering plant that goes great in almost any fall or winter dish.
WHAT'S FENNEL?
Fennel is a vegetable from the Parsley family, also known as the Apiaceae family. Its licorice-like flavor and bulb shape make it one unusual food. Fennel has long been used as an aromatic herb around the world and has become quite a versatile vegetable you can use in all sorts of dishes. You can find fennel served as a side for seafood dishes such as fish and shellfish, as well as meat and cheese.
There are three types of fennel you can find in the produce section:
Common fennel, also known as wild fennel: This type is used for its essential oil in perfume making. Its yellow flowers produce small seeds you can use to spice up your food.
Florence fennel, also known as Finocchio: Florence fennel is the easiest to find and is typically eaten like any other vegetable.
Sweet fennel: Like common fennel, this type is grown for its essential oil.
FizzUp trainer's tip: We recommend buying fennel when it's in season (from May to December). Check out all the other fall fruits and vegetables you should have on your table this season.
THE NUTRITIONAL BENEFITS OF FENNEL
Fennel is low in calories with about 30 calories per bulb. Because it's high in fiber, it also helps you quickly feel full. Turn yourself into a fennel fanatic if your goal is to lose weight. This is one food that can make it possible!
Fennel is also high in minerals and micronutrients. It's packed with vitamin C, an antioxidant that prevents a number of health problems, including cancer. Besides that, fennel contains calcium, which plays an important role in muscle contractions and keeps your bone structure intact. Eat it to help you stay fit and healthy this fall!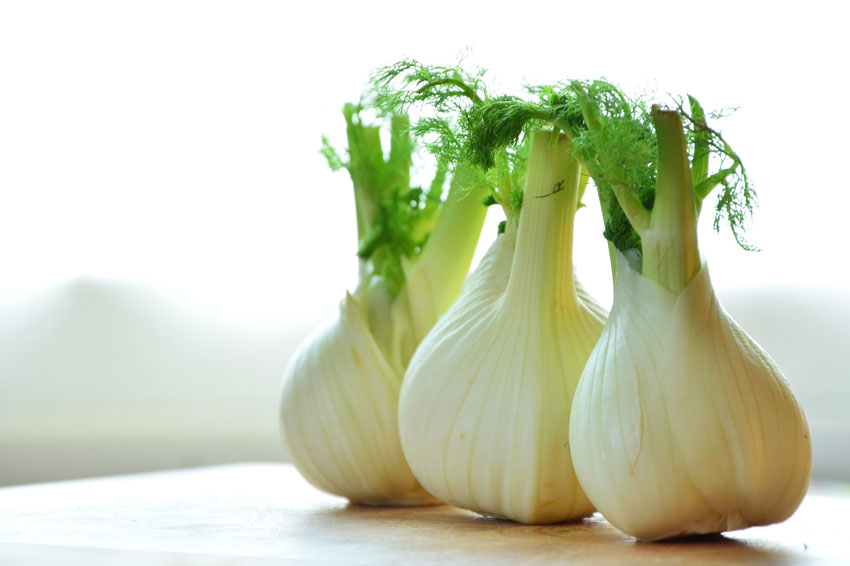 FizzUp trainer's tip: Fennel works really well to ease digestion. It's also a diuretic, so it relieves water retention, making it an ideal food to eat if you want to get rid of cellulite.
HOW TO COOK FENNEL
You can store fennel for up to one week in the fridge. There are many different ways you can cook it: you can fry it, steam it or bake it. Before you start, cut the stalks and just keep the bulb. Dice or cut it into strips… the choice is yours!
In a frying pan, cook the fennel with a drizzle of oil until it turns translucent.
In a food steamer, fennel retains most of its nutrients. Steam it for 10 to 15 minutes.
In the oven, you can use this quick and easy recipe from the FizzUp trainer for roasted fennel.
Prep time: 10 minutes // Cooking time: 30 minutes
Ingredients (makes 1 serving):
1 fennel bulb
Olive oil
Salt & pepper
Prep: Preheat the oven to 430°F (220°C). Cut off the stalks and cut the bulb into strips. Daub the strips with some olive oil, then season with salt and pepper. Place the fennel into a baking dish and brown it for about 20 minutes. Turn it over and daub it with some more olive oil. Lower the temperature to 355°F (180°C) and let it cook for another 20 minutes or so, then enjoy!
Now you've discovered fennel, a whole new superfood thanks to the FizzUp trainer! Don't forget to grab this vegetable on your next trip to the supermarket and keep it on your table this fall!