Ready to listen to the January motivational workout playlist? Stick to your resolutions and start your new year off right with some music.
WARM-UP
Wake up your muscles with a few warm-up exercises. Here's some disco sound that will be music to your ears.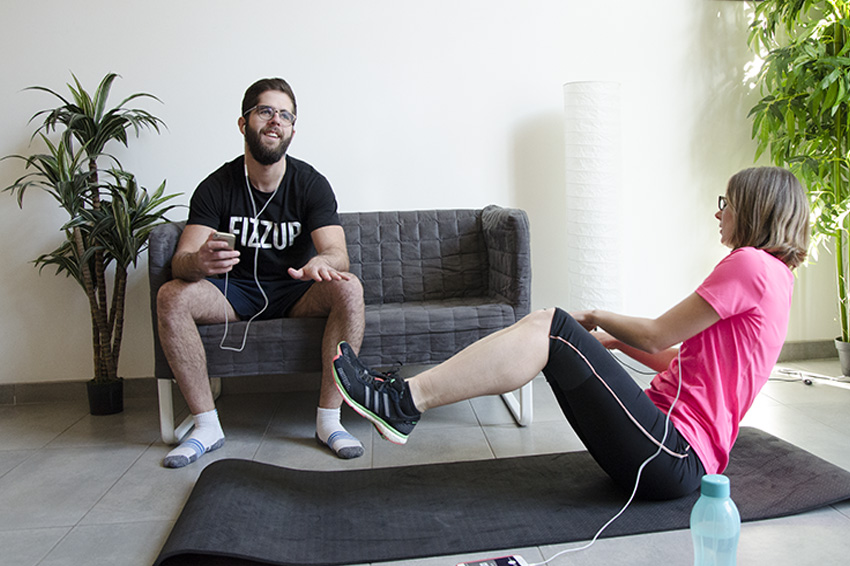 1 | Can You Feel It by The Jacksons: It's a blast from the 80s with the voices of Michael Jackson and his brothers. The music video, which was shot for the release of The Jacksons second album, was voted one of the 100 best music videos of all time by MTV.
STRENGTH TRAINING
After you relive the sounds of disco, start your workout with songs that really pack a punch.
2 | We Can Make The World Stop by The Glitch Mob: This electronic music group from Los Angeles was formed in 2006. It used to be made up of four members, but one of them left the group due to creative differences.
3 | DARE by Gorillaz: This British band brilliantly sails through all types of music genres. Singer Damon Albarn take you on a journey through trip-hop, hip-hop, electro, pop and rock. Sit back and enjoy!
4 | Time On Fire by I'm not a Band: Stephan Jung and Simon Ortmeyer bring together electro and violins with songs that will make you want to hit the dancefloor as you do your FizzUp exercises.
5 | Dancing Anymore by Is Tropical: Formed in 2009 in London, this trio released their first album in 2010 after they were discovered on MySpace.
6 | Raging by Kygo ft. Kodaline: At just 25 years old, Kyrre Gørvell-Dahll (also known as Kygo) was making the entire planet dance. So why not you?
7 | Dive by Blondage: This duo that mixes pop and electro is from… Copenhagen! They'll help you get to the end of your FizzUp sets. Nothing will be able to stop you, not even lunges, squats or push-ups.
8 | Night Is On My Mind by Oliver: What else can we say besides, hold on tight!
9 | Ni**as In Paris by Jay Z ft. Kanye West: In 2014, the net income of this American rapper was an estimated $520 million. Don't you wish you could say the same? Even if you don't have $520 million, you can still burn millions of calories with FizzUp!
10 | Suspicious Character by The Blood Arm: This American rock band knows how to liven things up during their concerts. Singer Nathaniel Fregoso has no problem jumping up onto the speakers or singing in the middle of the crowd.
11 | Don't You Know by Kungs: This young French DJ started writing his own melodies when he was just 17 years old. He burst onto the scene this year when he released a remix of a hit by Cookin' On 3 Burners. Who knows what he'll do next!
STRETCHING
Finish your workout with your Stretching Add-on*. You'll increase your flexibility and gradually return to rest after an intense workout. Your motivational workout playlist even includes a softer side.
12 | Do You Remember by Jarryd James: Virtually unknown until a few months ago, this young Australian created a sensation with this hit, which catapulted to one of the top three most Shazamed hits in Australia.
13 | Walk Away by Ben Harper: Treat yourself to an acoustic stretching session with the smooth voice of this American singer to finish your workout right.
Put your earbuds in and enjoy these hits. The January motivational workout playlist will give you the energy you need to do a few sets of squat jumps or get through your Focus program*.
*FizzUp PRO features