Every now and again, it's nice to go back to basics. You don't have to search far and wide for quick and delicious snack ideas: just try our FizzUp toast toppers! Pick up some wholegrain or rye bread from the grocery store and you're set! Today, FizzUp is telling our secret to putting some pep in your snack in no time!
Ingredients you'll need for FizzUp toast
Before enjoying your toast toppers, choose the right base. Prefer something more traditional? Then you'll love whole wheat bread. Want to eat less wheat or get a little bit adventurous? Then rye bread is for you!
The base
Whole wheat bread: When you do it right, you can eat this kind of bread on a daily basis. The carbohydrates it contains not only give you energy, but also fiber and vitamins, if you're looking for a bread with a flour and wholegrain base. As part of a healthy and balanced diet, it can lower your cholesterol and reduce the risk of heart disease.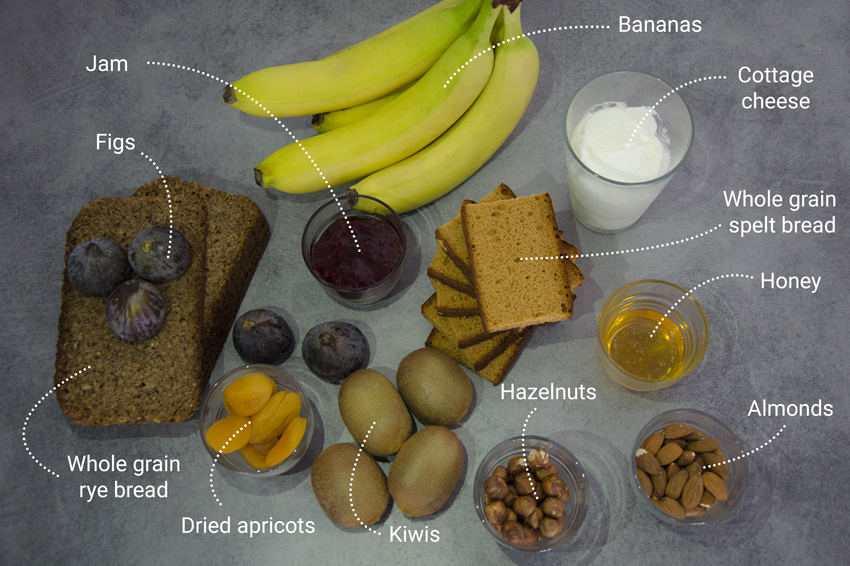 Rye bread: Team FizzUp's bread of choice, rye bread contains four times the fiber and is 20% lower in calories than white bread. Rye is an appetizer suppressant because it fills your stomach, keeping your blood sugar in check and preventing you from nibbling. This bread often has a stronger flavor than whole wheat bread, but lighter versions are also available. Opt for breads that use wholegrain flour rather than refined flour. We also recommend checking the nutritional value of processed breads for added sugar or preservatives.
The spread
Once you've chosen the base for your toast toppers, use any kind of spread you like that will satisfy your hunger and delight your taste buds. Here are the two that we recommend:
Cottage cheese and fresh fruit: Cottage cheese is made from milk and comes in different varieties depending on the amount of milk and fat it contains. It contributes to weight loss and includes protein, B-complex vitamins and minerals such as calcium, potassium, magnesium and zinc. The other advantage is that it's ideal for athletes and fitness fans because it slowly releases energy.
Add fresh fruit such as banana slices, which are great for boosting your athletic performance thanks to the magnesium and potassium it contains, and kiwis, which are also high in magnesium and vitamin C. Figs also balance out your toast toppers because this fruit happens to be really low in calories. Its rich, yet refined flavor will liven up snack time.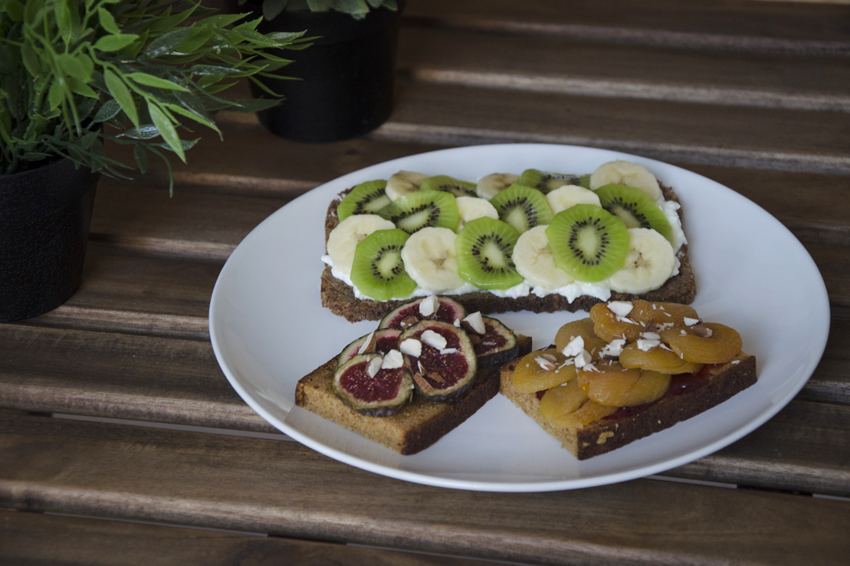 Jam and dried fruit: Adding a touch of colorful, fruity sweetness to your plate will awaken your taste buds and give your toast toppers a richer flavor and appetizing appearance. Opt for homemade jam instead of processed jam; it often contains more sugar than the fruit itself!
Dried fruit is perfect because of the condensed energy it contains due to the fact that 80% of the water has been removed. We recommend cutting them in half, or even into smaller pieces, to top your toast (without going overboard).
The Topping
No toast topper is complete without the topping! A few drops of honey, jam or chopped nuts (hazelnuts, almonds, pine nuts, etc.) can add the finishing touch. Chocolate lovers can sprinkle their toast toppers with a few pieces of 80% dark chocolate to give your snack even more character.
The joy of eating doesn't only come from what you taste, but also from what you see, so enjoy our colorful and homemade toast toppers that are packed with energy, instead of a store-bought protein bar.
Here at FizzUp, our philosophy is to brighten up snack time with foods that will give you a boost, so #FizzUpYourBreak!