Here's FizzUp trainer's new motivational workout playlist, specially designed for PRO members. It includes songs that go with each type of exercise you'll do, a perfect accompaniment to each Add-on. So what are you waiting for? Make both your ears and muscles happy!
Motivational workout playlist: warm-up
The warm-up plays an important role in your workout because it gets you ready for exercise. Do each movement the trainer tells you to do so that you can prepare your muscles for physical exertion, to lube up your joints and gradually raise your body temperature.
1 | Hundred Miles (ft. Gabriela Richardson) by Yall: To help you stay focused and get up to speed, Barcelonian band Yall and singer Gabriela Richardson emit sound waves of electropop and tropical house.

2 | Lady Mydriasis by Anakonic Electro Orkestra: Keep up the pace with this unusual song. You'll hear a heavy influence of klezmer sound. Electro mixes with the traditional music of the Ashkenazi Jews.
Motivational workout playlist: strength training
Now it's time to get down to business. This playlist will set the pace for your strength training block. These different styles of music will take you to a variety of athletic realms. You won't even notice that you're working out. You'll be able to do your reps one after the other and be surprised that you're actually enjoying your workout. The trainer supports you 3,000%!
3 | Bad (ft. Vassy) by David Guetta & Showtek: You can count on the French DJ David Guetta to get you pumped for your circuit, pyramid or set. You can think of this song as a nod to Michael Jackson's hit of the same name.
4 | Older by Parcels: Put some funk in your workout with this Australian band. It's an overwhelming breath of fresh air and makes you feel like you're on a small boat sailing toward progress. Hopefully the captain isn't the one who steered the Titanic. The FizzUp trainer doubts it!
5 | The Keys by Talisco: Don't be fooled. This artist is actually French. This folktronica song will give you "the keys" to getting even more results.
6 | Around The World by Daft Punk: This mythical sound will take you to Mars. You'll do reps of your exercises in time, just like the Martians do. Don't skip your rest time; you'll need energy for your upcoming Cal Burner Add-on.specter vos temps de récupération, car votre Extra Cardio vous attend.
7 | Powerful (ft. Ellie Goulding) by Major Lazer: Straight from Major Lazer's third studio album, this song mixes soul with R&B, giving you the power to do your body wonders.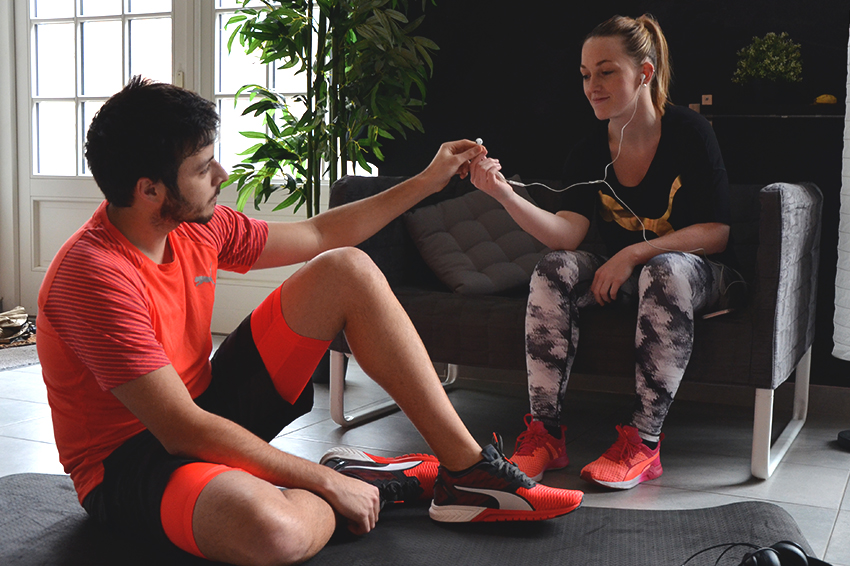 Motivational workout playlist: cal burner add-on
It's time to burn a few calories, sculpt your muscles and build even more resistance. It will put your cardiovascular endurance to the test. The music will push you through and accompany each one of your movements. You'll get a winning attitude with the FizzUp trainer's playlist.
8 | Burning Man (ft. Post Malone) by Watt: ​​Something tells us that this song will give you the energy you need to do rep after rep of burpees, squats or ding dongs.
9 | Hey Now (ft. Kyle) by Martin Solveig & The Cataracs: Out of breath? Keep control by breathing steadily while exercising. Breathing is the key to getting through your Cal Burner Add-on in one piece.
10 | Hold The Night by Lyre Le Temps: This band mixes different musical styles and eras such as jazz, old-school hip hop, Charleston revival and electro.
11 | Be Mine by Ofenbach:  Want more folktronica? There's no way you'll give up when you hear its strong rhythm. You'll get through your entire set. Just a few more seconds until you're done!
Motivational workout playlist: six-pack add-on
You're not done sweating yet with your FizzUp trainer. Now it's time to start your Six-Pack Add-on. Sculpt your midsection with a short set of dynamic and static exercises.
12 | Starboy (ft. Daft Punk) by The Weeknd: This duo will be music to your ears. You can always count on Daft Punk to deliver!
13 | Toxic (ft. Marco Foster) by Eden Prince: How about a nice cover of a pop classic. Eden Prince did it. It turns Britney Spears' hit into a house track. It will motivate you enough to get through your sets of crunches.
14 | Aloha (The Geek x Vrv Remix, ft. Merryn Jeann) by MØme: We're off to Hawaii! Start getting ready for summer by sculpting your abs with the FizzUp trainer.
Workout motivation playlist: stretching add-on
This is when you get to relax after an intense workout. The FizzUp motivational workout playlist will surround you with soft sounds as you do your stretches. You'll increase your flexibility and have a peaceful return to rest.
15 | Girl by Jamie xx: You'll be impressed with this British composer and remixer's intriguing title. Let the music overtake you and enjoy a true moment of relaxation.
16 | La Lune Rousse (ft. Deva Premal) by Fakear: Fakear, also known as Théo Le Vigoureux, adds a bit of weirdness to your playlist before you come back to reality.
The FizzUp trainer hopes you have some great workouts in February!