We're all familiar with the banana, a long, yellow fruit found in any supermarket produce section. But have you ever heard of the plantain (aka "cooking banana"), a banana-like vegetable? Here are four banana-based recipes from the FizzUp trainer to show you all the ways you can use this versatile fruit!
1 | BANANA-BASED RECIPES: BANANA PANCAKES
Prep time: 20 minutes    /    Frying time: 20 minutes
Ingredients (makes 6 servings):
250 g flour
6 g baking powder
60 g sugar
2 eggs
125 ml milk
125 g light cream
2 overripe bananas, mashed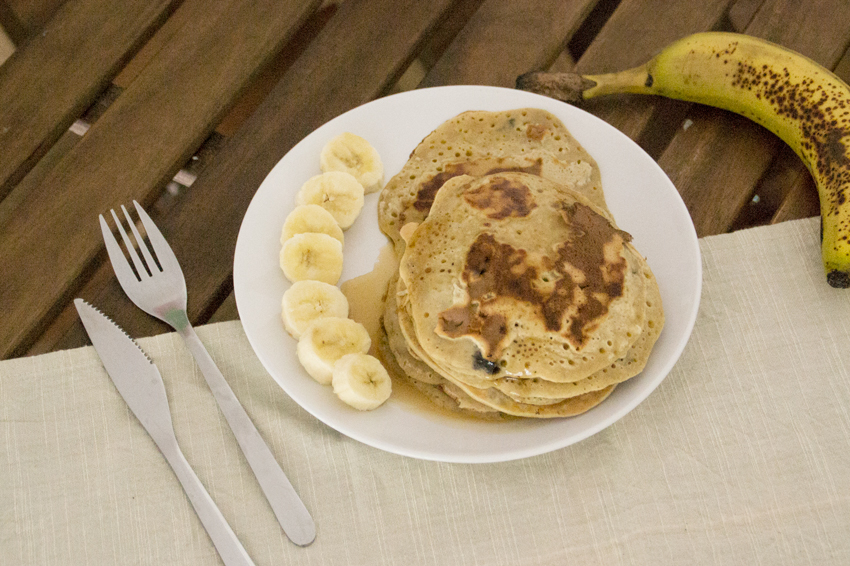 Prep:
First, stir together the flour, baking powder and sugar. Beat the eggs and add them to the mixture. Warm up the milk slightly, then pour it into the mixture along with the light cream and mashed bananas. Stir well until the batter has a smooth texture. Next, fry the pancakes in a small, nonstick pan. Voilà! 🙂
2 | BANANA-BASED RECIPES: DIP WITH PLANTAIN CHIPS
Prep time: 20 minutes  
Ingredients (makes 4 servings):
4 plantains
4 tomatoes
4 garlic cloves, peeled
Prep:
Peel and thinly slice the plantains. Place the slices in a frying pan and brown them in a drizzle of olive oil. Meanwhile, rinse and dice the tomatoes. Place them in a blender with the garlic cloves (you can use less garlic if you don't like spicy food). Blend the ingredients together. Once the plantain slices are golden brown, remove them from the heat. Serve them with the garlic and tomato dip.
3 | BANANA-BASED RECIPES: PLANTAINS WRAPPED IN HAM
Prep time:  5 minutes    /    Baking time: 15 minutes
Ingredients (makes 4 servings):
4 large plantains
4 slices cooked ham
80 g grated Gruyère cheese
20 cl crème fraîche
70 g tomato paste
Prep:
To make plantains wrapped in ham, first preheat the oven to 390°F (200°C). Peel the plantains and roll each of them in a slice of ham. Next, place them on a baking sheet. In a bowl, mix together the crème fraîche and tomato paste. Pour the mixture over the plantains, then sprinkle them with grated Gruyère cheese. Bake them for about 15 minutes. Enjoy! 🙂
4 | BANANA-BASED RECIPES: SWEET RISOTTO WITH CARAMELIZED BANANAS
Prep time: 10 minutes    /    Cooking time: 25 minutes
Ingredients (makes 6 servings):
3 large bananas, not too ripe
100 g short-grain rice (for pudding)
1 liter milk
1 teaspoon cinnamon
20 g butter
40 g sugar
A few drops vanilla extract
Prep:
Peel and dice the bananas. Place them in a mixer, then blend. Pour the milk, cinnamon, sugar, vanilla extract and diced bananas into a saucepan. Slowly bring to a simmer, then turn off the heat.
Place the butter and rice in a wok. Stir until the rice has become translucent. Stir as you gradually pour the mixture over the rice. Continue until the rice has completely absorbed the mixture. Pour the mixture into ramekin dishes and chill them in the fridge for a few hours.
Just before serving, make the caramelized bananas to liven up the risotto! To do this, slice up the rest of the bananas. Sprinkle the banana slices with sugar and a few drops of water, then place them in a frying pan. Let them cook over low heat while stirring regularly. Once cooked, take the ramekin dishes out of the fridge and top them with a few slices of caramelized bananas. And that's all there is to it!
With these recipes, you can enjoy bananas anytime you want: for breakfast, as an appetizer, main dish or dessert! Bon appétit from the FizzUp trainer!